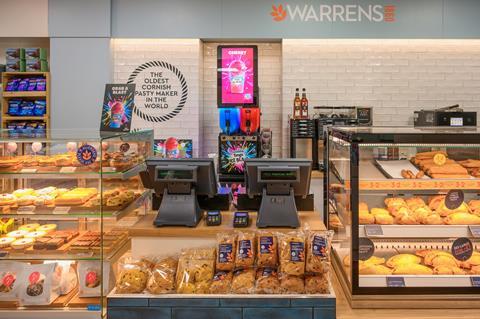 Warrens Bakery has reopened one of its best-performing stores in Cornwall following a refurbishment.
The Wharfside store relaunched last weekend, at the end of Cornish Pasty Week, with a new brighter look and a map-themed mural by artist Hermione Mills.
To mark the occasion, which was also St Piran's weekend that celebrates one of the patron saints of Cornwall, there was music in the form of Cornish folk songs and dancing from the Pensans Morris group.
"It was lovely to be able to re-open one of our flagship Cornish stores at the end of Cornish Pasty Week and on St Piran's weekend after a fantastic redevelopment," said Warrens' group marketing director Louise Moye.
"With the Warrens Bakery history firmly embedded in south-west Cornwall, we are proud to still have a great presence in Penzance and see this investment as a sign of our commitment to the town."
New products for spring, including a Moroccan lamb pasty, a cauliflower cheese pasty and a Rolo Doughnut, will be available in store from 20 March.
Warrens plans to open new stores in Barnstaple, Basingstoke and Bath this year, and the rebranding of all its existing stores is scheduled for completion by mid-2024.
There are now 41 Warrens stores in Cornwall, Devon, Somerset, and South Wales, as well as in Gatwick Airport and Derriford Hospital, and in service stations at Cullompton, Peterborough and Cambridge.
Operating profit at Warrens Bakery rose by more £2m last year on the back of strong sales growth. Turnover rose from £9.6m in 2021 to £12.5m last year, according to Warren's latest filing at Companies House.
In Warrens' accounts for the year ended 30 June 2022, the company reported that the 30% growth in turnover came as all its stores were fully open following the relaxation of Covid restrictions.
Margins had continued to improve, and overheads had been well controlled, reported the business, resulting in a "significant" increase in profitability.