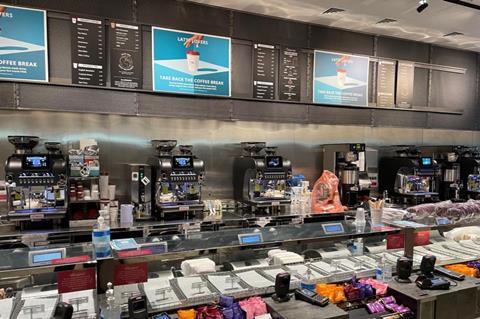 Pret A Manger is investing in high-performance La Cimbali coffee machines for its busiest stores as it looks to grow its monthly coffee subscription programme.
Pret's subscribers are entitled to five Barista-made organic coffees, smoothies, frappes or teas a day for £20 a month, and to help with increased demand La Cimbali has created special versions of its S60 fully automatic coffee machine.
The custom-built La Cimbali models have been installed in Pret's top performing shops, such as Heathrow (pictured above), with plans to roll out to regional shops including Oxford and Birmingham.
The Cimbali S60 uses fresh milk and fresh coffee beans and features touch screen control. Its fast performance is designed to help avoid queues at the till.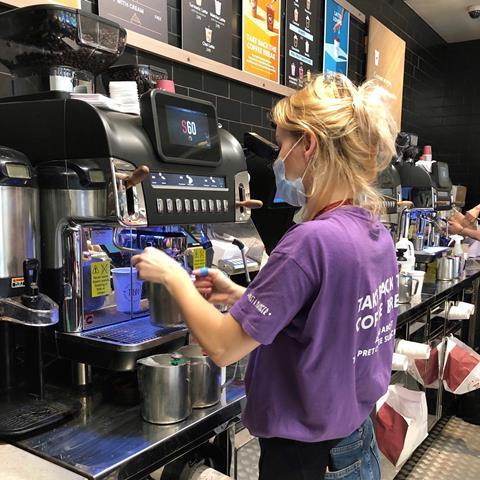 "As our Pret Coffee Subscription continues to grow, we're proud to be investing in custom equipment for our baristas that is easy and fast to operate whilst continues to serve our delicious 100% organic coffee our customers love," said Guy Meakin, UK trading director at Pret A Manger.
"Our customers expect great quality coffee so consistency is key for us across our estate which is why we look forward to rolling out The S60 to more shops," Meakin added.
The S60 delivers up to 600 cups of espresso per day. Bespoke refinements for Pret include additional user controls to optimise the workflow and enhanced steam wand function to texture milk at speed.
"The Cimbali R&D team became immersed in the Pret business model in order to really understand the challenges of delivering quality coffee in a fast-moving environment," said Daniel Clarke, commercial director UK & Ireland for La Cimbali. "This collaborative approach has shaped many S60 design refinements that help achieve excellence across the hot drinks range.
"It's great to see the S60 roll out across the business, and most importantly, help Pret serve up great coffee every day," Clarke added.