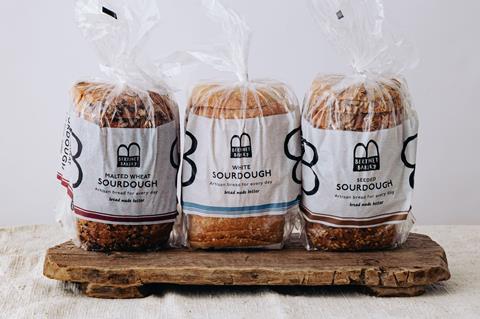 Sourdough bread manufacturer Bertinet Bakery has joined forces with the Real Bread Campaign to raise awareness of additive-free sourdough loaves.
The collaboration will involve a series of initiatives designed to champion 'all-natural bread', with the aim of making it available across all major supermarkets.
It comes after Bertinet Bakery unveiled its 'fresher-for-longer, sandwich-friendly' range of sliced sourdough loaves in March last year. The loaves, which are available in Sainsbury's, Waitrose and Ocado, are made using just flour, water, sea salt and seeds via 'revolutionary new bakery methods'.
As part of the collaboration, Bertinet Bakery will be highlighting the potential health benefits of sourdough with resident nutritionist Jenna Hope and head of bakery, Anomarel Ogen. Together with the Real Bread Campaign, they will be researching consumer perceptions of bread and sharing insights via a PR and marketing campaign, which includes social media.
This showing of support comes as Real Bread Week gets underway. Organised by the Real Bread Campaign, the week runs from 19-27 February and is an annual celebration of additive-free loaves and the people who make them.
"We're delighted to support Real Bread Campaign as part of our aligned goal to promote time-honoured baking methods and to get better quality all-natural bread into more homes across the UK," said Dan Barrett, managing director of grocery for Bertinet Bakery and Bread Holdings.
"Consumers are increasingly aware of what goes into their food and there is no better time than now to support the cause for real bread made better."
Real Bread Campaign co-ordinator Chris Young said it was good to see Bertinet Bakery "putting real bread (and genuine sourdough bread at that) on supermarket shelves within reach of millions or people".
"The rise of local real bread bakeries and home-baking remains at the heart of our campaign, but Bertinet Bakery working at scale to give everyone access to all-natural bread that can be popped in the toaster is key to changing perception of what is possible," Young added.