There are many disputes around sourdough, but one thing not in question is that it is on trend, even more since the various coronavirus lockdowns when the UK caught baking fever.
For those late to the party, traditional sourdough is made through a lengthy fermentation process between lactic acid bacteria and yeast present on grain husks. The sourdough fermenting process gives a typically stronger-tasting product and, crucially, nutritionists have suggested the process enables higher nutrient availability and prebiotic benefits, meaning sourdough is very much in keeping with current dietary preoccupations.
That said, sourdough could not be more old-tech – this was the way dough was raised for thousands of years. Baker's yeast was then adopted at the beginning of the 20th century as it is operationally easier to use, as Roy Parton, head of sales industry at ingredients supplier Lesaffre UK & Ireland recounts.
Now a fightback is on. For industrial bakers who have seen years of value decline on standard plant bread, sourdough has 'opportunity' written all over it.
"Even before a surge in Google searches for sourdough during 2020, retailers were reporting growth in sales of sourdough, ranging from 50% to almost doubling in 2019 vs 2018," Philippa Knight, marketing director, Puratos UK reports.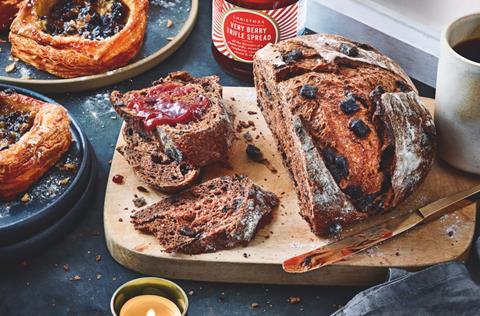 Some 15% of bread category launches contained the word sourdough in 2021 versus 6% in 2015, demonstrating its increasing presence in NPD, research by Innova Market Insights suggests.
Even before a surge in Google searches for sourdough during 2020, retailers were reporting growth in sourdough
In-store bakeries and brands have brought out products including packaged, sliced sourdough breads, such as the Jason's Sourdough range from Geary's Bakery and those made by Bertinet Bakery.
However, Knight does note that the hype around homemade sourdough has resulted in increased awareness of the products and the process involved in making them which "will likely affect the demand for sourdough in the out-of-home market as well".
The global sourdough market is not going to stop growing, according to Mordor Intelligence, which has forecast that it will see compound annual growth of 6.9% through to 2023.
Members of the Craft Bakers Association are reportedly enjoying this growth, with 30% of respondents to a recent survey noting an uplift in 'healthy bread' sales, including sourdough, over the past 12 months. This, the CBA believes, shows that potential barriers such as cost are being overcome.
Tapping into the trend
But the big question is, how are larger manufacturers tapping into a style of baking that traditionally requires a hands-on approach as well as extended fermentation time?
Sourdoughs need additional time and space for bulk fermentation, which can also be a challenge for bakers. Two other key challenges of replicating artisan-style sourdough production at scale are quality and shelf life, says Anomarel Ogen, executive head baker at Bertinet Bakery.
"Big-scale production requires machines," Ogen explains. "The trick is to use the machines to fit the dough, and not to fit the dough to the machines. Shelf life naturally needs to be longer as it takes longer for bread to get to the consumer. We have managed this through creating certain production methods instead of chemicals, so our breads are still just flour, water and sea salt."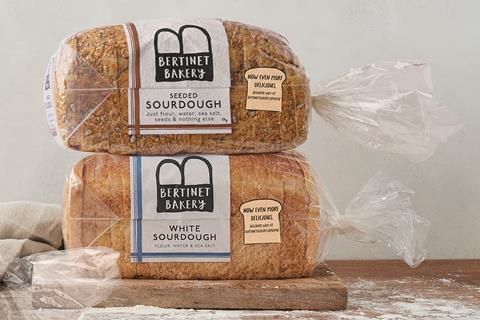 Shelf life is something Bertinet Bakery has dedicated resources to of late, unveiling its 'fresher for longer' loaves earlier this year. The 'sandwich-friendly' sliced loaves have a shelf-life of five days.
Ogen adds that at Bertinet Bakery each dough is given a full fermentation that can be longer or shorter, depending on what is optimal. "We use a combination of craft baker expertise and pH monitoring to make sure both doughs and levains are in optimal condition."
Stéphanie Brillouet, marketing director at Délifrance, says creating artisan-style sourdough bread requires a high degree of skill and Délifrance has invested considerable time and resources on upskilling employees and processes. The business has a mother dough, or sourdough starter, which enables it to produce high-quality sourdough products at scale.
"We refresh the starter daily to obtain the base of our levains and dough. This enables us to raise bread without the need for yeast, dough conditioners or improvers. In fact, all we need is three ingredients: flour, water and salt," Brillouet says. "The results speak for themselves, as we're now able to create sourdough products at scale, which are hand-crafted, free of additives and have an artisan feel."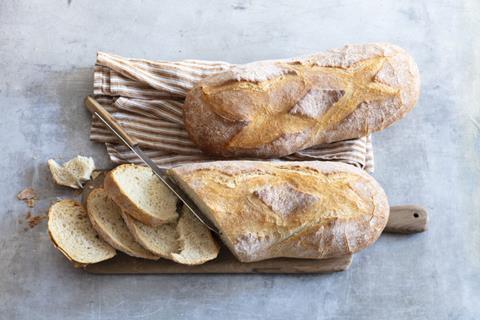 While sourdough has artisan associations, there is no reason why cutting edge technology can't be brought to bear to make high-quality, affordable sourdough for the masses, asserts Sebastien Guibert, commercial director UK & Ireland of Pandriks, which he has recently joined. The firm, headquarted in the Netherlands, is looking to grow its UK presence with the hope of opening a production site here in the future. Pandriks sourdoughs are all fermented for 24 hours and part-baked for sale in supermarket in-store bakeries or under the Slooow brand, currently in Tesco. It uses some baker's yeast in its sourdough mixes, but this could change if customers request it, Guibert adds.
"Consumers want to know how products are made, and retailers are demanding sourdough made without any baker's yeast, made with three ingredients for a simple story," Guibert says.
Retailers are demanding sourdough made without any baker's yeast
Geary's Bakery, with its Jason's Sourdough brand, says that it "makes things the right way, fermenting the sour culture over 24 hours, focusing on quality, not quantity". "Jason's was launched to plug a gap in the market for a premium offering of sourdough, with significant investment in being able to produce at a scale large enough to supply the major supermarkets," comments Jason Geary, master baker and executive director.
Alongside the options of using a sourdough levain, or a levain with baker's yeast included, known as type 1 and type 2 sourdoughs, industrial manufacturers may also, and controversially, add 'type 3' dried sourdough to products. This enhances the taste using natural ingredients but without longer fermentation, and would be referred to as made 'with sourdough'. "We do not use type 3 (dried) sourdoughs for flavour, acidification or shelf life," says Ogden of Bertinet Bakery. "Instead we rely on our careful sourdough maintenance protocols to provide those benefits."
Consistent results
With sourdough much in demand, the onus is on ingredients suppliers to help bakers get to grips with sourdough of all types.
One of the biggest challenges of sourdough is around consistency, of production time, temperatures, recipe, ingredients, and starter culture. Any small change is amplified exponentially when made on a large scale, says Philippa Knight at Puratos. The company recently started producing British-made sourdough to meet the current and future tastes and needs. The sourdoughs are liquid, live and focused on delivering flavours, according to the company. They can be developed to meet individual businesses' needs, meaning Puratos customers can create sourdoughs with a signature flavour.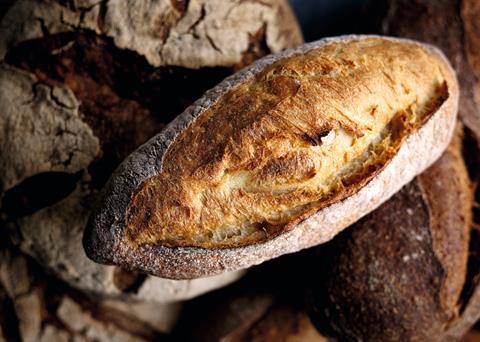 The move also signals Puratos' beliefs over where the market is heading. "The new product demonstrates our belief that the future of bread lies in its past and that sourdough will play a central role in the development of the bread category," said Puratos UK's R&D director James Slater.
As the industry focuses on this trend, there's plenty of room for creativity. Lesaffre's Roy Parton says that a range of sourdough ingredients are available to enable bakeries to create their own sensory profile. Consistency and control can be the biggest challenge.
"It is crucial the same flavour experience is maintained time after time – this is what will keep the consumer coming back. An ingredient supplier can help bakeries achieve this through sensory profiling and providing consistent sourdough ingredients, ranging from the pure sourdough starter cultures to liquid live sourdoughs," he says.
Suppliers of ingredients can also help bakeries explore new avenues for innovation such as new flavours, or by bringing elements such as provenance of sourdoughs from local regions around the world, adds Parton.
Variables such as the type of grain, location, time, temperature and technique of the individual baker create a cornucopia of flavours, he explains. Rye brings a slightly fruity taste of cooked prunes to sourdough, while barley and oats add a touch of spice. Durum wheat sourdough rounds out the flavour in the mouth, making it buttery and milky, enhancing sweet products such as croissants and brioche.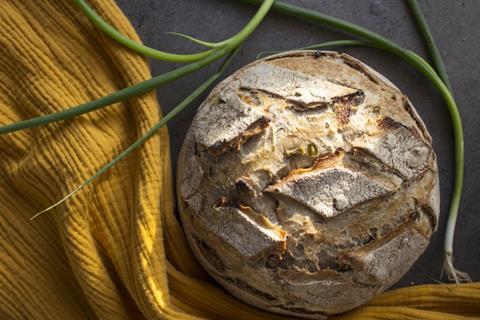 Adding value
With sourdough now being baked on a scale to serve large supermarket chains, bakers are focusing on adding further value to the products by utilising other trends.
Guibert at Pandriks suggests that NPD will focus on heavily seeded and ancient grains going forward, with provenance another key selling point. "Customers don't just want an olive sourdough, they want Kalamata olives if they are paying £2 or £3 for their bread," he says. There are also "green shoots" of organic sourdough growth in the UK, Guibert adds.
Geary's Bakery also reports that while the main demand is for white and seeded sourdough, there is a growing demand for variety and flavours such as Olive & Basil Twisted Sourdough.
Customers don't just want an olive sourdough, they want Kalamata olives if they're paying £3 for their bread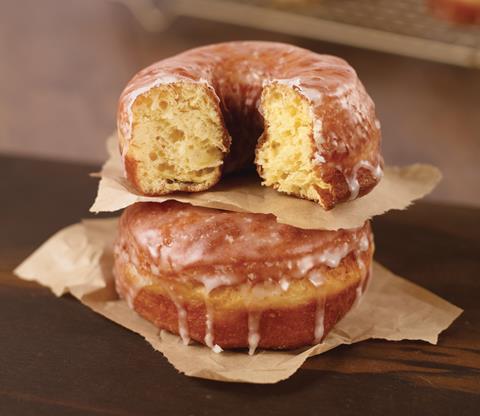 Délifrance research has discovered that buyers of seeded rolls or multi-seed loaves are less concerned about price, indicating a link between health benefits and a willingness to spend. So, expect to see more sourdoughs with wholegrains, grains and seeds, ramping up appeal to health-conscious bread lovers.
Consumer passion for the slightly tangy flavour and texture of sourdough bread is also having a beneficial knock-on effect across a number of bakery categories, with recipe developments including sourdough croissants, crumpets, pizza dough, crackers and English muffins, with Dawn Foods recently having launched a Sourdough Donut Mix, comments Jacqui Passmore, marketing manager UK and Ireland.
As we see sourdough's diffusion across sweet and savoury ranges, there is still a lot of ground to cover. Délifrance research suggests that two-thirds of bread consumers still never choose sourdough. This means there's still plenty of potential for this sector to grow and develop. But with suppliers, consumers and retailers all excited by its potential, sourdough is finally showing baker's yeast who's boss.