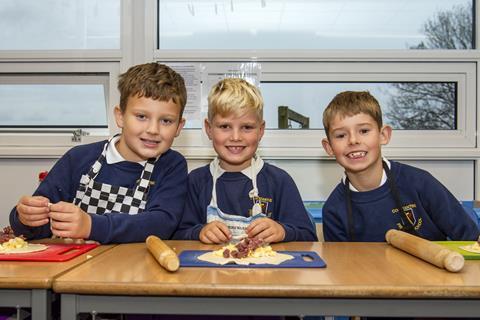 The annual Cornish Pasty Week celebration is set to return for 2024 with a new fundraising initiative designed to help encourage cookery within Cornish schools.
Taking place from 26 February to 3 March 2024, the celebration will see pasty makers donate money from every pasty sold during the week. The minimum donation is 1p per pasty and companies wishing to sign up should contact the Cornish Pasty Association, which organises Cornish Pasty Week.
Funds raised during the week will provide schools across Cornwall and Scilly with the resources they need to offer children regular cooking activities, whether that is to buy equipment and ingredients or to run cooking clubs or other fun food initiatives. Professional pasty makers will also host sessions in schools teaching children how to make Cornish pasties.
Schools will be able to apply for a share of the Community Fund by filling in an online form, saying how much money they need and what it will be used for. The Association will then select the winning bids against a set of criteria.
"As well as offering local schools an opportunity to put regular cooking activities back onto the schedule, the Cornish Pasty Community Fund will help the next generation to understand more about food, nutrition, preparation and cooking skills, food production and manufacturing and, of course, what goes into a Cornish pasty and why it's so special," said Jason Jobling, chairman of the Cornish Pasty Association.
The 2023 celebration helped raise £14,500 for local food redistribution charity Devon & Cornwall Food Action which used the funds to purchase an additional van to specifically service marginalised families living in Cornwall.
Cornish pasties are one of the few baked goods in the UK to have Protected Geographic Indication (PGI) status, which is administered by the Cornish Pasty Association after a rigorous process. This means only pasties which meet certain criteria, including being made in Cornwall, can be granted this status.