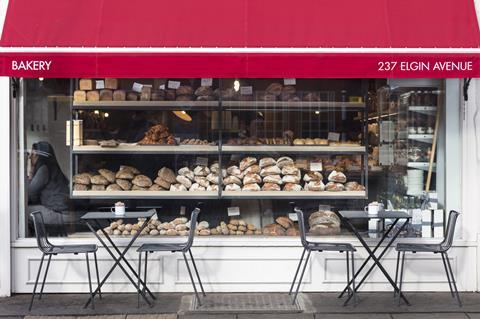 Bread Holdings, the parent company of Gail's Bakery and The Bread Factory, has sold a stake in the business to Bain Capital Credit in partnership with Ebitda Investments.
Neither the size of the stake nor the amount invested was disclosed in a statement released by Bain. However, the US-based firm said key management at Bread Holdings would stay in place at the company, with current chairman Luke Johnson remaining invested and on the board.
The statement also revealed that Bread Holdings will distribute part of the proceeds of the investment to nearly 2,000 employees 'as a recognition of their important contribution to the group's success'.
"I want to thank our talented community of bakers, baristas, managers, leaders and support teams who have worked hard to be a leading voice for craft in the UK," said Tom Molnar, co-founder and CEO of Bread Holdings. "Over the last 18 months their focus and dedication have been especially impressive.
"With the completion of this transaction, I believe we have chosen the right shareholder group to support our goals and growth plans," Molnar added.
Sandro Patti, a director at Bain Capital Credit, said the investment firm was "thrilled" to partner with Johnson and Molnar. "Gail's is a premier brand in the growing craft bakery market. Its ability to supply high quality, fresh bakery products meals and drinks with a customer-focused culture drives Gail's strong brand following, like-for-like growth and expanding bakery network," he added.
Ebitda Investments is a 'food ecosystem fund' backed by entrepreneurs Henry McGovern, founder of European foodservice firm AmRest Holdings, and Steven Winegar, co-founder of Spanish restaurant firm Grupo Zena.
McGovern revealed he has followed Gail's as a company for years. "Throughout the Covid-19 pandemic its team continued to operate at the highest standards and to serve the public without failing," he said. "With our combined knowledge and spirit of 'anything is possible', we look forward to growing this great brand."
Over the last 10 years Gail's has grown to 73 stores. The company also serves grocery, restaurant and hospitality businesses, as well as growing the Bertinet Bakery brand. In Bread Holdings' latest accounts, made up to 29 February 2020, group turnover was more than £116m.