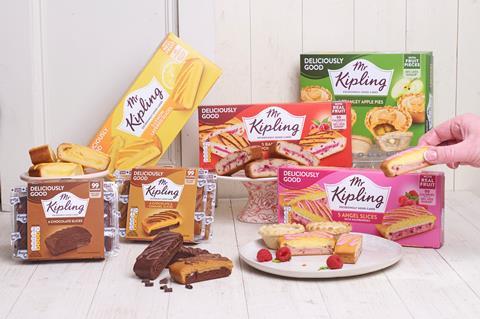 Own-label sales continued to make up for a drop in branded revenue at Premier Foods' sweet treats division, with 5.4% overall growth recorded over the first half of the current financial year.
In the food manufacturer's results for the 26 weeks ended 30 September 2023, the segment – which primarily sells ambient sweet products – reported total revenue of £121.9m compared to £115.6m from the prior period.
Branded sales, including Mr Kipling and Cadbury cake ranges, still accounted for the majority of this at £99.6m but saw a slight dip from the £102.2m set during H1 2022/23.
However, non-branded revenue proved to be the saviour of the division once again, leaping 66% to hit £22.3m, up from £13.4m taken during the first half of the previous year. The business noted this increase was due to a combination of contract wins in pies and tarts and price increases on existing ranges.
Despite the rise in sales, the divisional contribution from sweet treats during the half dropped to £12.1m from the £13.3m generated in 2022. This reflected an investment, weighted to the first half, in Mr Kipling television media advertising – the broadcasting of the new 'Piano' advert (see below) – which demonstrated Premier Foods' media approach of building emotional connections with consumers.
Sales growth from new branded products such as the Mr Kipling Deliciously Good range and Signature Brownie Bites had been dented by some lower promotional volumes owing to price elasticity effects, noted the company.
With the first quarter benefitting from activity commemorating the King's Coronation, Premier Foods asserted that its promotional pricing will be sharper in the second half of the year. This would assist in driving further volume recovery while reflecting lower levels of input cost inflation.
"We know how challenging the past year has been for many consumers and so it's good to see the rate of input cost inflation falling," said Premier Foods CEO Alex Whitehouse. "This has now given us the opportunity to lower promotional prices across a number of our major branded products such as Batchelors Super Noodles and Mr Kipling Slices."
The business claimed it had focused in the first half of the year on enhancing in-store execution of both Mr Kipling and Cadbury cake by developing innovative branded displays to assist shoppers in navigating the cake category with greater ease. A partnership with The Minions franchise had been extended to Mr Kipling in the period, with the opportunity for consumers to win prizes.
Sweet treat innovation plans for the second half include Mr Kipling launching its best ever all-butter mince pies and Cadbury re-introducing Crème Egg cake bars.
International growth was also highlighted, with Mr Kipling and Cadbury cake brands hitting a record 16% market share in Australia and delivering 21.8% sales growth. Meanwhile, stores in the US stocking the Mr Kipling range had increase by around 200 since the start of the year, with the total expected to surpass 1,900 during the third quarter.
Last month's acquisition of breakfast brand Fuel10K was said to provide the ideal platform for the business to accelerate its expansion into breakfast and deploy its branded growth model.
"With a strong first half behind us, a good start to quarter 3 and exciting plans for the rest of the year, we are again raising our Trading profit expectations for FY23/24, following our previous upgrade earlier this year," commented Whitehouse.
Noting a continued implementation of its comprehensive programme of brand investment, new product launches and impactful instore execution, Premier Foods said it was now expecting trading profit to be in the region of 10% ahead of last year.
Sustainability progress
Following approval from the Science Based Targets initiative for its 2030 carbon targets, Premier Foods announced it had continued to make strong progress against its 'Enriching Life Plan' of sustainability measures. Reported figures across the three key pillars of product, planet, and people included:
23% increase in H1 revenue from products with high nutritional standards compared to the same period a year ago
43% of products have an additional health or nutrition benefit, such as added fibre or higher in vitamins.
96% of packaging being recyclable, reusable or compostable
Scope 1 emissions expected to be 4% lower in FY23/24 than the previous year
47% of management colleagues are female
Over 500,000 meals donated to local charities during the first half via partnership with FareShare.