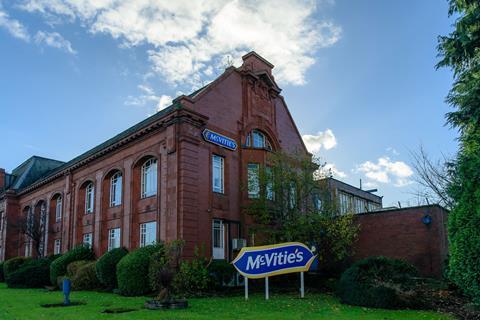 McVitie's and Jacob's owner Pladis saw its revenue drop 7% to £2bn in 2021, according to the company's latest accounts filed with Companies House.
In the UK and Ireland, sales for the year up to 31 December 2021 were £767m – down from £772m in the previous 12 months. This compared with revenue of £621m in Turkey (up from £620m in 2020), £150m in Europe (down from £161m) and £470m for the rest of the world (down from £598m).
Pladis – which also owns the Carr's biscuit brand – attributed the 7% drop in revenue mainly to the translation of the results from Ülker, the Turkish arm of the group, into sterling. According to the company, revenue grew by 8.4% when calculated on a like-for-like basis.
However, Pladis admitted it had experienced challenging market conditions during the year, linked to a slower than expected recovery from Covid-19, sharp increases in commodity prices – particularly in the second half of the year – and foreign exchange fluctuations. The company said it incurred significant expenditure during the year to maintain business continuity in the face of the pandemic, and to provide Covid-secure work environments.
Pladis added that the impact of Covid-19 across all the countries in which it operates has prompted the redesigning of its supply chains.
The group's revenue is predominantly derived from branded sales, accounting for approximately 91% of total revenue. Pladis' branded biscuit sales accounted for 23% of the overall UK biscuit market in 2021, according to the accounts.
The group's adjusted EBITDA for the year increased by £30m to £335m. Pladis said the rise was driven by an improvement in the gross profit margin, cost controls, efficiency measures and acquisitions. Operating profit, meanwhile, was up 20% to £218m. However, Pladis' accounts show a pre-tax loss of £24m for 2021 and an overall loss of £101m.
Pladis has 25 manufacturing operations in 11 countries and claims its brands reach four billion consumers worldwide. In March this year, the company announced a proposal to restructure its McVitie's factory in Manchester (pictured), potentially resulting in the loss of 159 out of 470 jobs.