Four in ten Brits have never heard of a Melton Mowbray pork pie, according to a survey conducted for British Pie Week, while a quarter don't know what a Cornish pasty is.
Could this shocking lack of knowledge about Britain's traditional pies and pastries have something to do with the explosive growth of more exotic fare such as the vegetable dhal pasty, meatball marinara bake or pepperoni pizza pie?
International cuisine and meat-free dining are certainly having a major impact on pies and pastries, though it remains to be seen whether these trends will challenge the classic British fillings.
"This is a time like no other for the pastry industry as we are seeing a fusion of two great British passions – pie and international cuisine," declares George Tatlow, head of NPD at Wrights Food Group.
World flavours
Pieminister says demand for world flavours led to the recent launch of its Tikka To Ride chicken tikka pie into Waitrose, but the supplier doesn't think the trend will knock traditional classics off the top spots just yet. Its Free Ranger (free-range British chicken and ham) and Moo (British beef steak and ale) pies remain consistent best sellers.
And the brand's international-inspired NPD continues, with Pieminister currently developing a range of filo pastry pies that will launch in late spring and draw heavily from different cuisines across the Mediterranean.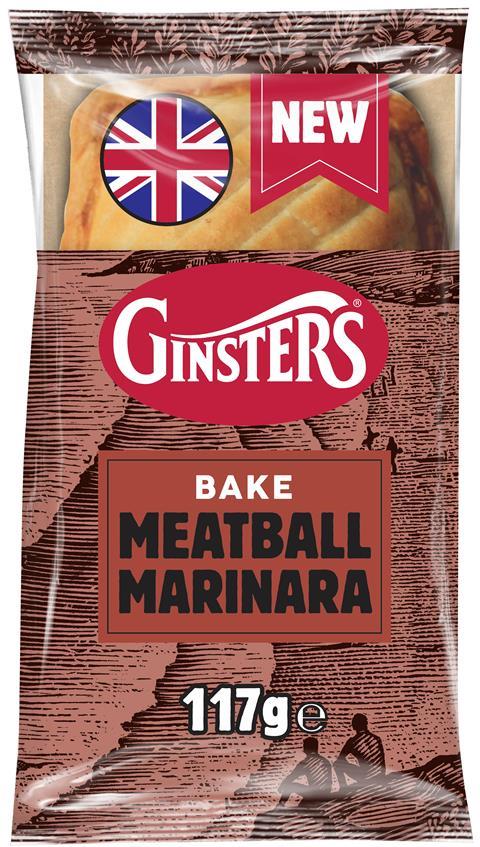 "The range includes plant-based, vegetarian and chicken recipes, with a big emphasis on vegetables, herbs and spices that, when encased in filo, fit well into the healthier pie category, without any compromise in terms of great taste and quality ingredients," explains Romany Simon, the brand's head of press.
Ginsters is also no stranger to the international trend, with its Cajun Chicken Bake and Philly Cheese Steak Bake accounting for £0.6m incremental spend to the category since their launch in October 2021.
"Quick, convenient, meals and lunch add-ons are leading the way in the savoury pastry category," explains Ginsters managing director Sam Mitchell. "This is something Ginsters have already unlocked through the launch of our Bakes range which has achieved 5.2% penetration since launch, bringing in new international flavour profiles such as our Meatball Marinara Bake and attracting a new younger audience to the category."
Also looking to widen the appeal of the pies and pastries category is Pukka, which last year launched chilled NPD including a pepperoni pizza pie and pepperoni pizza slice.
Holland Pie's points out that international flavours are more likely to appear in individual pies and bakes, such as the brand's chicken balti pies and peppered steak pies, rather than larger family pies.
"Our family pie range is focussed on traditional flavours such as cheese & onion, potato & meat, minced beef & onion, as this taps into the market that is looking for a family meal they can trust," explains Holland's brand manager Leanne Holcroft. "Left-field and international flavours are usually initially introduced on a trial basis in individual pies or bakes."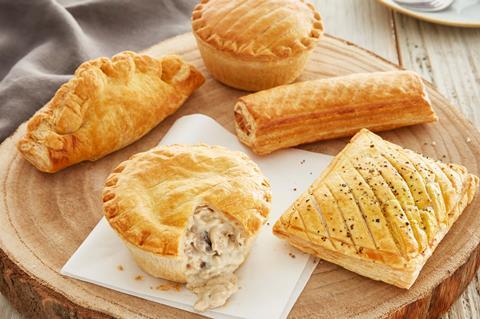 Pastry evolution
Fillings aren't the only element of pies and bakes that are changing with the times, explains Tatlow at Wrights Food Group.
"The evolution of pastry is a fascinating one. Originally designed as a 'carrier' for its more flavoursome fillings, it was historically discarded and considered surplus to the meal," he says. "Today, pastry professionals are dedicated to ensuring pastry is an integral part of a dish, enhancing and complementing the flavours."
He points out that pastry needs the right combination of fat and flour to create a high-quality crisp, short or flaky eating experience
"Enhancements rather than omissions are the principles of our pastry evolution with flavour and texture partners such as spices, potato, breadcrumbs, herbs and cheese forming part of our continued pastry progression," he says.
Pastry professionals are dedicated to ensuring pastry is an integral part of a dish, enhancing and complementing the flavours
Tatlow explains that the pastry for Wrights' chicken balti pie was developed to complement the spicy filling.
"Inspired by a traditional naan bread, we added cumin seeds, dry chilli and coriander leaf to the pastry and topped its lid with cumin seeds, ensuring the pastry completed the Indian flavour experience while staying true to its 'Britishness' by producing a crisp, flaky and mouth-watering pie."
Ginsters, meanwhile, has recently launched a limited-edition Cauliflower Cheese Slice that features a mature cheddar and black onion seed crumb.
It is one example of innovation that taps demand for interesting flavours and meat-free products in one.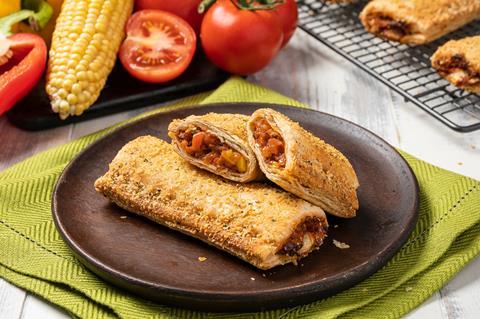 Meat-free
"There is a continued growth of vegan products and fillings, with calls for clean-label claims on plant-based food becoming louder and consumers seeking a less complicated list of ingredients," says Proper Cornish managing director Paul Saunders.
He adds that his business has seen significant growth in vegan product sales, not only to vegans but to flexitarians, with vegetarian and vegan sales accounting for almost a quarter of overall sales at Proper Cornish.
Such demand led to the development of the brand's vegan pizza roll that has a filling of soft tomatoes, mixed peppers and sweetcorn encased in a pastry coated with a vegan glaze and finished with a mixed herb and rusk topping. The business also produces a vegetable dhal curry pasty containing sweet potato, lentils, chickpeas, tomato and onion.
Many businesses in the category are aware of the need to balance development of meat-free products with the demands of the majority of consumers.
Citing Kantar data [w/e 28 November 2022] Wrights points out that the diet penetration in Great Britain households is vegans 1.9%, vegetarians 5.4%, pescatarians 3.5% and flexitarians 13.8%.
"While the pie eating demographic is ageing, a traditional steak & kidney pie still has its place and our best-selling pie remains the meat & potato," says Tatlow.
"Our move into the vegan food arena with our latest range of vegan savoury pastries means we are working hard to bring maximum choice through our pastry offering and to introduce hero vegetables such as beetroot into our formerly meat-based recipes."
Pieminister has found great success with its 'Mooless Moo' pie filling that replaces British beef with jackfruit 'steak' slow-cooked in a vegan stout. It proved to be so convincing as an alternative to a traditional steak & ale pie that it was crowned Supreme Champion at the 2022 British Pie Awards.
"As a non-vegan brand we play to our strengths, producing meat pies as sustainably as we can while reducing beef's share of our sales portfolio by tempting our core customer base to try our plant-based pies," says Pieminister's Simon. "For this to be successful we ensure that our plant-based recipes are as indulgent and hearty as our meaty originals."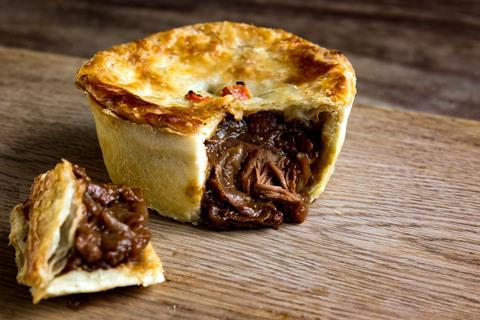 Cost-of-living crisis
Some suppliers point out that while they embrace the demand for meat-free options, economic challenges have contributed to a slowdown in this demand.
"Plant-based fillings have very much been the trend over the last few years, but currently the main growth is coming from standard meat options – such as steak and chicken – as the cost-of-living crisis has made people realise what an effectively priced meal pastry options offer," explains Holcroft at Holland's Pies.
It's a view echoed by Mitchell at Ginsters, who says penetration in the plant-based and vegan chilled savoury pastry sector has fallen back slightly from the highs of last year.
These are challenging times for all food manufacturers, with some ingredients costs still on the rise and all of them volatile
"This is partially driven by perception that plant-based diets are expensive and, in the context of the cost-of-living crisis, 53% agreed vegan and vegetarian alternatives are too costly to sustain [IGD Research October 2022].
Although the current economic woes have dented meat-free growth, they may be encouraging some consumers to opt for a traditional pie or bake
"These are challenging times for all food manufacturers, with some ingredients costs still on the rise and all of them volatile," says Simon at Pieminister. "We believe that the best course of action we can take is to reinforce our long-standing USPs that differentiate us from our competitors and demonstrate to consumers that we're an affordable and convenient restaurant-quality meal to enjoy at home; the perfect 'eating-out while staying-in' choice."
Many suppliers feel the economic turbulence will encourage consumers to look to trusted brands, particularly as pies can offer excellent value for money compared to other chilled options.
As Mitchell at Ginsters states: "With the current cost-of-living crisis top of minds and a seemingly unending stream of bad news, consumers are looking for an escape and they are turning to food to provide it, through both indulgence and comfort."
And whether it's filled with steak & ale, chicken & ham or something far more exotic, it's safe to say a pie can certainly offer consumers that.