Brits will be celebrating until they are red, white, and blue in the face as the nation gears up for the Queen's Platinum Jubilee.
For bakers, major holidays such as Christmas and Easter present huge opportunities for boosting sales – and the Jubilee is no exception, particularly as it comes with a four-day bank holiday weekend attached.
"Up and down the country there will be street parties, community events and family get-togethers," says Louise Gough, director at Twist Ingredients. "Craft bakers need to capitalise on the party fever."
So, what are consumers looking for and how can bakers meet their needs?
"Sweet treats will be at the heart of Jubilee celebrations so draw customers in with limited-edition bakes that are fit for a queen," says Macphie insights & marketing manager Kirsty Matthews. "Celebration cakes are set to prove popular, but the finish is what will add a touch of class."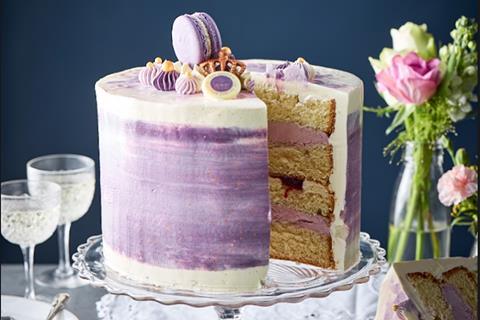 Royal purple is a popular colour for celebration cakes, with The Hummingbird Bakery and Patisserie Valerie among those embracing the hue for festive buttercream. Crowns are also a go-to decoration featuring atop treats from Lola's Cupcakes, Silver Apples Bakery and even Tesco, while Asda has rolled out gingerbread biscuits shaped like the royal adornments. Other on-theme inspiration comes from the Queen's furry companions – corgis – with shaped biscuits and even a corgi cake.
"Time-pressed consumers will be looking for great tasting home-style cakes with a more creative twist than they can bake at home or buy from the supermarket," says Jacqui Passmore, marketing manager UK and Ireland at Dawn Foods. Recipe suggestions from Dawn for treats to meet this brief include Blackberry & Apple Crumble Muffins, Sticky Toffee Loaf Cake and an Eaton Mess Cookie.
Olivier Briualt, pastry & development chef for Maple from Canada UK, urges bakers to embrace classic flavours from British summertime, including Pimm's, strawberries & cream, as well as fruity and floral notes such as cherry, elderflower, lavender and rose.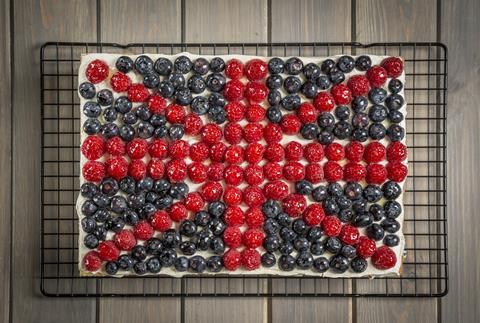 It's not just about what customers will be eating but how they'll be celebrating together with friends and families, be it picnics, street parties or barbecues.
"Afternoon tea, whether for a family group or a large street party, will be central to this June's celebrations and provides a valuable new revenue stream for craft bakers," believes Briualt. "Bakers have the opportunity to plug the gap for consumers who may not have the time or skill to bake at home but would still like special cakes, but with a homemade feel."
Boxes for afternoon tea proved popular during the pandemic so it's likely bakeries will be equipped to roll them out for the Jubilee. What's more, existing products can be used to fill these boxes, negating the need for themed NPD if time and resources are a concern. Afternoon tea and picnics also offer businesses the chance to embrace the 'coronation' with the likes of coronation chicken sandwiches. The classic filling can also be utilised in the likes of pies, tartlets and other pastry-based creations.
This type of creativity also reduces the need for seasonal ingredients which may go to waste once the celebrations have passed.
"It's understandable in the current climate that craft bakers may be reticent to buy in new ingredients or develop new recipes, but existing products can be tweaked for a Royal makeover, or add some simple red, white and blue icing and a crown with decorations," adds Dawn's Passmore.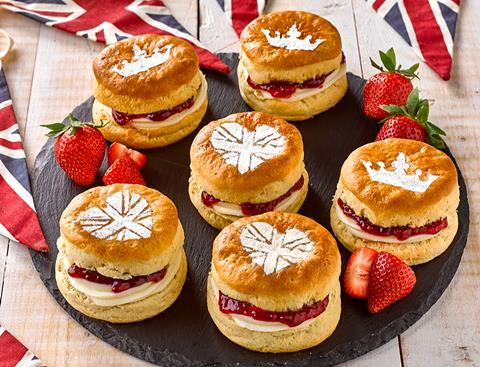 Rolling out quintessentially British treats made from staple ingredients can also help tap into Jubilee fever – think Victoria (or should that be Elizabeth) sponge cakes, scones and cherry Bakewells. Savoury British fare such as sausage rolls and pork pies are also expected to be in high demand.
Once the range is in place, be sure to shout about it. "Capitalise on the occasion and get your Jubilee bakes on social media and, wherever possible, encourage customers to share their purchases online," says Matthews. "Instagram is the perfect place for topical treats that are bright and bold."
ADVERTISEMENT: RENSHAW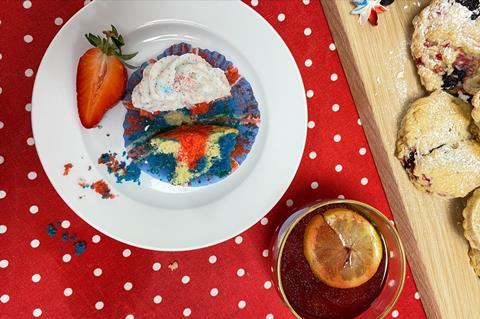 Recipe: Jubilee Confetti Cupcakes
(Makes approx. 25 cupcakes)
Ingredients
For the cupcakes:
225g unsalted butter (room temperature)
225g caster sugar
4 large eggs
225g self-raising flour
2tsp baking powder
Vanilla extract
Rainbow Dust ProGel Red
Rainbow Dust ProGel Sapphire Blue
For the decoration:
2 x 400g Renshaw Personalise Me! Plain Icing pot
Rainbow Dust Glitter Red
Rainbow Dust Glitter White
Rainbow Dust Glitter Sapphire Blue
Flavouring of choice
Equipment:
Stand or handheld mixer
Cupcake tray
Union Jack cupcake cases
Spatula
Spoons
Knife
Scissors
Piping bag
Piping tip 1M
Making the cupcakes
1. Preheat the oven to 160°c fan. Line the cupcake tray with the cupcake cases
2. Beat the butter and sugar together for approximately 5 minutes on high speed until pale and fluffy, scraping down with a spatula regularly
3. Crack the eggs into a bowl and beat lightly, add in the vanilla extract. Add a third of the egg mixture with two heaped tablespoons of flour to the butter and sugar mixture and beat on slow until just combined
4. Spoon in the remaining flour and mix on slow until just incorporated. Scrape down the bowl and add the strawberry flavouring, mixing again briefly to incorporate
5. Divide the mixture into three. Following the dosage instructions on the tubes, colour one portion with Red ProGel, one with Sapphire Blue and leave the last portion uncoloured. Place each portion of batter into a piping bag or, using a spoon, divide evenly between the cupcake cases until filled just over halfway and bake on the middle shelf for 20-25 minutes being sure not to open the oven before the 20-minute mark
6. Once baked, remove from the oven and leave to cool completely on a wire rack
Decoration:
1. In a small tub, combine each colour of glitter - about ¼ pot of each, and shake well
2. Open the plain icing pot and mix with a spoon until smooth
3. Shake ¾ of the multicoloured glitter into the plain icing pot and mix well until evenly distributed throughout
4. Snip off the end of the piping bag and insert the 1M piping tip. Spoon the icing into the bag
5. Pipe a whirl on top of the cupcakes and top with a light sprinkling of multicoloured glitter.
Top tips from Renshaw:
If your oven has an internal light, place a baking tray on the top shelf to block it off. This will help the cupcakes to rise evenly and prevent doming
These cupcakes are already Jubilee ready but why not fill with a surprise hidden sprinkle centre for extra wow factor.