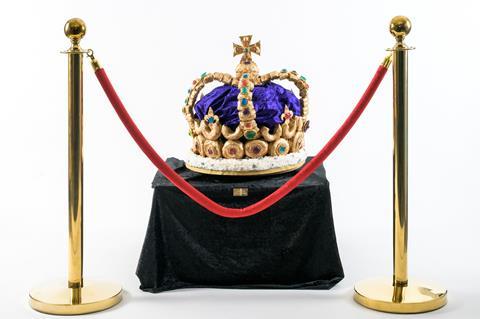 Food artist Jacqui Kelly has created a crown made with doughnuts to mark both the Queen's forthcoming Platinum Jubilee and National Doughnut Week.
The so-called 'Dough-bilee' is a replica of the Saint Edward crown, which was worn by Queen Elizabeth during her coronation on 2 June 1953. Commissioned by the team behind National Doughnut Week, which is sponsored by CSM Ingredients and runs from 7 to 15 May, the crown was created by Kelly over a period of four days at a secret location using specially made jam and custard doughnuts from Dunn's Bakery in Crouch End, north London.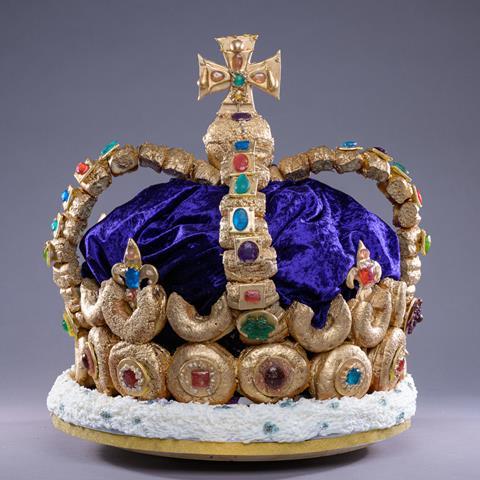 The doughnuts used to make the crown were hand-painted using edible gold leaf and a parma violet icing, while the jewels were made using sugar candy. The fleur de lis finishing touches were made from marshmallow sugar paste, hand-cast candy and jellied 'diamonds'. The crown will now go on show at Dunn's Bakery for public viewing during the week.
"The 'Dough-bilee' crown for National Doughnut Week is definitely a unique creation to help celebrate the forthcoming jubilee," said Cristiana Ballarini, spokesperson from CSM Ingredients. "We wanted to create something a little bit different and using one of the UK's most popular treats certainly fits the bill. We just hope that her Majesty and the rest of the royal family likes it and gives it their royal seal of approval."
National Doughnut Week is an annual event for which participating businesses donate a portion of their sales from doughnuts to The Children's Trust, a charity supporting children with brain injuries.
The event was created in 1992 by Christopher Freeman, co-owner of Dunns Bakery. Over the past three decades it has raised more than £1m for charitable causes, with half of that being donated to The Children's Trust. 2021 was a record-breaking year for the event with more than £35,000 raised for the charity.
Read British Baker's deep dive into doughnut trends for 2022 here.