Bakers are rolling out right royal treats from cakes to tiffin, scones and more to celebrate Her Majesty Queen Elizabeth II's Platinum Jubilee.
Red, white, and blue as well as purple are common colour palettes throughout while crowns dominate decorations.
Here are some of the baked goods given the royal treatment ahead of the bank holiday weekend: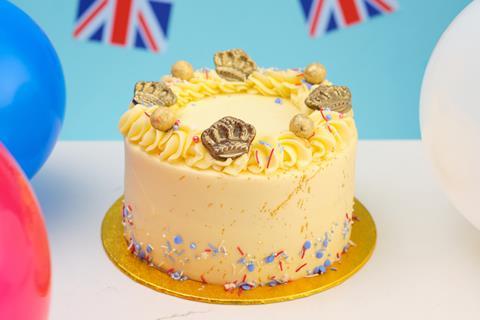 Jubilee Layer Cake, Lola's Cupcakes
Lola's Cupcakes is embracing crowd-pleasing flavours for its celebratory range. The Jubilee Layer Cake (from £22.50) comes in a choice of double chocolate sponge with chocolate buttercream or vanilla sponge with fresh raspberry compote. Both are topped with vanilla buttercream and decorated with gold Maltesers, sprinkles, golden dark chocolate crowns and gold dust.
Its Jubilee Cupcake Boxes (£19.80) come with a selection of chocolate and vanilla cupcakes, topped with chocolate ganache and red, white, and blue buttercream. They're decorated with edible petals, gold Maltesers, golden dark chocolate crowns and edible gold dust.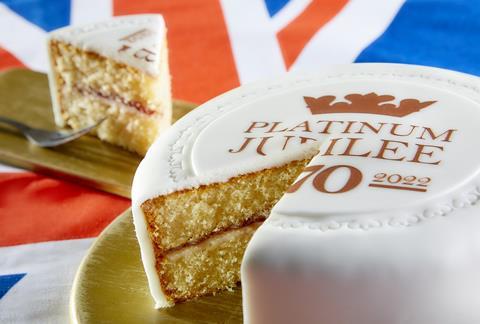 Platinum Jubilee Celebration Cake, Tesco
Tesco has teamed up with cake manufacturer BBF to produce a limited-edition cake to honour the Queen's upcoming Platinum Jubilee.
It consists of a soft madeira sponge which is filled with frosting and a raspberry & plum jam. The cake is then covered with a white fondant icing and finished with a sugar paste plaque inscribed with a Jubilee inspired crown design.
"Working with Tesco to create such a special cake has been an honour," said BBF CEO Jonathan Lill. "Our talented NPD team has been working closely with the team at Tesco on this exciting new product, which will help the nation celebrate such a huge milestone for the country. After months of planning, it's great to see the product on shelves."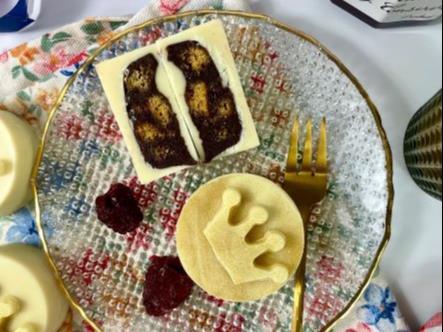 White Chocolate & Edible Gold Coin, Silver Apples Bakery
Wholesale business Silver Apples Bakery has created a trio of delights for the Jubilee, including a White Chocolate & Edible Gold Coin. The coin sees raspberry & vanilla tiffin fully enrobed in white chocolate with edible gold on top for a right royal finish.
It's also created buttermilk scones as well as Gold Crown Vanilla Cupcakes which are covered in red, white, and blue sprinkles, red buttercream frosting and topped with a gold crown decoration.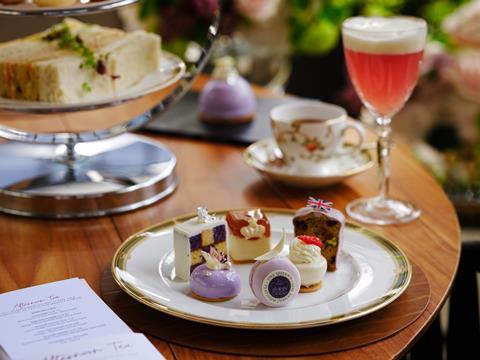 Royal Afternoon Tea, Four Seasons Hotel London at Park Lane
Executive pastry chef Yam Lok Hin has created a royal afternoon tea to celebrate the Jubilee.
The afternoon tea features intricately designed speciality pastries including a Jubilee Macaron – filled with lavender ganache and cassis gel and with the official Queen's Platinum Jubilee logo – a royal wedding fruitcake inspired by The Queen and Prince Philipp's wedding cake in 1947, an almond Battenberg and freshly baked scones. For a twist on a classic, there's also a reimagined Victoria Sponge pastry, made with Earl Grey mousse and blackberry cream.
The sweet treats are served alongside finger sandwiches including coronation egg mayonnaise with spring onions and mustard cress on white bread, Pimm's marinated smoked salmon with lemon infused crème fraiche on granary bread, and Scottish blue lobster with Portland crab, basil mayonnaise and mango salsa on white bread.
The hotel is keeping the celebrations going far beyond the Jubilee as the royal afternoon tea, which is priced at £62 per person, will be served until 31 August.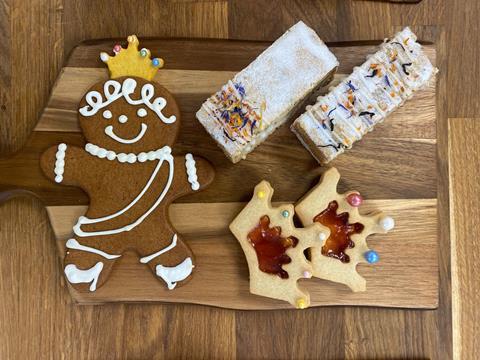 Queen of England Gingers, Two Magpie Bakery
Two Magpies Bakery said it is ready to roll out the red carpet with bakes fit for a queen.
Its Jubilee line-up includes Pimms Fruit Tarts, Adnams Copper House Gin & Tonic Doughnuts, Queen of England Gingers, Rhubarb & Custard Crown Biscuits decorated in jewels, Mini Pavlovas, Coronation chicken sandwiches and eggs royale. It's also selloing a seven-tier Victoria sponge and afternoon tea hampers.
Alongside the extended menu, some of Two Magpies' sites are also opening for extra hours or offering additional services. Southwold will be offering stone-baked sourdough pizza all day on the Sunday, whilst Darsham will run an extra pizza night on Saturday, and will also open its new courtyard garden for outdoor drinks and get togethers. The Holt site will be offering evening dining from Thursday-Saturday, alongside its 'Quintessentially English Afternoon Tea', whilst Aldeburgh will host a pop up stand by Moot Hall on Thursday night.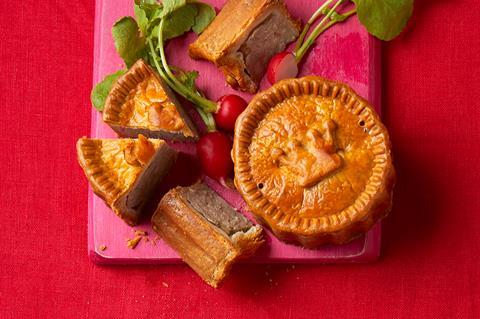 Jubilee Fluted Pork Pie, Waitrose
Waitrose is serving up a savoury option for celebrations in the form of a Jubilee Fluted Pork Pie (£3). It is made using select cuts of British pork encased in hot water crust pastry and hand finished with a pastry crown. The retailer suggests serving it with a creamy blue cheese and fruity chutney.
Cakes are also on the menu. Made by Fiona Cairns Bakery, the Jubilee Fair Cakes (£6 for six) are topped with fondant icing and decorated with edible Union Jack flags, bunting and a crown.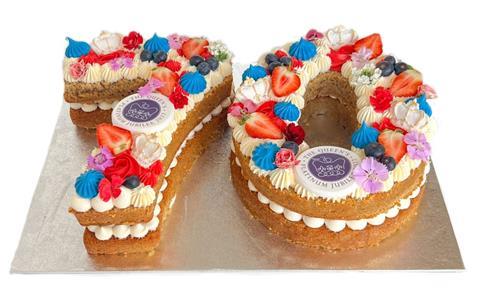 70 Cake, My Baker
My Baker has embraced flavours the 'Queen would approve of' for the crown in its Platinum Jubilee collection – a number 70 cake. The vanilla sponge is flavoured with Earl Grey tea and topped with the Platinum Jubilee emblem, fondant crowns, red and white buttercream swirls, and blue meringue kisses, fruit, and edible flowers.
A Queen's Jubilee Swirl Cake – covered in red, white, and blue buttercream swirls – is also available alongside the Elizabeth Sponge Cake covered in purple meringue buttercream and sprinkles. Rounding off the range is a Playing Card Edible Image Cake, with options including vanilla, red velvet and salted caramel. The cake is smothered with buttercream and topped with a Jubilee playing card design featuring the Queen alongside her trusted corgis.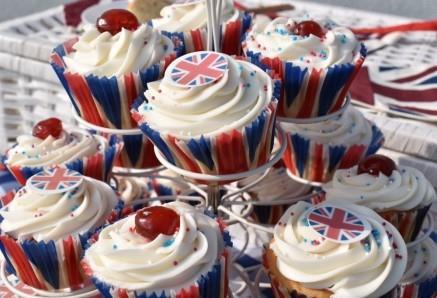 Victorious Cupcakes, Fatherson Bakery
Fatherson Bakery has created a trio of limited-edition cakes for the celebrations.
The six Great British Fairy Cakes (£3.50), the six Glorious Cupcakes (£5.50) and the 12 Victorious Cupcakes (£10) are covered in vanilla icing, topped off with cherries and edible UK flags and finally sprinkled with red, white, and blue sweet balls.
Fatherson Bakery and its artisan bakers use only locally sourced ingredients to create fresh handmade and individually decorated cakes. The Jubilee cupcakes are now rolling out in-store across the UK, including the Co-op, Budgens, Londis, Nisa, Spar, and many national and independent garden centres, farm shops, and grocery retailers.