Vegan-friendly sweet treats are blossoming. The movement, which was barely a seedling just a few years ago, has now bloomed into a full-blown macrotrend, taking the bakery, and wider, world by storm.
"The vegan bakery market is growing fast," says Juliette Maliska, technical services manager – bakery, snacks & confectionery EMEA at Ingredion. "Despite only 2% of sweet bakery goods having a vegan claim in 2016, already 14% of launches have had this positioning in 2021."
As the number of vegans in the UK continues to climb and more consumers wrap their face around plant-based goods for ethical and environmental reasons, it begs the question: how big can the market get? And, when it comes to sweet bakery, what opportunities are still up for grabs?
"The global vegan market is projected to be worth $24bn by 2024. There's huge potential for growth in sweet and savoury as vegan products are incorporated into ranges all year round," says Cristiana Ballarini, CSM Ingredients marketing director pastry mixes. In short, think beyond Veganuary.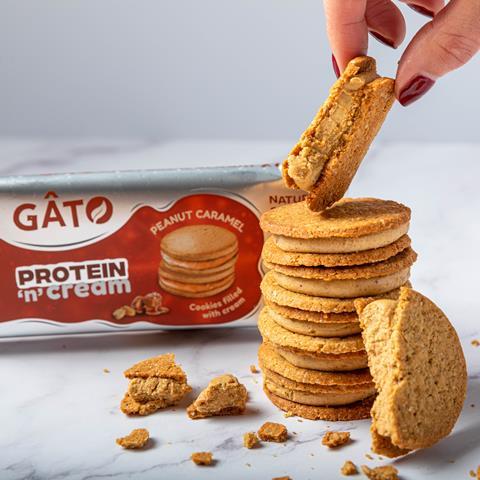 Biscuits have been leading the NPD charge so far, according to data from analyst Mintel, which shows that approximately 6% of all bakery launches in Europe over the past five years fall into the vegan cookie category, followed by vegan cakes at 3%. This, believes Maliska, is because biscuits are "technically more straightforward" to develop without animal-based ingredients.
Notably, Burton's Biscuit Co reverted to a vegan-friendly recipe for its Jammie Dodgers last year, removing dairy that had been added following a previous recipe change a few years prior. It's a choice that remained in place for the launch of its Choccie Dodgers in the summer. Double Trouble Chocolate Cookies were also added to Tesco's Wicked Kitchen range for Veganuary 2021 alongside Oat Wheel Raisin Cookies while 'plant powered' cookie brand Gato rolled our a four-strong range of Protein 'n' Cream sandwich biscuits.
Negative connotations
Vegan-friendly cakes, meanwhile, face complications, namely misconceived notions from consumers that they are missing out on the 'real thing'. "Studies by Mintel found that just 21% of consumers felt vegan cakes sounded appealing," notes Laura Passingham, marketing executive at ADM Milling. "Cakes and sweet bakes are seen as indulgent treats by consumers who fear that swapping out animal-based ingredients such as butter, eggs and milk, which are traditionally used in cakes to create the moist texture and rich taste sensation that consumers have come to expect, will result in a loss of satisfaction when consuming a vegan product."
The opportunity if these potential misconceptions can be overcome though is a valuable one, with Passingham quoting further data that shows 38% of the UK adults surveyed would like to see a wider range of vegan cakes available – a number that rises to 59% among 16 to 24-year-olds.
Studies by Mintel found that just 21% of consumers felt vegan cakes sounded appealing
It's a burden not solely shouldered by vegan cakes. John Want, sales, marketing, and R&D director at Rich's, acknowledges that the perception that plant-based alternatives won't taste as good is "one of the biggest barriers" to their acceptance.
However, Robert Lambert, head of marketing and communications at clean label food ingredients specialist Ulrick & Short, believes consumer perception is slowly shifting as more recognisable brands launch plant-based lines. "The reverse side is that consumers now have much higher expectations and will not accept a drop in quality versus the standard," he says.
This shift is partly thanks to businesses learning to adapt to new processing and cooking methods used to produce good quality vegan bakes and understanding nuances like setting temperatures, he adds.
Lydia Baines, marketing manager patisserie at Puratos UK, goes one step further in her praise of progress so far: "The taste, variety and nutrition benefits of sweet vegan bakery products have improved dramatically in recent years."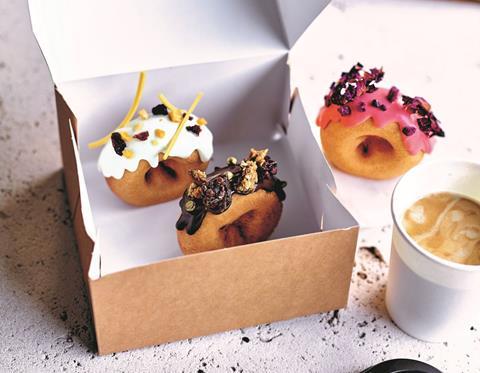 That said, the technical challenges around creating vegan bakery NPD are not to be underestimated. Synergy Flavours category manager Natalie Sheil, for example, notes that the implications of removing dairy ingredients can lead to structural and textural changes as well as shelf-life challenges and flavour inconsistencies. "Using plant-based milk alternatives in place of dairy can give some cereal notes to products and may not have the desired browning effect," she says.
The taste, variety and nutrition benefits of sweet vegan bakery products have improved dramatically in recent years
However, some believe developments in the future will be more akin to "fine tuning" recipes and refining nutritional profiles.
Concerns around traceability and sustainability of ingredients will also come into play, believes Caroline Aherne, founder and MD of artisan bakery The Free From Bakehouse. "Customers will be looking for traceability of ingredients and how it affects the planet," she says. It won't be easy, she notes, as this could make sourcing more complicated and increase costs.
Top it like it's hot
It's all well and good offering a vegan cake or biscuit that's indistinguishable from a traditional one, but that's not the end of the journey. "The challenge that bakers continue to face is how to fill or finish sweet bakes," notes Kirsty Matthews, marketing manager at ingredients supplier Macphie.
It's this that drove the creation of Macphie's vegan-certified frostings, which include chocolate and vanilla flavours, as well as a plant-based cream alternative for use in cakes, patisserie and on top of hot drinks. The latter is one of several plant-based creams to have rolled out of late. Rich's, for example, added a Cooking Crème for sweet and savoury hot applications and a Whipping Crème for desserts, cakes and hot drinks in early 2020. CSM Ingredients, meanwhile, which says "vegan is at the forefront of our agenda for 2021 and 2022" added a vegan cream to its Craigmillar range in February which can be whipped to three times its original size, adding volume to cakes and desserts.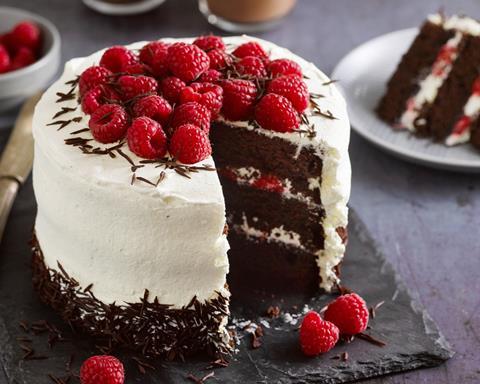 "From vegan chocolate inclusions, which are bake stable, to cream and gelatine alternatives that can be used to create more sophisticated offerings, vegan-friendly finishing products are just as important for bakers catering to customers' high expectations of the look and taste of vegan sweet treats," says Jacqui Passmore, marketing manager UK and Ireland at Dawn Foods.
There are other opportunities for growth as well which primarily come from tapping into shopping and consumption occasions with the right range of products.
"There is a huge under representation of vegan plant-based in-store sweet bakery (ISB) products and it's a big focus for our business," says Rich's Want. Looking at the figures, it's understandable why. "Ten percent of people took part in Veganuary and this was a catalyst for trying alternatives: mainly plant milks, meat & poultry alternatives and vegan cheese. If as many shoppers purchased ISB sweet bakery plant-based [products] in January 2022, this could be worth £5.9m – that's annually £70m," he explains.
Baines believes "afternoon tea, snacking and breakfast are all occasions that could drive further growth in vegan sweet bakery". As such, Puratos has developed a Vegan Scone Mix to tap into this alongside a "new generation" of fats designed to mimic the performance of butter in croissants and other pastries.
"More widely, we are also predicting the trend for vegan indulgence to grow, as brands and businesses increasingly develop and launch new vegan sweet treats including cookies, brownies and cakes that taste just as good and are just as much of a treat as non-vegan alternatives," she adds.
Taste is still king and while trial of free-from alternatives is high, repeat purchases rely on the products 'being like the original
Notably, as quality increases, some are predicting vegan products to become the go-to option to save outlets having to offer several iterations of products.
"Vegan sweet bakery products are becoming the 'new normal' and, instead of differentiating between vegan and non-vegan, we are now seeing bakers offering the same delicious products to all their customers," adds Passmore.
Rich's Want confirms, saying many customers are asking for products to be vegan as standard. "The most important thing is that the bakery range excites and inspires," he says. "Taste is still king and while trial of free-from alternatives is high, repeat purchases rely on the products 'being like the original'."