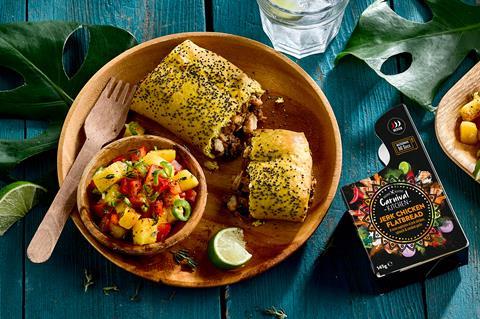 Addo Food Group is tapping into demand for international cuisine with a selection of pies, filled flatbreads and bites under a new brand called Carnival Kitchen.
The range, which is set to launch into selected UK Waitrose and Asda stores from 29 September and 18 October respectively, aspires to provide shoppers with flavours from across the globe including those from India, Thailand, Mexico the US. It includes:
Philly Steak & Cheese Pie: made with pulled beef, peppers with a Monterey Jack and Philly cheese sauce
Tandoori Chicken Pie: chicken, tomato, onion and coriander in a tandoori sauce wrapped
Jerk Chicken Flatbread: spicy chicken with spinach and smoked garlic
Red Thai Pork Flatbread: pork, tomato and peppers in a Thai red curry sauce.
All four feature a turmeric flatbread-style dough and are priced at £2.50. The range also includes Piri Piri Chicken Bites (£2.50) and Cheese & Jalapeño Bites (£2.50) which are encased in a crunchy coating and designed to be eaten as a snack or side dish. They can be eaten hot or cold, and heated in a microwave or oven.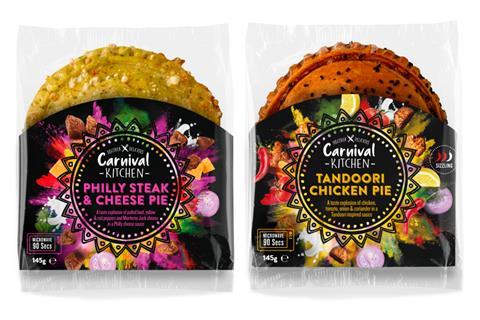 "We're incredibly excited to have launched a new street food inspired brand which features a full range of products inspired by world flavours and the Carnival Kitchen teams' travels. They have been developed to bring a new tasting experience to consumers, while also fitting seamlessly into their busy lives," said Carnival Kitchen brand manager Mike Holton.
"Our extensive market and customer research showed us that consumers are still looking for snacking experiences to deliver bigger and better taste adventures, while also featuring quality ingredients that have the flexibility to be enjoyed both hot and cold."
To celebrate the launch, Addo is running sampling in London, Birmingham, and Manchester throughout October with a focus on commuters, families, and students. The promotion will include a steel band and carnival dancers, Holton added.