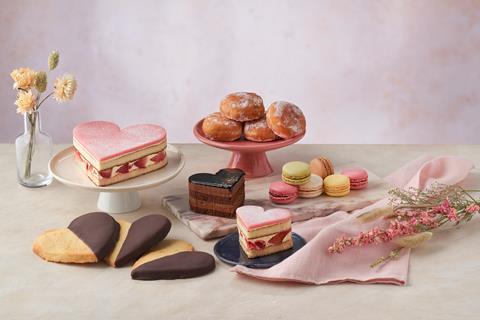 Bakers and retailers are gearing up for Valentine's day with a host of heartfelt NPD designed to share the love.
Gü, Fatherson Bakery and Waitrose are among those unveil new products including cheesecakes, biscuits, and cupcakes. There's also mini doughnuts and gingerbread men for the occasion.
Here's our pick of the latest Valentine's NPD: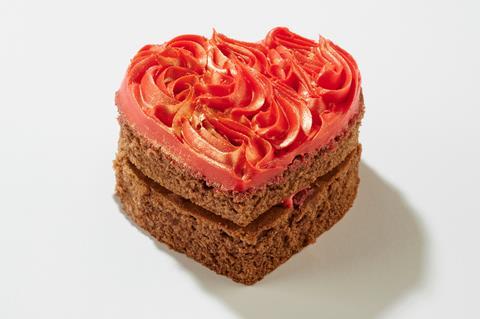 Fatherson Bakery
To celebrate Valentine's Day, Fatherson Bakery has launched a trio of cakes.
The Chocolate Heart Shaped Cake (£5) features a chocolate sponge piped with red icing and topped with gold dust.
Its Large Valentine's Cupcakes (£4/pack of two) come in vanilla and chocolate flavours. The sponge cupcakes are topped with swirls of icing, a sprinkling of gold dust and mini hearts.
The Valentine Fairy Cakes (£2.50/box of six) are made up of chocolate and vanilla flavoured cupcakes, topped with butter icing and gold dusting.
Suitable for vegetarians, the range is available from early February.
"All our Valentine's cakes and in fact, everything we bake at Fatherson, use only quality, locally sourced British ingredients. That's why with the Valentine Range we can guarantee 'baking' freshness for 14 days," said owner Laurence Smith.
Consumers can find the romantic treats via the Fatherson website or in Co-op, Budgens, Spar and Londis. They are also available in garden centres such as Dobbies, Squires and Hillier.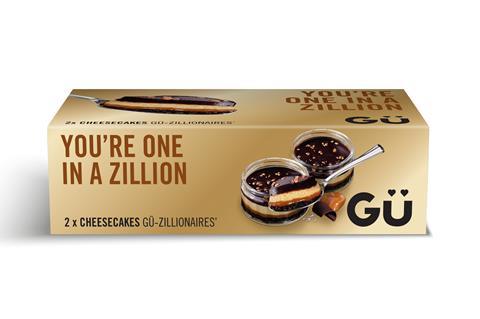 Gü
The chilled dessert brand has unveiled limited-edition packaging across its core cheesecake range.
Described as tongue in cheek, the designs feature declarations of love, from 'I'm wild about you' and 'You're one in a zillion' to 'You're my partner in lime' and 'You're the salt to my caramel'. The pun-worthy packaging will run across some of its bestsellers.
These include:
Wild Strawbery & Clotted Cream Pudding is inspired by afternoon tea and combines the Cornish clotted cream with strawberries
Gü Zillionaires' marries layers of chocolate ganache with treacle cheesecake and salted caramel on a crumbly chocolate base
Peruvian Lime is a mascarpone cheesecake, sitting on an Indonesian sugar palm biscuit, and finished with a kick of key lime curd
The Salted Caramel cheesecake features Guerande salted caramel cream and a biscuit soaked in caramel.
"Our clever, engaging puns, which feature across the limited-edition packs are set to tempt shoppers to trade up to a premium option to mark the occasion. We are ideally placed to drive further sales for our retail customers, and with packs available from January, we expect to see repeat purchases as well," added Amy Heap, marketing director at Gü.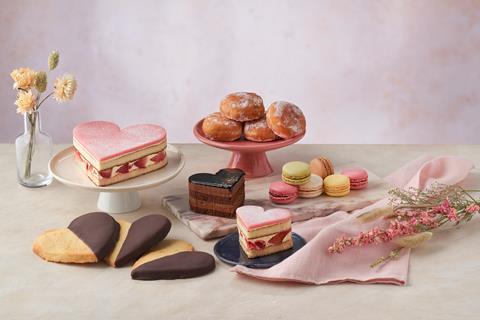 Paul Bakery
The French patisserie is rolling out a heart-warming range of nibbles this Valentine's Day.
For a slice of TLC, couples can try the You & Me Bundle (£19.95). The Valentine's package comprises two heart-shaped cakes called Craquant (crunchy cake) and Fraisier (strawberry sponge cake), as well as a box of 12 mini macarons.
Alternatively, its Sharing Heart Fraisier or Craquant (£19.95) are individual heart-shaped cakes, which are available in store.
The Sent with Love Box (£26.95) includes shortbread biscuits dipped in chocolate and five chocolate beignets.
Shoppers can pre-order the boxes via Paul's website from 25 January, with delivery (within the M25) and collection from 8 February.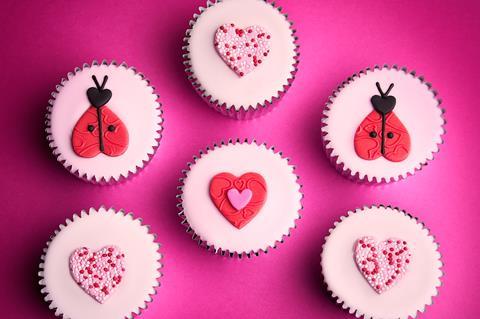 Waitrose
The retailer has rolled out a host of Valentine's treats, including cupcakes.
The Seasonal Fairy Cakes (£5) comprise six golden sponge cupcakes topped with fondant icing and sugar paste lovebug decorations. They are made exclusively for Waitrose by Fiona Cairns bakery.
For a romantic dinner, the Valentine's dinner for two deal (£20) includes Heston Blumenthal's new Espresso Martini Chocolate Tortes.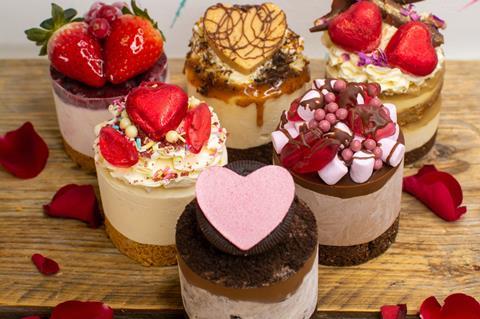 Pleesecakes
To kick off Valentine's Day, Pleesecakes has unveiled cheesecake chocolates and mini cakes.
Pleese Be Mine (£25/box of six) contains Chocolate Cheesecake Hearts. The geometric hearts are filled with three cheesecake flavours – caramel and butterscotch, vanilla with a coconut twist, and Nutella – and chocolate digestive pearls.
For pick n' mix lovers – enter the Mini Cheesecake Variety Bundle (£35). The selection has six flavours: sticky toffee, rocky road, Oreo, banoffee, mixed berry and salted caramel. The cheesecakes are topped with sweet treats, from marshmallows to strawberries.
Delivery is available across London and the south east, as well as collection from its Redhill store from 12-14 February.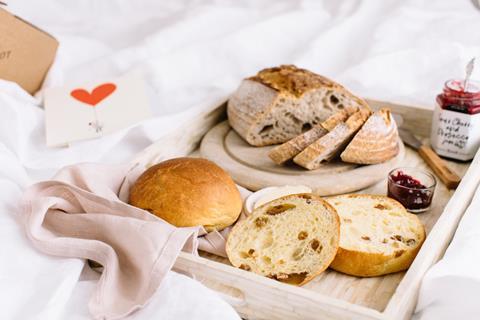 Lovingly Artisan
Cumbria-based Lovingly Artisan has partnered with condiment makers Hawkshead Relish to launch a Valentine's Day breakfast box.
The romantic box (£11) contains the bakery's saffron buns and Pain de Champagne loaf, as well as a pot of Hawkshead Relish's handmade sour cherry & prosecco jam.
Consumers can order these goodies direct to their doors through the virtual bakery store via the Lovingly Artisan website.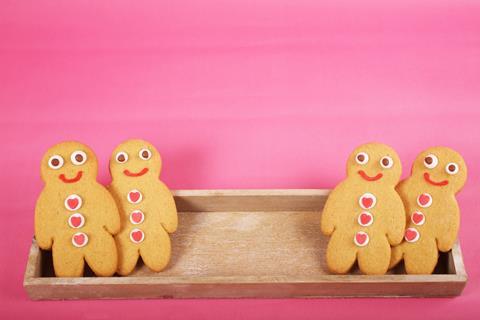 Birds Bakery
Birds Bakery has designed an array of lovestruck goodies to mark the most romantic day of the year.
The Valentine's range includes gingerbread men (£1.35/each), shortbread hearts (£1.30/two) and heart cupcakes (£1.60/each).
Couples can order a Valentine's Picnic Pack (£25) direct to their doors. The heartfelt hamper features two Valentine's cupcakes, two fruit scones, a small pork pie, a pack of shortbread hearts, one Quiche Lorraine, a pack of sausage bites and two sandwiches.