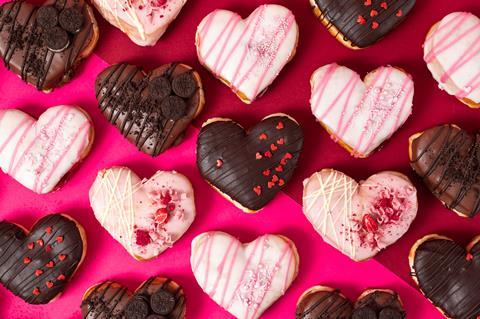 With Valentine's Day fast approaching, bakers and retailers are rolling out an array of decadent bakes to tug at consumer's heartstrings.
Krispy Kreme, Costa Coffee and Ole & Steen are among those to launch new products, including heart-shaped doughnuts, toasties for two, and dreamy Danish buns.
Gü, Fatherson Bakery and Waitrose have already revealed their plans for Valentine's Day as they look to tap into trends such as letterbox gifting, bitesize treats and online shopping.
Here's our pick of the latest Valentine's bakery NPD: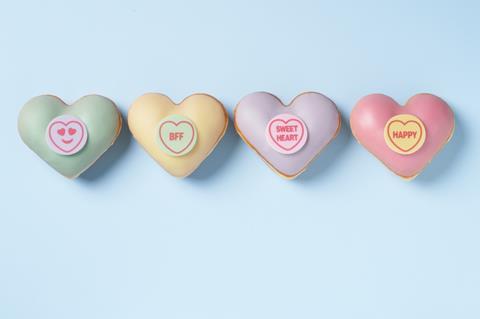 Krispy Kreme
Krispy Kreme has partnered with Swizzels Love Hearts to kick off Valentine's Day.
Called the Krispy Kreme Love Hearts, the heart-shaped doughnuts are emblazoned with 12 different messages, including 'My hero', 'BFF', 'I love you' and 'Happy.'
The limited-edition doughnuts (£2.25/each) come in four flavours: green with a chocolate kreme filling; pink with a strawberry & sherbet kreme filling; yellow with a lemon & sherbet kreme filling; and purple with a sherbet kreme filling.
"We know this last year has been tough for everyone. It's never been so important to help brighten the days of a loved ones and create moments of happiness – which is why we are so excited to bring you the new Love Hearts range," said Louise Direito, head of innovation at Krispy Kreme UK.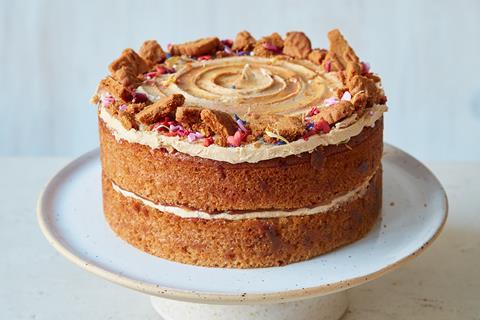 Cutter & Squidge
London-based Cutter & Squidge has rolled out a new range of Valentine's cakes.
Consumers can try the Valentine's Day Vegan Biscoff Cake (£29.90), made up of a Biscoff sponge layered with a smooth Biscoff buttercream and Biscoff spread. Crunchy Biscoff pieces, flower petals, sugar hearts and a raspberry & strawberry crumb complete the treat.
The Valentine's Day Mini Brownie Box (£13.90) contains three brownie variants – Strawberry Cheesecake Mini Brownie Bites, Millionaire Mini Brownie Bites and White Chocolate Brownie Bites.
For something a little bit different, couples can dig into the Yuzu Mango Cake (£24.50). The yuzu-infused sponge comprises mango compote, yuzu buttercream, custard, crispy pearls and a digestive crumb. It is adorned with a crown of rose petals, freeze-dried raspberries and coconut flakes.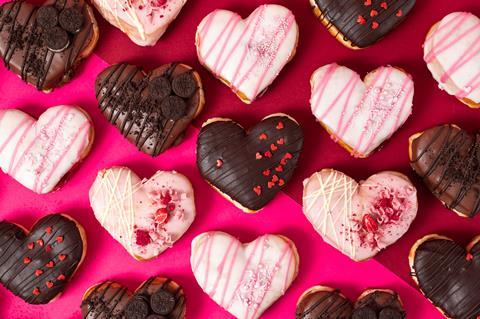 Doughnut Time
Doughnut Time has rolled out an array of heart-shaped doughnuts to celebrate the most romantic day of the year.
It includes:
Berry Halliwell – it has a strawberry custard filling, strawberry and cream glaze, as well as a topping of white chocolate, strawberry curls and dried strawberries
Margot Heart-Throbbie – filled with Nutella, this doughnut is dipped in a chocolate glaze, drizzled with milk chocolate and topped with Mini Oreos
Luna Lovegood – a vegan doughnut, it is filled with sticky jam, dipped in vanilla glaze and dusted with Valentine's sprinkles
Demi Love-ato – filled with and dipped in rich chocolate ganache, it is drizzled with vegan chocolate and sprinkled with love hearts.
Consumers can order online now for nationwide home delivery.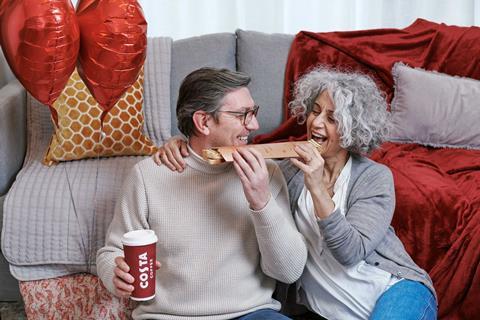 Costa Coffee
Costa Coffee has launched a limited-edition Heinz Beanz & Cheese Sharer Toastie.
Filled with Heinz Beanz and mature Cheddar cheese, the 'love-themed' toastie comes wrapped in a toastie sharing box.
Couples can access the toastie from either side at the same time, like the famous pasta scene in Disney movie Lady and the Tramp, it said.
The launch comes after the coffee shop's survey revealed that one in five of respondents made it clear that right now the nation would prefer the simple comfort of cheese and beans over gourmet food this Valentine's Day. Nearly half (44%) are willing to show their loved one how much they care by sharing their food.
The sharing toastie will be available for a limited time only, exclusively via the Uber Eats app, from 12-14 February. They can be delivered direct to consumer's doors.
"With all of us staying home this February 14, we hope this limited-edition Heinz Beinz & Cheese Toastie 'sharing box' will hopefully bring light-hearted joy and romance to those who are really appreciating the little things in life," said a Costa Coffee spokesperson.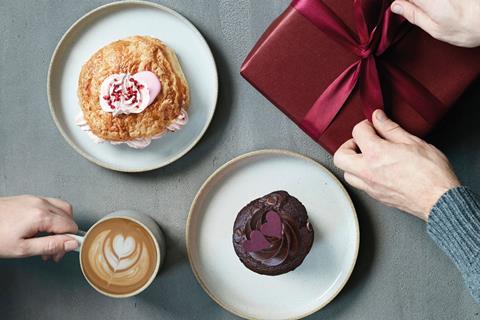 Ole & Steen
Fastelavn is here – that's a Danish food festival celebrated each February.
In an ode to the Danes, Ole & Steen has launched a Raspberry Festival Bun (£3.95/each). The sweet dough bun is filled with tart raspberry cream and chocolate mousse. It is also topped with raspberry mousse and freeze-dried raspberries.
For those feeling the love, the Valentine's Chocolate Muffins (£2.95) feature creamy chocolate frosting and sugar hearts.