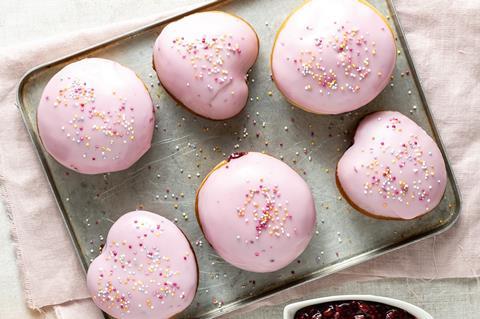 Valentine's Day will likely be a bit different this year, but that doesn't mean consumers don't want to spread the love with flowers, chocolates and, er, doughnuts.
To celebrate a Valentine's like no other, bakers have adapted their offerings to fit a romantic occasion amidst a pandemic. There's letterbox gifting, doughnuts and bite-size treats, which have all boomed in popularity.
Lovingly Artisan, Paul Bakery and Pleesecakes, meanwhile, have already tapped into these trends with a host of new products.
Here are some bakery trends sure to get hearts racing on 14 February: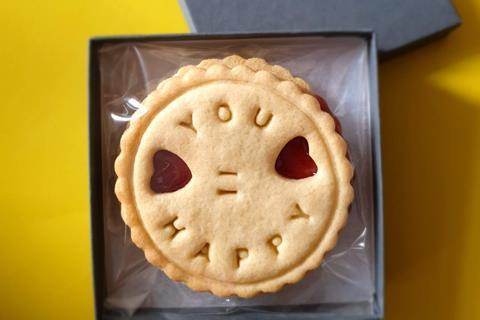 Letterbox gifting
Lockdown restrictions mean that many couples will be spending Valentine's Day apart. As such, letterbox gifting has become more popular than ever, with consumers posting iced biscuits, macarons or brownies to loved ones.
"Gifting, sending loved one's special treats and showing appreciation has definitely increased, this has become so much easier to do with many businesses making online purchasing simple, slicker and accessible," says Lisa Smith from Ginger Bakers.
Leeds-based Bloom Bakers, for example, has launched a new range of Valentine's letterbox biscuits. For the first time this year, the brand has launched a dedicated Valentine's shop with its most popular messages. Consumers can choose from Missing You Biscuits at £22.50 or an Individual Valentine's Biscuit for £6 emblazoned with 'You = Happy'.
"Valentine's Day is the perfect occasion for sending cakes in the post and we are seeing many bakeries, cafes and restaurants making the most of this business opportunity, using social media platforms to communicate their offering," says Jacqui Passmore, marketing manager UK and Ireland at Dawn Foods.
"We are going to see thousands of brownies delivered by post too. There has been massive growth in on-line brownie delivery businesses as brownies are easy to make, for example, using Dawn's Brownie Mix and make a great gifting item."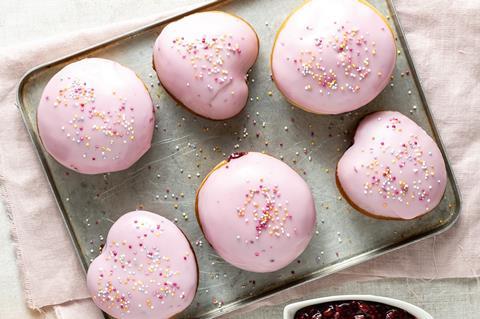 Doughnuts
Forget chocolates, this Valentine's Day consumers are opting to share the love with doughnuts.
"Doughnuts are making a strong appearance again, along with plenty of vegan options," adds Dawn Foods' Passmore.
Dawn is tapping into this trend with a new lovestruck recipe. Recipe developer and influencer Emma Hanton has whipped up Valentine's vegan raspberry doughnuts for bakers to use. Made from Dawn's new vegan doughnut mix and vegan fruit filling and glaze, the raspberry flavour amps up the nostalgia factor, it adds.
Elsewhere, Krispy Kreme has teamed up with sweet brand Love Hearts on its range of heart-shaped doughnuts while Doughnut Time has created heart-shaped delights suitable for home delivery. Its range includes jam- and chocolate-filled treats as well as DIY options.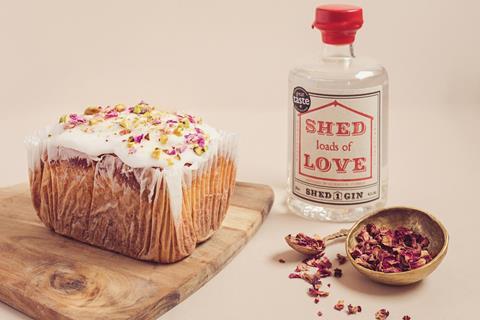 Local pride
Over the past twelve months, there has been a great appreciation for all things local and Ginger Bakers believes this will carry over to 14 February.
"For Valentine's Day this year we have collaborated with one of our neighbours in Cumbria. Shed 1 is a gin distillery and has a great seasonal gin, with buoyant alcohol sales during lockdown this seemed a perfect partnership," says owner Lisa Smith.
Called Shed Loads of Love, the cake is inspired by the classic Persian Love Cake and comprises dried edible rose petals and chopped pistachios.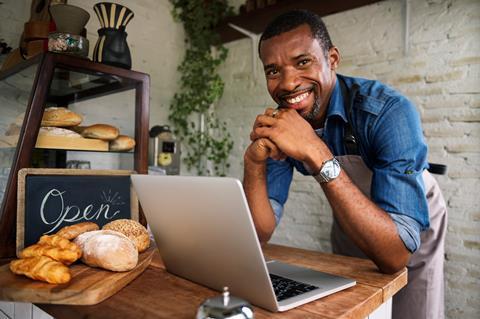 Get virtual
Valentine's Day is still a big deal for bakers, but the way they shift their wares may change.
"Most of our sales this year will be online so there will be a big uplift through this channel," notes Ginger Bakers' Smith.
Fulop Gabor, owner of London-based Jack & Beyond, believes that bakers can seize opportunities by offering UK wide shipping or local, contact-free delivery services.
"Bakers should focus on working on their online presence by setting up a user-friendly website and online shop and start marketing their products to target audiences via social media such as Instagram and Facebook," he adds.
Gabor says that Valentine's sales should not be too affected by lockdown, as the romantic day can easily be celebrated indoors. However, job losses and redundancies could include how much people spend on gifts this year.
Bite-size
Lockdown has increased the demand for smaller cakes and desserts that serve two people.
As Valentine's dinners at home become the norm, a host of high street retailers including M&S, Aldi and Morrisons have unveiled 'Dine in for Two' offers.
Bakers everywhere, meanwhile, are rolling out miniature bakes, from cheesecakes to pavlovas.
Cheesecake specialist Pleesecakes, for example, has created individual portions of heart-shaped cheesecakes including caramel & butterscotch, vanilla with a coconut twist and Nutella variants.
Jack & Beyond, on the other hand, has a range of Valentine's Day Cupcakes with an rsp of £3.60. These vanilla cupcakes are finished with buttercream icing and a topping of meringues.