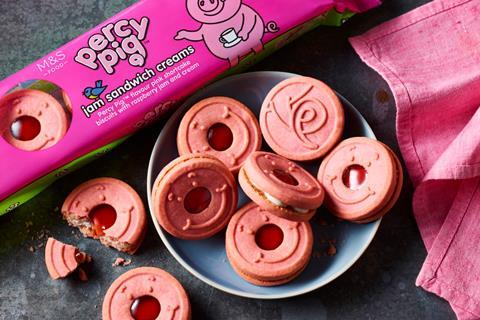 Bakers, retailers and manufacturers are hoping to tempt consumers with an array of sweet treats as summer beckons.
From shortbread biscuits, Lotus Biscoff cheesecakes and frozen desserts to nostalgic sweet shop themed doughnuts and new hybrid bakes, there's a product to suit all tastes and dietary requirements.
Here's our pick of the latest NPD bakery: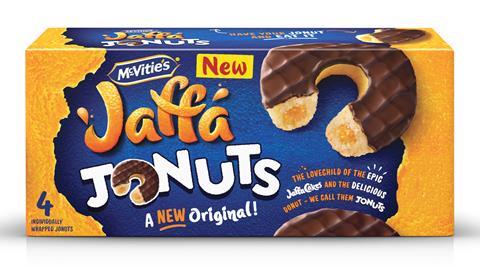 Jonuts, Pladis
Pladis is jumping on the hybrid bakery trend with the launch of Jaffa Jonuts – a doughnut and Jaffa Cake mix-up. The Jonuts feature a light sponge ring with dark chocolate on top and an orange flavoured filling. They're available in Tesco on 16 May in sharing boxes of four (rsp £1.99) as well as individually wrapped 'snack packs' (rsp 60p) designed to help retailers to drive impulse sales.
Pladis said the Jaffa Jonuts will help add incremental value to the biscuit category by targeting new younger shoppers, and added that it was the biggest format innovation for the brand in the last two years after it took the brand into cake bars in 2019 and Nibbles in late 2018.
"McVitie's Jaffa Cakes are adored by households across the country – with 54.2% of shoppers buying them again and again – so we know there's widespread appetite for alternative formats which incorporate the great taste of Jaffa Cakes," said Emma Stowers, brand director for McVitie's at Pladis UK&I. "This NPD is the perfect example of how we can push the boundaries when it comes to what 'should' take pride of place on the biscuit aisle, plus it unlocks new occasions for biscuits."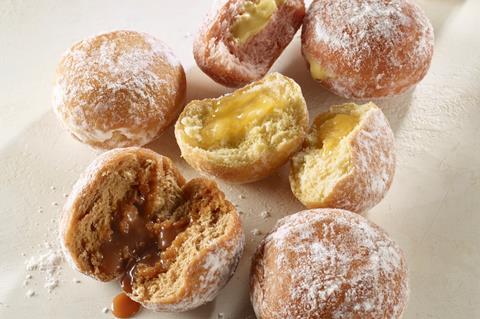 Sweet shop doughnuts, Country Choice
In-store bakery and foodservice supplier Country Choice has drawn on a nostalgic 'sweet shop' theme as the inspiration for its latest set of Funtime doughnuts. The sugar-dusted treats are available in Lemon Sherbet, Rhubarb & Custard and Toffee flavours. Served in packs of three (rsp: £1.50), the 71g 'thaw and serve' treats are available in cases of 60 and have a shelf life of two days.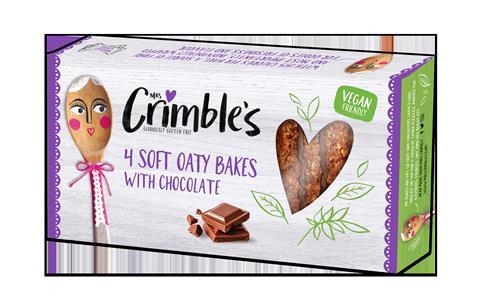 Soft Oaty Bakes, Mrs Crimble's
Mrs Crimble's has unveiled a vegan-friendly, gluten-free oat-based bar containing 155 calories per serve. The individually wrapped Soft Oaty Bakes with Chocolate are made from gluten-free oats and vegan Belgian chocolate. The bakes are available in Tesco in packs of four for an rsp of £2.25.
"Customers are now selecting free-from out of choice to support their lifestyle rather than for medical needs," said Vicki Hazel, Mrs Crimble's brand controller at Ecotone UK. "The Mrs Crimble's brand speaks to both lifestyle consumers and coeliac sufferers – turning the outdated view of gluten-free food on its head with tasty, high quality bakes that all can enjoy."
The launch is being supported by a multi-channel digital activation advertising campaign called #NoFilter, aimed at reflecting the brand's philosophy that gluten-free is all about 'great taste, real benefits and real eating experiences'.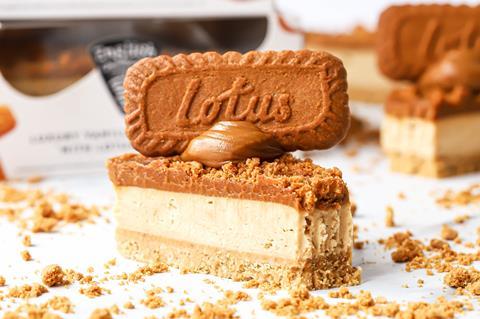 Lotus Biscoff cheesecakes, The English Cheesecake Company
Handmade desserts & cakes specialist The English Cheesecake Company has launched three styles of Lotus Biscoff Cheesecake to suit both picnic and family sharing occasions.
The Luxury Vanilla Cheesecake Slices are sold in a twin pack (2 x115g. The individual caramelised portions combine vanilla cheesecake, a crunchy biscuit base, and a Lotus Biscoff Spread and Crumb finish. The slices are available in Sainsbury's, Waitrose, Co-op and Booths.
A larger 6" Luxury Vanilla Cheesecake, geared towards dinner parties and group get-togethers, has also been launched. The vegetarian-friendly product is available in the Co-op.
Completing the trio is a vegan Smooth Vanilla Cheesecake with Lotus Biscoff Stacker, which can be found in Waitrose.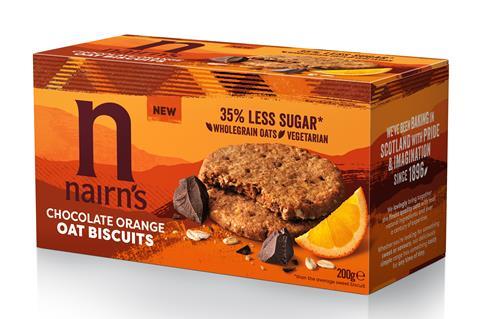 Chocolate orange oatcakes, Nairn's
Nairn's has added a Chocolate Orange flavour to its existing four-strong range of Oat Biscuits (rsp: £1.40). The treat, which contains 48 calories per serve, is made from orange oil, dark chocolate chips, crumbly chocolate dough and wholegrain oats. The brand claims the product has 35% less sugar than an average biscuit.
The latest variant joins the existing Coconut and Chia Stem Ginger, Dark Chocolate and Mixed Berry flavours and will be on sale in Sainsbury's, Waitrose and independent health stores from the end of May.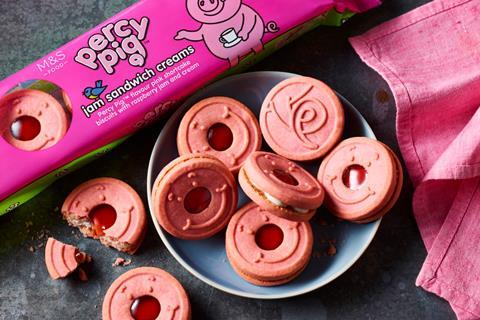 Percy Pig biscuits, M&S
M&S has debuted Percy Pig Jam Sandwich Creams (rsp: £1) modelled on its popular porcine character. The Percy-flavoured biscuits comprise a cream and raspberry filling nestled between two pink shortcake biscuits featuring a curly face design on the top and curly tail on the bottom.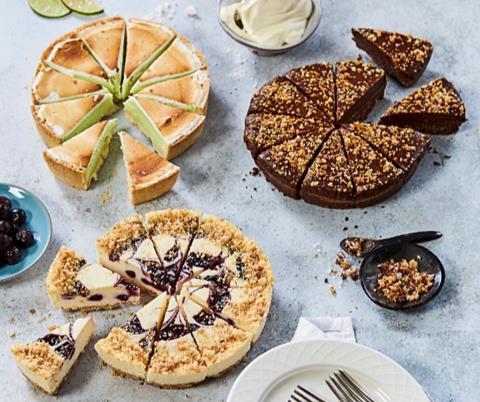 Dessert selection, Country Range
Foodservice brand Country Range has unveiled two new bite-size frozen dessert arrangements – a mixed dessert selection and cheesecake selection. The former comprises:
Blueberry Crumble Cheesecake: a crunchy crumble base topped with vanilla cheesecake swirled with a fruity blueberry compote and finished with a crumb coating
Chocolate Salted Caramel Torte: a chocolate truffle layered with salted caramel sauce and topped with chocolate mousse and crunchy crumb
Lime & Meringue Pie: a sweet pastry filled with creamy lime custard and flamed meringue.
The Country Range Cheesecake Selection of small cheesecake favourites consists of:
Lemon Cheesecake: a lemon cheesecake on a crisp biscuit base topped with a lemon glaze
Raspberry Ripple Cheesecake: a digestive biscuit base layered with vanilla cheesecake rippled with a fruity raspberry sauce
Marbled Chocolate Cheesecake: a vanilla cheesecake on a chocolate biscuit base swirled with a chocolate sauce.
"These latest products are exactly that and are frozen and pre-portioned so there's minimal fuss or wastage," said Country Range marketing controller Emma Holden.
"We expect them to be a big hit as afternoon tea continues to be an incredibly popular dining occasion, whether that is eating out of home or where customers purchase a delivered box to celebrate an occasion at home."