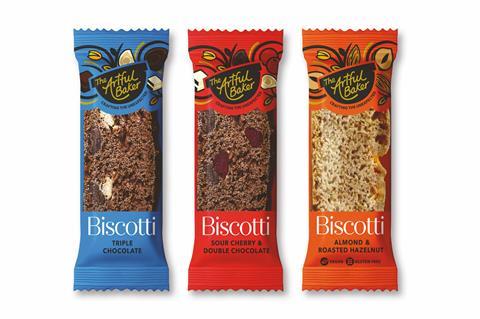 The Artful Baker has unveiled its first piece of NPD since receiving a six-figure investment from Warburtons as part of the Batch Ventures innovations fund.
Simply called Biscotti, the individually packaged treats are available in Triple Chocolate and Sour Cherry & Double Chocolate variants as well as a gluten-free and vegan-friendly Almond & Roasted Hazelnut option.
They're targeted at the foodservice and hospitality sector. Independent hotels had asked for the bigger 18g single batons, according to founder Paul Rostand, to "to upgrade their in-room hot beverage offer."
The NPD, which is sold in boxes of 48, comes after the specialist biscuit maker was awarded a funding package from Warburtons and grocery accelerator Mission Ventures' Batch Ventures Fund, which supports innovative start-ups and SMEs in the bakery category. At the time, Jonathan Warburton said he was impressed with the quality of The Artful Baker's products and saw a great opportunity to support its growth plans.
Since the investment, the Dorset-based business has scaled up production capacity adding a fourth 20-tray rack oven, an extruder and slicer, a 90ft mezzanine providing extra floor storage and new cold room, Rostand explained.
There are also plans for additional NPD in the pipeline. "Product-wise we'll be expanding our gluten-free offer, revisiting compostable packaging and broadening our classic biscuit horizons outside biscotti," he added.
Founded in 2013, Dorset-based The Artful Baker produces a range of sweet and savoury biscotti. It's described as the "younger, more discerning" brother of The Great British Biscotti Co which provides a range of independent retail outlets such as delis and farm shops.
The joint business pivoted from supplying the hospitality and foodservice sectors in 2020 to focus on hampers, gifting and exports. It baked in excess of five million biscotti, a number which it said will have more than tripled by the end of 2021.
"Whilst we're so proud of the way we not only weathered but extended our customer reach during Covid; we've never lost sight of the fact that for all our hamper and Hotel Chocolat success, hotels, hospitality, food halls, airlines and the upmarket independent coffee scene are very much our spiritual homes," said Rostand.
"We feel duty bound to do our bit to support these under-the-cosh food sectors by showcasing involving biscuit offerings that reflect our 'slow food,' artisanal snacking and no palm oil convictions."