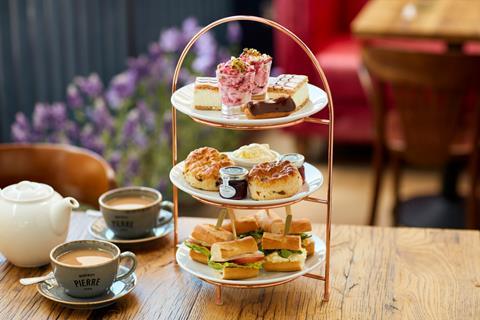 It's Afternoon Tea Week – a tea-riffic time of year when the quintessentially British indulgence is back in the spotlight.
Yet the days of dainty cucumber sandwiches, simple scones and a cup of Earl Grey are long gone.
From smoked salmon cheesecakes and frangipane tartlets to vegan options and chocolate-themed spreads aimed at individuals, the line-up has never been more inclusive.
What's more, consumers can now enjoy a spot of indulgence in their own homes or as a picnic in the park as many establishments are rolling out delivery-friendly versions of afternoon tea.
With Afternoon Tea Week, which runs from 9-15 August, in full swing we round up some of the latest selections available from bakeries and brands across the UK: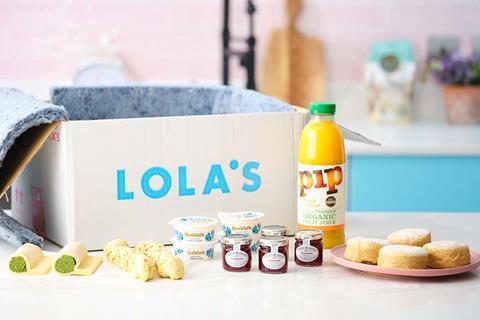 Lola's Cupcakes
The sky is the limit over at Lola's Cupcakes which has introduced not one but three new afternoon tea options for four people to its existing line-up.
Inside the Bake at Home Afternoon Tea For Four box are unbaked scones – which can be popped in the oven for 28 minutes. There's also savoury pastry options in the form of two cheese twists and two spinach rolls which both require 20 minutes baking time. Organic strawberry jam, clotted cream, premium tea bags and a bottle of Pip orange juice finish the collection.
Afternoon Tea for Four is a similar box to the above but the scones are baked in Lola's West London bakery ready for eating. Meanwhile, those on plant-based diets need not despair. The Vegan Afternoon Tea For Four contains scones, organic jams, vegan cream, chocolate muffins and brownies, alongside orange juice and teabags.
Each afternoon tea package costs £32.99 and is available for nationwide delivery.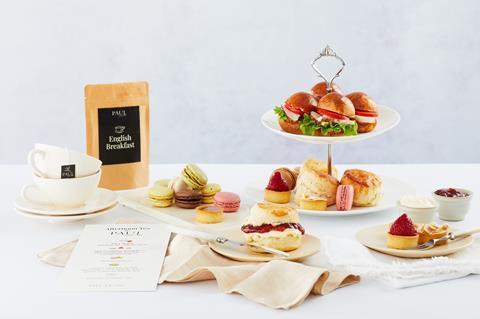 Paul UK
Artisan French bakery Paul has pulled out all the stops to make its Afternoon Tea Delivery (£29.95) as special as possible. Cue a pretty menu card with each box. Accompanying it are brioche sandwiches and French pâtisserie including strawberry, caramel, and frangipane tartlets, as well as a range of mini macarons and scones with clotted cream and jam.
The company's Covent Garden and Marble Arch bakeries are also serving up the afternoon tea on site.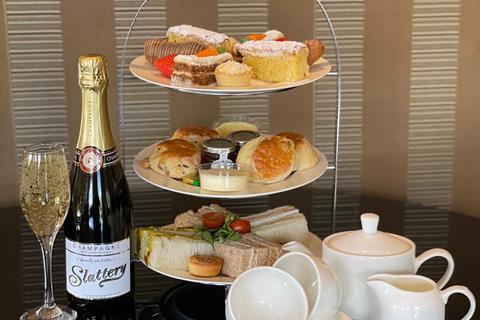 Slattery
Champagne, prosecco, and a traditional Lancashire tea may be par for the course at this Manchester-based family-run pâtissier, but those with a sweet-tooth will rejoice at Slattery's Chocolate Afternoon Tea for one.
Priced at £19.50, it consists of a homemade chocolate chip scone served with butter, raspberry preserve and clotted cream, assorted homemade mini cream cakes and fancies: raspberry & white chocolate pot, a Baileys slice, and cream-filled profiterole, as well as a pot of liquid Belgian chocolate with a fresh strawberry and marshmallows for dipping. If that's not enough to satisfy those sugar cravings, the drinks range promises hot chocolate, chocolate milkshake, mocha, tea or coffee.
Of course, savoury options, are included too with classic ham & cheddar cheese, poached salmon & cucumber, turkey & stuffing, and coronation chicken among the sandwich fillings. A cheese & onion tartlet also makes an appearance.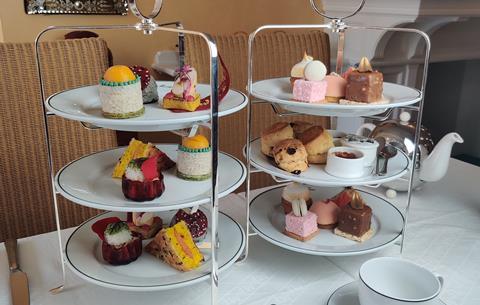 Mariage Frères
Mariage Frères, Paris's famous vintage-style tea emporium, opened its first UK site in a five-storey listed Georgian townhouse in Covent Garden in 2019. Said to be home to the largest tea collection in the world, it's no wonder decadant French tea-infused pastries, all made in house, feature on the menus. Its Covent Garden Afternoon Tea (£39pp) includes a smoked salmon cheesecake flavoured with Lilly Muguet tea, mango and avocado biscuit, a Croque-Monsieur Mariage with artisan smoked salmon, French and English scones served with tea jelly Gelées Extra de Thé and butter.
Alternatively, its Parisian Afternoon Tea costs £33 per person and features French and English scones served with the brand's tea jelly Gelées extra de Thé and butter, alongside its portobello mushroom and beef tataki bao buns, and smoked salmon sandwich infused with Paris Marais tea.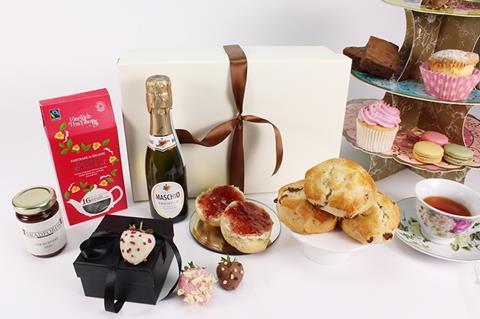 Bradfords Bakers
Luxury and indulgence were the inspiration behind Bradfords Bakers latest afternoon tea offer, with its owners' keen to bring some sparkle back into the lives of customers weighed down by the trials and tribulations of Covid.
The package, which costs £37.90, includes three Devon scones, three sultana scones, 16 English blend pyramid teabags, a 200ml bottle of Prosecco, four dipped chocolate strawberries, and a jar of strawberry jam. Customers can also choose sweet treats of their fancy from a selection of brownies, macarons, cupcakes, and caramel shortcake.
Available UK-wide on next day delivery, those seeking glitz and glamour can also add a disposable cake stand for an extra £8.50 to showcase their goodies.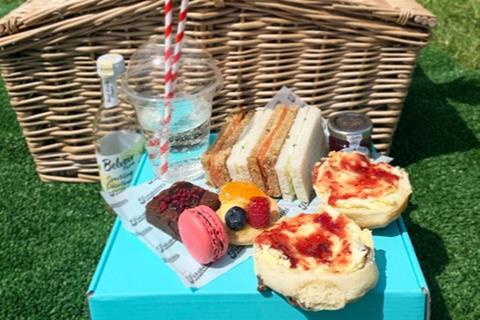 Fitzbillies, Cambridge
From the bread for its finger sandwiches to the scones, macarons and tartlets, this afternoon tea specialist makes all its baked goods as its 100-year-old artisan bakery in Cambridge. Offering both vegan and low-gluten afternoon tea options, for £21.95, the line-up includes:
Traditional Afternoon Tea: a selection of finger sandwiches including smoked salmon on malted brown bread and cucumber & cream cheese on white, a sultana scone with raspberry jam and clotted cream, and an assortment of miniature cakes consisting of a fresh fruit tartlet, mini chocolate brownie, lemon meringue kiss and a pistachio macaron, as well as a pot of tea or coffee. An extra £8 buys you a glass of champagne. The selection is also available as a takeaway option for picnics.
Vegan Afternoon Tea: sandwiches include tomato & salsa verde on malted brown bread and cucumber & vegan cream cheese on white. Dessert options comprise a vegan sultana scone with raspberry jam and non-dairy cream, and mini sweet treats in the form of a chocolate brownie, date slice and fresh fruit meringue. A pot of tea or coffee completes the selection.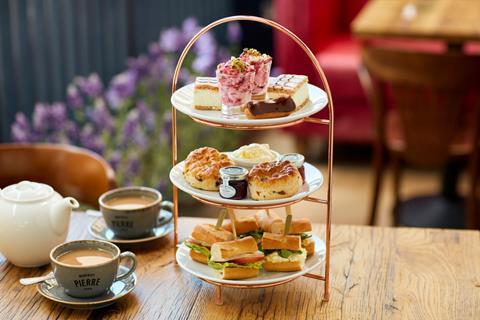 Bistrot Pierre
Finally, restaurants, too, are celebrating the popular week. Bistrot Pierre has unveiled a new summer afternoon tea across its 19 UK-wide establishments. The menu comprises baguettes filled with smoked salmon and cucumber; chicken, tomato & lettuce; and egg & cress. There are also sweet treats, including chocolate eclairs, strawberries & cream Eton mess, and fruit scones with clotted cream and strawberry jam. The afternoon tea package served with a hot drink costs £11.95 but £15.95, bags you a glass of Veuve Devienne sparkling wine instead.