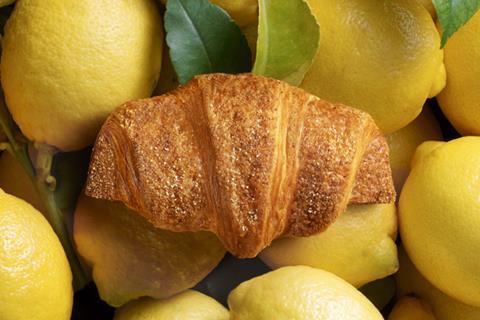 French bakery manufacturer Bridor has partnered with renowned pastry chef Pierre Hermé to launch a five-strong range of Viennese pastries.
The collection, which Bridor said takes inspiration from traditional and artisanal baking methods, includes an Almond & Pistachio Stuffed Croissant and Ceylon Cinnamon & Apple Triangle.
Particular attention was paid in selecting and sourcing of natural ingredients for the range, which is called Bridor x Pierre Hermé Paris. For example, vitamin C, which is needed for the elasticity of dough and is often used in synthetic form, has been replaced with natural vitamin C extracted from acerola – a fruit native to South America.
The puff pastry, meanwhile, is made with Breton butter and each product is enriched in sugar and whole milk, incorporated in powder form, which Bridor said enhances the taste and texture.
The five new pastries are:
Almond & Pistachio Stuffed Croissant – the bitterness of the almond paste is said to enhance the flavour of the pistachio. The croissant is topped with roasted pistachios for added crunch
Almond & Lemon Croissant – Sicilian lemon juice is used in the filling and a millet topping added for texture
Ceylon Cinnamon & Apple Triangle – French apples, including Reinettes, are used for their flavour as well as 'soft and smooth texture' while the cinnamon adds a 'delicate and lightly floral flavour'. A few pieces of crêpes dentelles are sprinkled on top for added crispness
Pain au Chocolat – the filling of this small pastry is made from Madagascan pure origin chocolate which Bridor said was selected for its strong cocoa taste and tangy notes
Croissant – this snack-sized treat is described as having a buttery and sweet flavour.
"We are very proud of this collaboration," said Bridor CEO Philippe Morin. "This collection brings together the best of both worlds and perfectly embodies our ambition, which is to give access to high-quality products to as many people as possible, in every country and on every table."
Hermé added: "I was impressed by Bridor's manufacturing process, and the rigorous way it selects its raw materials. I particularly liked the precision at every step in the production workshops, as well as the rigorous technicality in the creation of products."
Bridor, which was established in 1988 and has more than 2,500 employees worldwide, has rolled out several new products over the past year including high-fibre bread and cinnamon swirls.