Bakers and brands have embraced the sweet life with an array of new creations ahead of the picnic season.
From gin-infused cheesecakes and retro eclairs, to thaw-and-serve maple pecan plaits and Viennese pastries, there's something for all tastes.
Here, we round up some of this season's hottest NPD: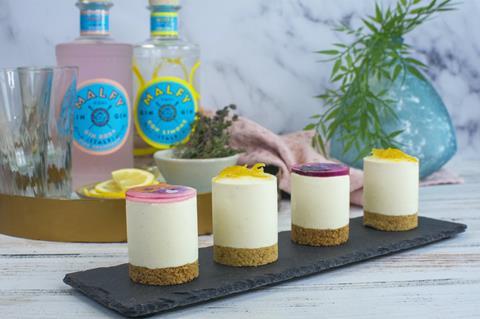 Gin-infused cheesecakes, Pleesecakes
Sorry kids, these cheesecakes are for adults only as the Redhill-based brand has teamed up with premium Italian gin, Malfy, to produce two limited-edition, tipple-infused products. They are:
Gin Rosa Pink Grapefruit – this cheesecake is made with a digestive biscuit base and a mascarpone cheese filling, coupled with a Malfy Rosa pink grapefruit compote centre. The 5.5% ABV treat is topped with Malfy Rosa pink grapefruit jelly and finished with fresh flowers and gold leaf
Con Limone – this dessert boasts a digestive biscuit base, mascarpone cheese filling, a Malfy Con Limone-infused basil and lemon curd centre, a Malfy Con Limone jelly and micro basil and lemon julienne. Its ABV clocks in at 3.1%.
The citrusy delicacies are available to order online from 7 June. Each box contains six cheesecakes – three of each flavour – alongside two 5cl bottles of Malfy gin (rsp: £35).
Retro eclairs, Bakkavor
Bakkavor is going retro with its latest NPD which comprises a trio of choux pastries themed around favourite British puddings.
Made under its Delicious Dessert Company brand, the idea for the NPD was sparked after Bakkavor research found that one in seven Brits regularly turned to eclairs to lift spirits during lockdown.
The classic flavours given an eclair makeover are:
Strawberries and Cream – made with a strawberry crème patissiere and British cream filling and finished with a strawberry fondant and white chocolate drizzle
Sticky Toffee Eclair – featuring sticky toffee crème patissiere, toffee sauce, toffee flavour fondant, chocolate flavoured lacing and crunchy butterscotch chips
Triple Chocolate Eclair – comprising a chocolate mousse and cream centre, rich chocolate fondant and creamy, white chocolate lacing finish.
The desserts are available now in Sainsbury's priced £2.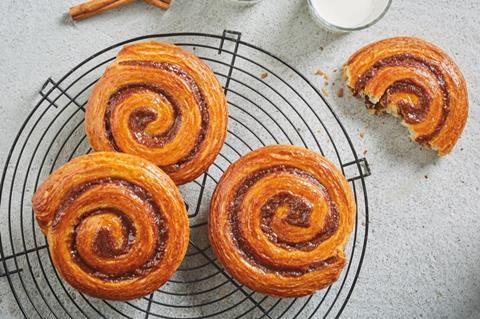 Cinnamon swirls, Bridor
Cinnamon swirls are available in almost every bakery or coffee shop across Scandinavia, but particularly popular in Sweden where a 'kanelbulle' is often enjoyed over a cup of coffee with friends, according to Bridor.
This has prompted the French bakery manufacturer to produce a Scandinavian-inspired Viennese bake, known as an Ultra Kanel Swirl.
The golden-coloured treat is made from a pure butter puff pastry, sports a cinnamon centre and features caramelised edges and a 'premium filling'. Bridor said the bake contains only natural and essential bakery ingredients with the exception of ascorbic acid, "which is used at a quantity of less than 0.02% and plays a decisive role the final quality of breads and Viennese pastries."
Each 100g box contains 60 pieces.
Thaw-and-serve pastries, Schulstad Bakery Solutions
The Lantmännen Unibake-owned business has unveiled a sizeable selection of fully baked thaw-and-serve goodies aimed at out-of-home, hospitality and leisure operators.
The collection comprises a Maple Pecan Plait, Vanilla Crème Crown and Apple Crown, as well as a Mini Danish arrangement featuring a Mini Maple Pecan Plait, Mini Apple Coronet, Mini Cinnamon Swirl, Mini Raspberry Square and Mini Blueberry Square as well as Pain aux Raisin.
"Our new collection of Danishes is fully baked and ready to serve after thawing, allowing caterers without ovens to significantly reduce preparation time, as well as control costs and wastage," Paulina Gorska, marketing manager at Lantmännen Unibake, said.
"Quality is key to the latest additions in our range, which has been specifically designed to ensure operators are able to extend their offering to provide more variety conveniently, meaning more of them than ever before can include superior sweet pastries as part of their menus."
The range is available through Brakes and Bidfood. The crowns, plaits and pain aux raisins are sold individually wrapped and the mini Danish collection in a variety pack.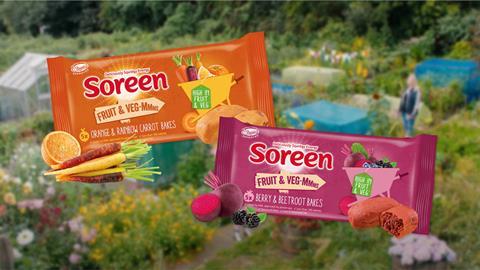 Vegan-friendly malt loaf, Soreen
Malf loaf brand Soreen is targeting kids with its vegan-friendly Fruit & Veg-Mms range.
Available in two flavours – Blackberry & Beetroot and Orange & Rainbow Carrot – the bakes are made with 40% fruit and vegetables and contain under 100 calories per bar.
"We've ensured that our new bakes still retain that squidgy Soreen deliciousness to provide a perfect go-to snack to satisfy little ones after or between meals, whilst also being nutritious," said Mark Simester, Soreen's managing director.
The individually-wrapped bakes are sold in multipacks of five in Tesco, the Co-op and available from Ocado.