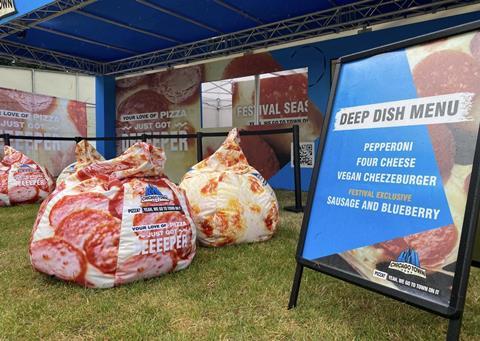 Frozen pizza brand Chicago Town has launched an experiential campaign for the festival scene this summer where it will give out samples including a 'festival exclusive'.
The brand will be showcasing its range of deep-dish pizzas at Kendal Calling in the Lake District, Boardmasters in Cornwall, Victorious in Portsmouth, and Tramlines Festival in Sheffield.
Across 15 days it will give out 75,000 samples to festival goers who will be able to choose from four different flavours – Four Cheese, Pepperoni, Cheezeburger (which is vegan), and festival exclusive Sausage & Blueberry which is inspired by the team's trips to Chicago.
Fans can also visit Chicago Town's gallery wall made up of branded content. They will also be able to become part of it by taking a selfie with their deep dish sample.
"Festivals are such a big attraction during the summer months, with millions of the British public attending a range of different festivals every year," said Rachel Bradshaw, marketing manager, Chicago Town.
"Whilst they enjoy the music and everything else that comes with the festival experience, we really wanted to introduce festival goers to the great taste of deep dish and a chance to offer them an exciting festival exclusive flavour, sausage & blueberry, alongside the favourites we know our customers love."