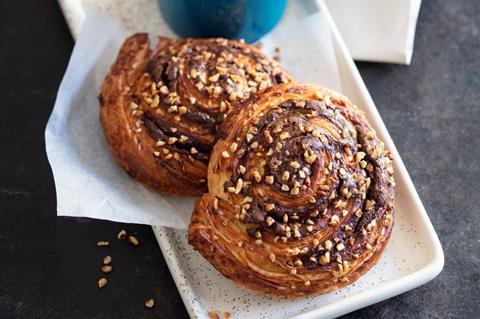 Bakery supplier Délifrance has launched the Brownie Swirl to tap into the hybrid trend.
The sweet treat combines French puff pastry with "one of North America's most popular dessert classics", it said.
Part of its A Taste Of range, the viennoiserie hybrid will join 12 mini cheeseburgers, NY Cheesecake, and Grilly Focaccia.
The new product has been developed to provide a "fluffy melt in the mouth" texture and thin, crisp layering.
The launch follows Délifrance's latest bakery report, Prove It: a viennoiserie focus, which reveals that 70% of consumers agree that taste/flavour is their top consideration when buying a pastry, with 28% willing to buy more if there was a wider choice of flavours available.
"It's clear that the love of hybrid products is not slowing down any time soon," said Stephanie Brillouet, marketing director for Northern Europe and North America at Délifrance.
"From the cronut to the cruffin, croissant hybrids are exploding the category with exciting new tastes and combinations that are accessible across multiple day parts.
"We have noticed a real opportunity here to create something unique and pleasurable in the Brownie Swirl," she added.
The Brownie Swirl is suitable for the quick-service restaurant (QSR) and out-of-home (OOH) markets.
A host of bakers and manufacturers have jumped on board the hybrid bakery train. This year, M&S launched a Cretzel, a croissant/pretzel hybrid, while Robert's Bakery unveiled a Pangel, a cross between a pancake and bagel.
"Eating habits have changed considerably," said Brillouet. "We know that 45% of global customers like to try new flavours, and with today's busy modern schedule, 61% of under-35s are eating more often in-between meals.
"In fact, snacking culture has seen a surge due to lockdown with more than one in three British adults finding they were snacking more often during the day. Operators need to tap into this by offering a great on-the-go range that strikes a balance between the traditional and experimenting with new flavours."