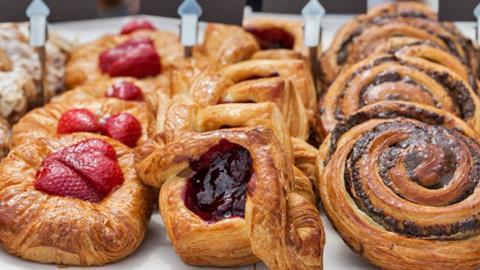 In celebration of the first-ever Danish Week on the Great British Bake Off tonight, we've scoured the archives to find five interesting facts about Nordic pastries and rising trends.
From market value to the nation's bestsellers as well as the definition of a true Danish, here's what you need to know about those breakfast favourites:
'Danish pastry' is an Americanism
The term 'Danish pastry' does not necessarily mean the pastries originate from Denmark – it simply means a multi-layered, laminated sweet pastry made in the Viennoiserie tradition.
"Traditionally the Danes would not recognise the concept of Danish pastry, as this is an Americanism," says bakery scientist Stan Cauvain, director of consultancy BakeTran. "In common parlance the concept of Danish pastry refers to puff pastry that has been enriched with sugar and egg, and will be yeast-raised."
He adds that Danish pastries have to be proved and will likely have fewer fat layers than puff pastry.
Brits spend £60m on Danish pastries every year
Those cinnamon swirls and maple pecan plaits grabbed for on-the-go consumption at breakfast add up, as UK consumers eat more than 69 million sweet Danish pastries a year.
This adds up to a whopping £62m spend on Danish pastries in 12 months [IRI 29 September 2018].
The nation's favourites
The UK's three top-selling Danish pastries are part of Lantmännen Unibake UK's Schulstad Bakery Solutions. They are: Maple Pecan Plait (pictured above), Cinnamon Swirl and Vanilla Crème Crown, according to the manufacturer, which notes due to their wide distribution they are Lantmännen's top three bestsellers and, by default, the UK's as well.
Offering advice to retailers and foodservice operators, Lantmännen Unibake UK marketing manager Kate Sykes says: "Consumers love choice, so we recommend stocking a range of flavours. However, to maximise their sales opportunity, it's crucial that operators stock the best-sellers. Most retailers would be unlikely to consider a drinks fixture without Coca-Cola and it's the same with pastries."
Bigger isn't always better
Miniature formats of Danish pastries are growing in popularity as they allow consumers who are concerned with portion control to still indulge in a sweet treat, adds Sykes.
Lantmännen, for example, offers a Mini Danish Selection that features smaller versions of its bestsellers as well as a Raspberry Crown and Apple Coronet.
Smaller portions also have the added bonus of being ideal for sharing and snacking on throughout the day, meaning they are able to expand outside of the breakfast occasion.
A taste of the exotic
A comforting hit of cinnamon or maple and pecan might be a familiar breakfast time treat, but some manufacturers are getting experimental, offering more exotic and, in some cases seasonal, flavours.
Aryzta, for example, recently rolled out a trio of pastries comprising a Lemon Danish Plait, a Mango & Passion Fruit Danish Crown and a Wild Canadian Blueberry Danish Crown (pictured above).
The Co-op, meanwhile, has taken inspiration from popular coffee shop flavours debuting a seasonal Caramel Latte Crown late last year, which followed in the footsteps of 2016's Mincemeat Danish.
All these build on flavours that are familiar to consumers without being too far outside the box that only the really adventurous would want to try them.