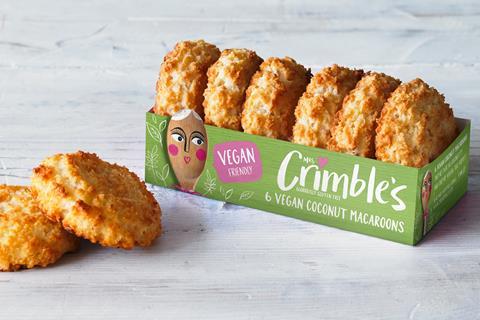 Holland's Pies, Pork Farms and Mrs Crimble's are among the bakery brands to launch new products.
Alongside Pan'Artisan and Pidy, the businesses have expanded their bakery ranges with the likes of vegan macaroons, pork-less pies and mini dough bites.
Here are the latest products making waves in the bakery industry: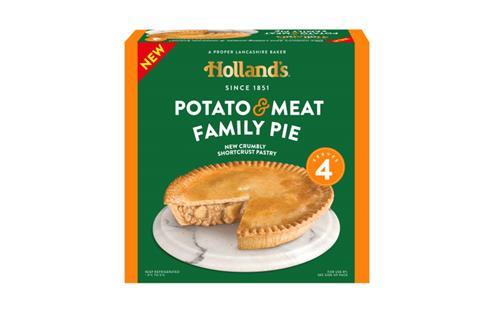 Family Pie, Holland's Pies
Holland's Pies has unveiled a range of frozen and chilled Family Pies.
The 650g pies comprise Potato & Meat, Minced Beef & Onion, and Vegetarian Society Approved Cheese & Onion.
At an rsp of £3.50 in chilled and £3.20 in frozen, the pies are made with a crumbly shortcrust pastry, Wyke Farm's creamy mature Cheddar cheese and British sourced meat.
They contain no preservatives, MSG, artificial colours and flavours, or hydrogenated fats, Holland's said.
"As the nation's bestseller of Potato & Meat, Cheese & Onion and Minced Beef & Onion frozen pies, this new trio of Family Pies is an exciting addition to the Holland's pie range. Whilst tapping into the growing family meal occasion, as a result of Covid-19, this new Family Pie offering adds new and different flavour profiles to the category," said Leanne Holcroft, brand manager for Holland's Pies.
The Family Pie range is available now in select Morrisons, Asda and Tesco stores. The frozen range will roll out in select Iceland stores on 23 November, followed by Tesco on 7 December.
In September, Pukka also expanded its range with Just For Two pies designed for sharing.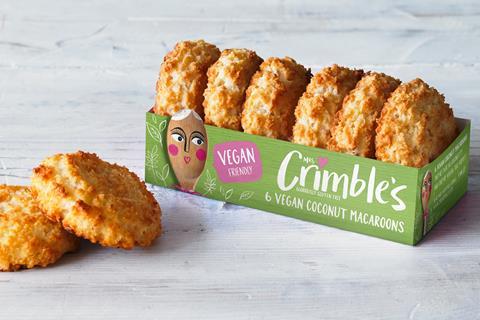 Vegan Coconut Macaroons, Mrs Crimble's
The gluten-free brand is set to extend its vegan range with Vegan Coconut Macaroons.
It follows last year's launch of its first vegan macaroons, Vegan Choc Macaroons, to offer an alternative flavour to the growing number of vegan customers, said the firm.
The Vegan Coconut Macaroons offer a rich and fresh flavour profile with hints of tropical coconut, it added.
The gluten-free macaroons are come in a six-serving pack and contain 133kcal per macaroon. They will roll out in Tesco on 23 October.
"As more customers seek vegan alternatives to their favourite cakes, we are proud to launch a vegan option of our Coconut Macaroons. With Mrs Crimble's vegan line driving incremental sales, the vegan market will continue to be a focus area for the brand," added Bryan Martins, marketing and category director at Wessanen UK, owner of Mrs Crimble's.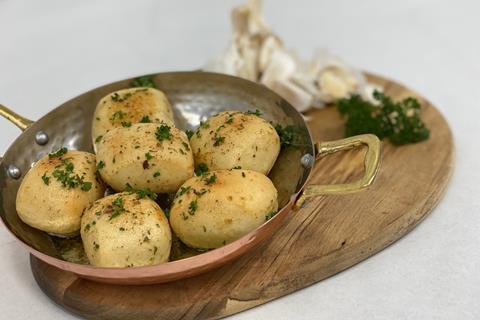 Mini Dough Bites, Pan'Artisan
Manufactured in Italy, Pan'Artisan's Mini Dough Bites comprise small balls of part-baked dough.
The quick serve dough bites address the demand for small dishes, sharing options and snack size portions, it said.
Its 'authentic' production process creates a slight variation in individual size for a handmade rustic appearance, it added. They are available in a box of 458.
Being frozen and part-baked, the dough bites can be ready to serve in under four minutes from frozen, in 2 ½ minutes if cooking after defrosting, and in five to six minutes when garlic butter is added.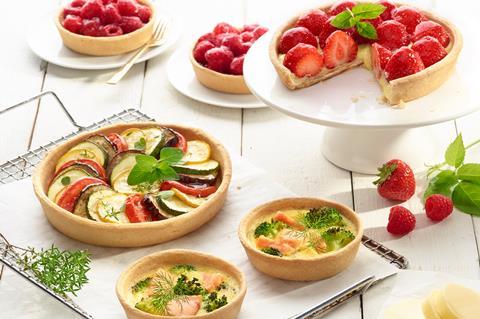 Quiche Cases, Pidy
The ready-to-fill pastry specialist has launched two quiche cases.
Made with an all-butter pressed puff pastry, the quiche cases are available in 11cm or 18cm.
Both sizes are suitable for making quiches, pies and sweet tartlets, said the firm, which added that the texture stays crisp several days after filling.
With operators running kitchens with reduced stuff due to Covid-19, they can save valuable time and ensure consistency across the board, it added.
"The two sizes also offer complete flexibility across menus. The products hold up extremely well to moisture and can be easily transported for outlets offering takeaway or delivery services," said Fabien Levet, commercial manager at Pidy UK.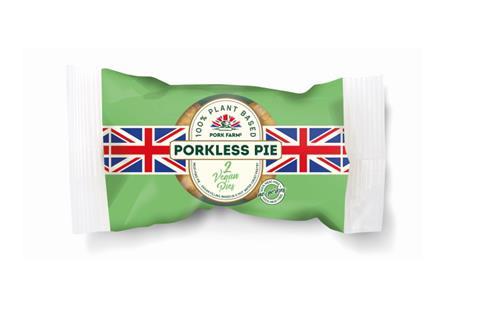 Porkless Pork Pie, Pork Farms
Pork Farms has developed its first Porkless Pork Pie, which features a plant-based meat replacement filling.
The vegan pie contains pea protein, a natural protein with nutrients and amino acids, encased in a hot water crust pastry with seasoning.
It is available now in selected Asda stores across the UK.
The Porkless Pork Pie has been developed to meet the demand for flexitarian friendly options, said the firm.
"We're incredibly excited to be just one of only a few brands to introduce pea protein to our product range. There's currently a growing demand in the market for meat replacement pastry products and, with flexitarianism continuing to gain popularity, it is clear that the demand for alternative protein products is not just a passing trend," added Mike Holton, brand manager at Pork Farms.