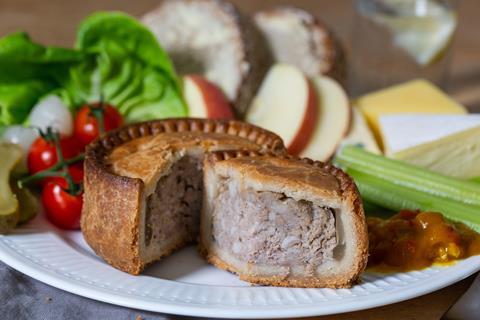 Pork Farms has launched a competition asking consumers to invent their ideal pork pie flavour combination.
Called 'Your Pie, Your Way', the competition is open from 9 November and runs until 20 November via the Pork Farms Facebook page. Consumers can submit their invention via the comments on the relevant posts or via messaging the page, with all entries judged by a panel of innovation chefs.
The winning entry will have the chance to secure a year's supply of the brand's pork pies.
It follows the launch of Pork Farm's rebrand earlier this year, as well as last month's launch of the Porkless Pork Pie aimed at the vegan market.
"We're really excited to be offering one lucky winner the opportunity to create their very own pork pie. We work hard with our team of chefs to bring new and inspiring flavours to our existing range and now we want to put the power in our customers' hands," said Mike Holton, brand marketing manager at Pork Farms, which is owned by Addo Food Group.
The winning combination will be chosen on 24 November. It will be made in the Pork Farms innovation kitchen and could even go on to enter its snacking range, said the firm.
"It's been an unprecedented and difficult year for everyone, but we hope our loyal customer base get involved in this fun competition. We can't wait to provide someone with a well-deserved treat, and we wish everyone the best of luck."