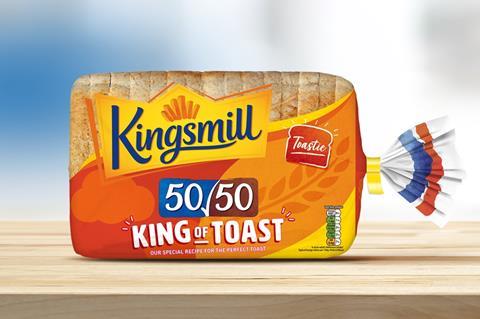 Kingsmill has added to its 50/50 range with the launch of the 50/50 King of Toast loaf.
Available from 200 Asda stores nationwide this January (rsp £1.15), the 50/50 King of Toast has been developed to fit toasters and uses a recipe featuring semolina to help the bread stay crisp on the outside while retaining a soft and 'pillowy' middle, Kingsmill said.
The new loaf joins Kingsmill 50/50, Kingsmill 50/50 Vitamin Boost and Kingsmill 50/50 Multi-Seed in the 50/50 range made from an equal blend of white and wholemeal flour.
Toasting loaves are on the rise, according to Nielsen Homescan data, increasing at a 6.3% annual growth rate in 2021, compared with 1.9% in 2019. With over half of consumers buying bread to eat as toast, King of Toast has been developed to drive further growth in the category, Kingsmill said, as well capitalising on the increase of morning meals consumed from home due to the rise of remote working.
"We've developed Kingsmill 50/50 King of Toast to bring whole grain to all those toast lovers out there, who are seeking healthier alternatives to plain white bread," said Emma, Eggleton, head of brand at Kingsmill.
"Driven by demand for easy swaps that don't sacrifice on their favourite flavours and formats, 50/50 King of Toast expands consumer choice with a toastie loaf with whole grain and two slices provide a source of vitamin D," Eggleton added.
According to Kingsmill, the investment in NPD is part of the bread giant's Slice of Kindness pledge, which includes the development of product solutions aimed at increasing the UK's fibre intake.
The company also claimed an industry first last September with the nationwide trial of recycled content into Kingsmill 50/50 No Crusts bread bags, and the pledge also involves a partnership with charity Save the Children in an effort to tackle child poverty in the UK.