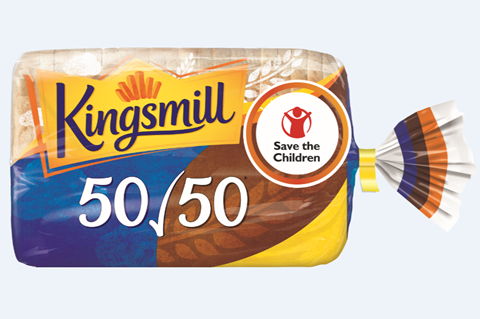 Kingsmill has announced a range of commitments around health, sustainability, and communities, aiming to 'create lasting change in 2021 and beyond'.
Dubbed the Slice of Kindness Pledge, the 'manifesto' will see the rollout of various initiatives, including product solutions aimed at increasing the UK's fibre intake.
In addition, the company is claiming an industry first by introducing recycled content into its Kingsmill 50/50 No Crusts packaging as of this September. The Allied Bakeries-owned brand is also championing kerbside collections for bread bags and other soft plastics 'sooner than 2026'.
"We really want people to know that Kingsmill bread bags are recyclable," said Chris Craig, Kingsmill's joint managing director. "We believe that the UK needs an infrastructure to support a sustainable plastics economy, one where recyclable plastic such as bread bags can be collected from outside people's homes and taken for recycling."
On the community side, the pledge will involve a partnership with Save The Children to help tackle child poverty in the UK. The brand said it will support the charity to help ensure the nation's most disadvantaged children have access to early learning packs, supermarket vouchers and household essentials.
Kingsmill has committed to donating a minimum of £150,000 to the cause in the first year and will also support the partnership with a 12-month sponsorship of The Simpsons on Channel 4, advertising campaigns, a special charity loaf and adding the Save the Children logo to packaging and its distribution fleet.
A Kingsmill Kindness Fund has been set up to work with local communities in parallel to this, aiming to financially support and reward 'superstars in our neighbourhoods who make a difference every day', as well as Kingsmill employees who volunteer in areas 'close to their heart'.
"As we've seen over the last 18 months, we're all at our best when we support each other," said Craig. "Making a difference to people in our local communities has always been important to Kingsmill and our Slice of Kindness Pledge takes this further forward to create a bigger and better impact."
Kingsmill's current community activities include donating to food charity FareShare and redirecting its unused apprenticeship levy funds for the training of NHS health and social care workers.