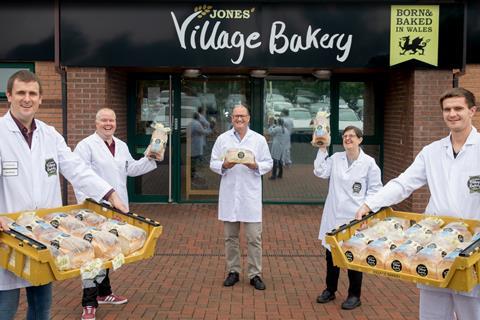 Wales-based Village Bakery has secured a deal to supply Marks and Spencer (M&S) with its branded batch loaf.
Although Village Bakery supplies around 30 own-label products to M&S, the new deal enables the firm to sell the bread under its own name for the first time.
The bakery won the Free-from Bakery Product of the Year in the 2018 Baking Industry Awards for its M&S Made Without Wheat Belgian Chocolate Twists.
The listing in 30 M&S shops across Wales and the Marches is part of a drive by M&S to stock more Welsh products in local stores, said the firm.
Available now, the Village Bakery Welsh Batch is a premium loaf with thick slices, made from dough fermented for 16 hours.
"We've worked with M&S for over 12 years now, and to get our branded Village Bakery Welsh Batch in there is a great accolade and a historic moment for us. We're baking that loaf for 50 minutes, compared to some of our competitors who are baking for 19 minutes," said Robin Jones, managing director of Village Bakery.
"We have high hopes that it's going to do well and prove popular with M&S customers. Their ethos has always been well-matched with the Village Bakery, thanks to their commitment to local sourcing, animal welfare and protecting the environment."
The supply deal was a 'great reward' for the team after they doubled bread production when demand increased due to panic-buying amid Covid-19, added Jones.
"Hopefully, this can be a stepping stone to going UK-wide with the Welsh Batch. After its long fermentation, it's batched into fives, which helps with the flavour and moisture of the loaf," said Tom Breeze, manager of the firm's Minera site, where the Welsh Batch is baked.
Following a devastating fire last year, Village Bakery began construction of a new factory this year.