Pavlova-inspired doughnuts, Black Forest cheesecakes and pizza rolls are among the NPD in Co-op's summer range.
The convenience retailer is focusing on tried and tested combinations for its summer desserts with salted caramel and chocolate & cherry making appearances. Its savoury line-up, meanwhile, adds new twists to classic picnic fare.
Over the next few weeks British Baker will be bringing you the latest seasonal innovation from the nation's top retailers as well as examining the trends that are driving the launches.
For now, here's a peek at what Co-op has to offer: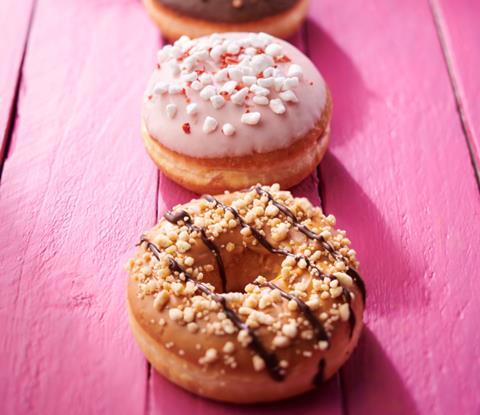 Trio of doughnuts
Catering to those who 'go nuts for doughnuts', Co-op has added a trio of indulgent treats to its bakery line-up. First up is the Millionaire's Salted Caramel Ring (rsp £1) – a ring doughnut filled with salted caramel and topped with caramel icing, biscuit pieces and a chocolate drizzle.
For a truly summery treat, Co-op has unveiled a Strawberry Pavlova Jam Ball doughnut (rsp £1). It sees a classic jam-filled doughnut topped with strawberry flavoured icing, freeze dried strawberry and meringue pieces. Rounding off the trio is the Triple Chocolate Ball Doughnut (rsp £1) which is filled which chocolate and topped with chocolate icing and sprinkles.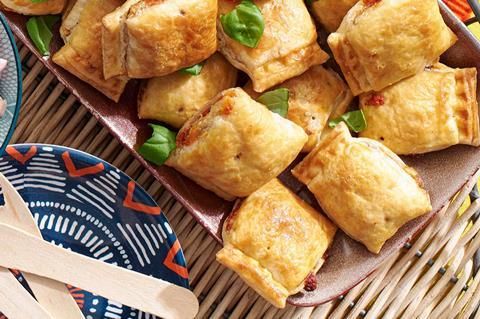 Bitesize Pizza Rolls
Offering a vegetarian alternative to the classic sausage rolls are these Bitesize Pizza Rolls (rsp £2.50 for 160g). They feature a puff pastry exterior filled with cheese, tomato and herb filling.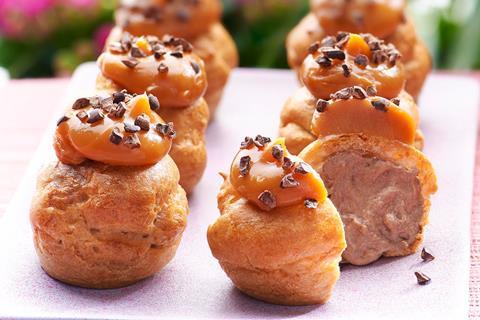 Salted Caramel Profiteroles
Co-op is injecting new life into profiteroles with its latest twist on the classic dessert. Part of its Irresistible range, the profiteroles are filled with Belgian chocolate mousse and drizzled with a salted caramel sauce before being hand finished with a sprinkling of cocoa nibs.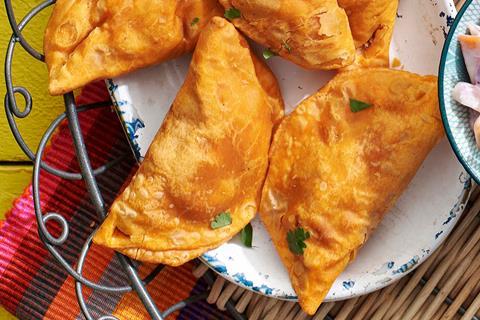 Chicken Empanadas
Bringing international flavour to British picnics is Co-op's chicken empanadas (rsp £2.75 for six). The crispy pastry bites are filled with spicy paprika chicken and peppers.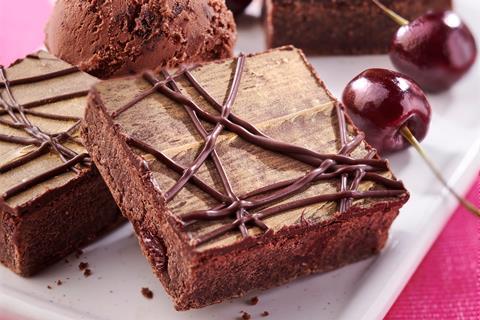 Dark Chocolate & Sour Cherry Brownie
Chocolate and cherry are a match made in heaven – something Co-op has looked to draw on for several products in its summer range. This piece of NPD (rsp £2.50 per two-pack) sees rich chocolate and sour cherry brownies coated in a gold lustre with a dark chocolate drizzle.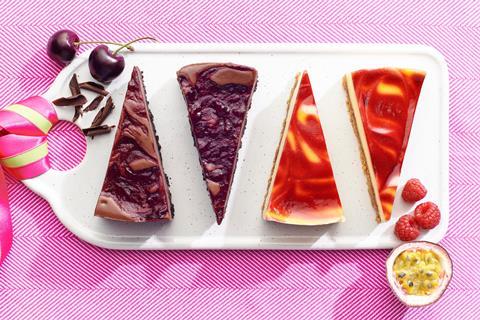 Fruity cheesecakes
Chocolate and cherry make another appearance in Co-op's Irresistible Black Forest Cheesecake slices (rsp £3.25 per two-pack). They feature a chocolately cheesecake on crisp biscuit base, hand finished with a Morello cherry compote. For something brighter, there's the Irresistible Raspberry & Passion Fruit Cheesecake (rsp £3.25 per two-pack) which sees British double cream and Madagascan vanilla cheesecakes hand finished with raspberry and sweet passion fruit sauce.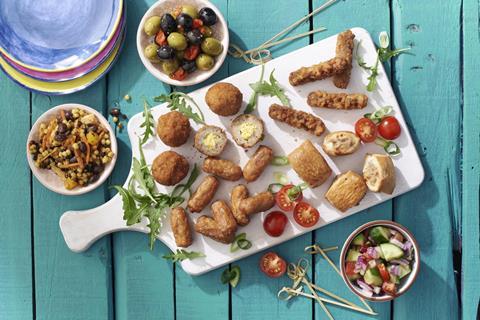 20 Piece Snack Pack
For the traditionalists Co-op is offering a 20 Piece Snack Pack (rsp £2.50), which comprises cocktail sausages, mini egg bites, cheese & bacon straws and sausage rolls.
New bakery products revealed for summer 2021
1

2

3

4

5

6

7

Currently reading

Summer 2021: Co-op reveals new bakery lines