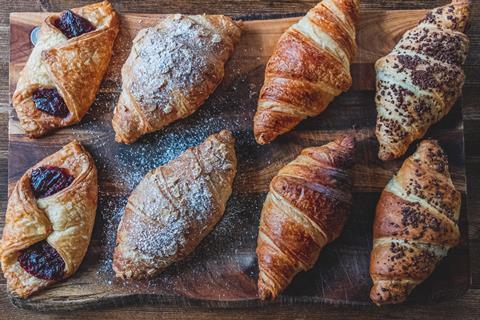 All non-vegan bakery products are being removed from Veggie Pret shops as the business rolls out eight new vegan lines.
Pret claims the development on an all-vegan bakery counter is a first for a high-street food-to-go business and highlights its dedication to vegan food innovation.
Rolling out from tomorrow (21 July), the new vegan products are:
Vegan Croissants (with margarine and sunflower oil instead of butter)
Plain Croissant (from £1.40)
Chocolate Croissant (from £1.70)
Almond Croissant (from £1.70)
Vegan Muffins
Raspberry and Coconut Muffin (from £2.15)
Banana and Walnut Muffin (from £2.15)
Choca Mocha Muffin (from £2.15)
Vegan Brownies
The Ultimate Vegan Brownie (from £2.50)
Hazelnut and Caramel Brownie (from £2.50)
Pret will continue to sell its Very Berry Croissant and the Dark Chocolate & Almond Butter Cookie.
The business pointed out that, in the first few weeks of the Very Berry Croissant being on sale, it sold more than double the amount per day of the non-vegan jam croissant it replaced.
"We're really proud to be the first high street food-to-go retailer to launch a unique concept like this," said Pret UK managing director Clare Clough.
"Expanding Veggie Pret's offering for our vegan customers has been a huge focus of our food development over the last year and moving to an entire vegan bakery is very much the result of that."
The Veggie Pret vegan bakery range will be available in shops and for delivery, via Pret Delivers, Deliveroo, Just Eat and Uber Eats.