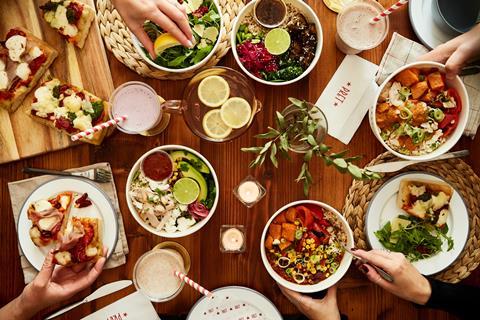 Pret A Manger has extended its evening delivery dinner menu to 30 shops across London.
Named Dinners by Pret, the line-up includes focaccia-based pizzas, an enchilada bake and Pigs In Blankets mac & cheese bake.
The evening delivery menu was first announced in July with trials taking place through seven shops in Bristol, Cambridge and Nottingham. It is now to be extended to 30 from Thursday 19 November.
The new menu is inspired by some of the nation's favourite dishes, Pret said, and is available exclusively for delivery via partners Uber Eats, Deliveroo and Just Eat.
It includes:
Tomato, Mozzarella & Pesto Pizza (£7.95) – it comprises two freshly baked pieces of rosemary focaccia base topped with red tapenade, roasted tomatoes, mozzarella & pesto, finished with a sprinkling of Italian matured cheese
Mozzarella & Prosciutto Pizza (£7.95) – it features a rosemary focaccia base, red tapenade, roasted tomatoes, mozzarella and prosciutto
Mixed Focaccia Pizza Box (£7.95) – this is made up of a piece of freshly baked Prosciutto & Mozzarella Focaccia Pizza and Tomato, Mozzarella & Pesto Focaccia Pizza
Spicy Chicken Enchilada Bake (£6.49) – the bake contains British chicken topped with Pret's spicy vegan chilli, rolled up in a kibbled rye wrap on a bed of spicy red pepper sauce and topped with a layer of its béchamel sauce. It is finished with a sprinkling of Italian mature cheese and breadcrumbs
Pigs in Blankets Mac & Cheese Bake (£5.49) – this comprises tubetti rigati pasta with a mature cheddar béchamel sauce, topped with pigs in blankets and finished with a sprinkling of breadcrumbs, Italian mature cheese & parsley.
"We're thrilled to be able to offer more customers new (and freshly made) Pret Dinners for their evening takeaways," said Briony Raven, UK food & coffee director at Pret.
"We've worked hard to take some of the nations most beloved comfort foods and give them a Pret twist including our new focaccia pizzas. Not only have we created new items to add to our dinner menu range but we have expanded the delivery services to be from 30 shops with our delivery partners."
Pret hopes to roll the trial out to more shops across the UK soon, it added.
It has also unveiled a delivery service called Order Ahead this week. Consumers looking to arrange a takeaway from their local store can now visit the Pret website for order and pick up at their designated shop at a specified time.
Marketing campaign
In addition, Pret has launched its first marketing campaign with short-form video platform TikTok.
The campaign encourages users of the platform to share their moments of joy as part of the #JoyWithPret branded hashtag challenge.
"As our marketing shifts to follow the broader moves of the business to get Pret to the people, marketing investment into digital channels has naturally followed suit," said Becci Dive, Pret's UK head of marketing.
"We've been working hard at bolstering our performance activity to drive orders of Pret on delivery or sign ups to our new coffee subscription, so we're excited to be making similar leaps for Pret in the brand space too, all with the support of the team at BrainLabs. We're proud to be the first major UK high street food and coffee retailer to run a Hashtag Challenge with TikTok, and even prouder to bring a little joy to so many of their users during what has been a rather gloomy start to the festive season."