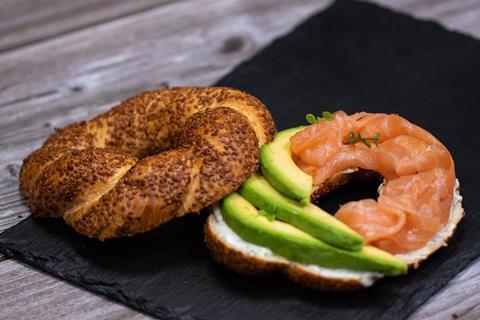 London-based JJ Foodservice has extended its bakery range with simit bread.
Available for 99p for a pack of four on a limited basis, the bread can be used to add interest to traditional sandwich menus, said the company.
The circular bread, found predominantly in Turkey and the Middle East, typically contains sesame seeds. Less commonly, it is made with poppy, flax or sunflower seeds.
JJ Foodservice is backing the launch with a #SimitSmiles campaign that encourages consumers to share how they eat simit bread by posting images to Instagram, Twitter or Facebook.
"We want consumers to send us their favourite fillings to help celebrate simit. The new range is perfect for picnics and sharing occasions at home. In foodservice, they also add interest to café and sandwich shop menus," said Sezer Ozkul, chief product officer for JJ Foodservice.
JJ Foodservice has also rolled out a range of Turkish-style savoury pastries named boreks in cheese, potato and spinach & cheese variants.
And the wholesale supplier has added baklava to its own-label range. The Turkish sweet dessert is made with chopped nuts and filo pastry, and is traditionally served with ice cream.
All products are available frozen, can be oven-baked and are suitable warm or at room temperature.
Interest in Middle Eastern-style breads has been growing in the UK, with Turkish bakery brand Simit Sarayi now operating 13 sites in London, for example.
For more on Turkish pastries and how UK bakers could make more use of filo pastry, see the British Baker feature here.