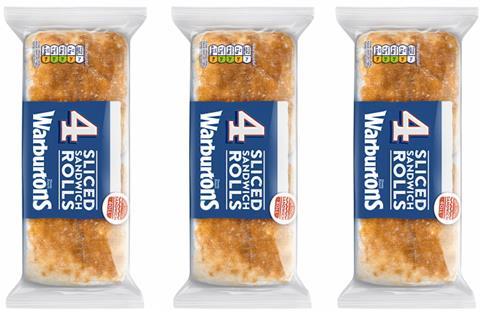 Warburtons has extended its range with new sandwich rolls targeted at families.
The Sliced Sandwich Rolls are square-shaped and pre-sliced for practicality and convenience, said the firm.
Available in a pack of four with an rsp of £1.20, they will join its baked range of Sliced White Rolls, Brioche Burger Buns and Large White Rolls.
Baked on the oven sole with a 'distinct' process, the soft rolls contain additional moisture and flavour according to the supplier.
"At Warburtons, we always want to bring excitement and innovation to the category and deliver delicious products that cater to consumer demand and trends. We definitely think we are on a 'square-ish' roll with this new product!" said Darren Littler, innovation and product marketing director at Warburtons.
The new rolls are larger, have a resilient texture and are suitable for substantial fillings, it added.
The Sliced Sandwich Rolls are now available at Tesco, Sainsbury's and Heron stores nationwide. In the following weeks, they will also roll out across Iceland, Asda, Co-op and Morrisons.