Cheddar & stout, red velvet and lemon curd & white chocolate are among the new flavours of hot cross buns hitting the scene for Easter 2023.
Here, we take a closer look at the latest NPD to be rolled out by the supermarkets: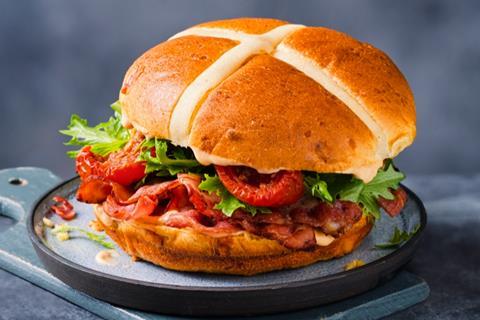 M&S
M&S has introduced a curve ball in the form of the Hot Cross Bun BLT (£4.75). Part of its food to go range, the sandwich comprises a Cheddar Cheese & Red Leicester Hot Cross Bun filled with Beechwood smoked maple cured British bacon, semi-dried tomatoes, lettuce, and smoky mayo.
The cheesy hot cross buns are also available to buy in a four-pack, as are the retailer's Luxury Hot Cross Buns and Extremely Chocolatey Hot Cross Buns which are all priced at £1.90.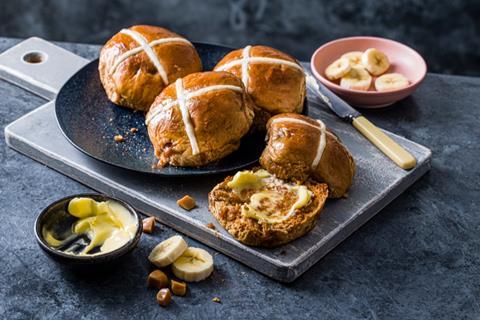 M&S has also embraced nostalgic flavours in the form of the new Banoffee Hot Cross Buns. They're filled with salted caramel fudge and made with banana puree, topped with bun glaze.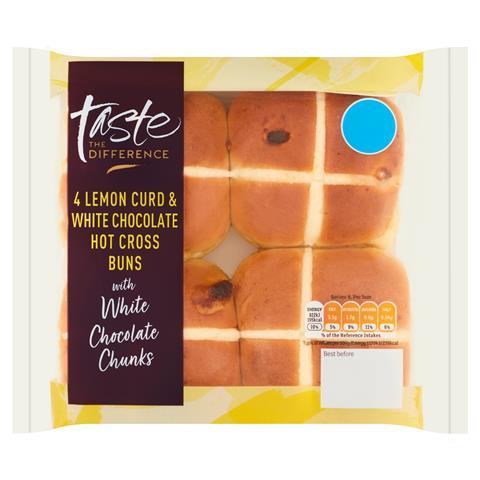 Sainsbury's
There are three new flavours in the Sainsbury's hot cross bun line-up this year – Lemon Curd & White Chocolate, Blueberry & Cardamom, and Cheese, Tomato & Oregano.
The Lemon Curd & White Chocolate ones, which are made with sourdough starter, are currant-free and filled with pockets of lemon curd and what Sainsbury's describes as a 'generous amount of white chocolate'. The Blueberry option, meanwhile, is packed with dried currants and blueberries with a hint of cardamom.
The Cheese, Tomato & Oregano Hot Cross Buns feature two types of cheese (mature Cheddar and Red Leicester). They're made with sourdough starter and are blended with fragrant sundried tomato paste and sprinkles of dried oregano.
Also available are Triple Chocolate, Free From Caramel & Chocolate, Chocolate & Salted Caramel, Apple & Cinnamon and Triple Berry hot cross buns.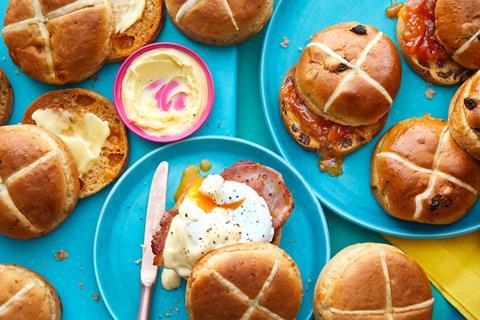 Waitrose
Waitrose has unveiled a bold flavoured savoury twist on the Easter treat in the form of West Country Mature Cheddar & Stout Hot Cross Buns.
Made with sourdough starter, a West Country mature Cheddar, a splash of stout and a pinch of cracked black pepper, Waitrose says the buns are delicious toasted with salted butter or, for a special breakfast, great filled with bacon, a poached egg and hollandaise.
Its Luxury Hot Cross Buns, meanwhile, are described as 'very special' and are made with sourdough starter, butter, and cream, and speckled with sultanas soaked in Earl Grey tea, and orange zest.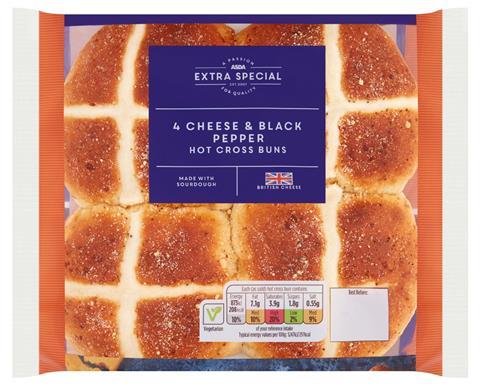 Asda
Asda has embraced fruity flavours for its hot cross buns this year with three new sweet variants hitting the shelves alongside a savoury version in the form of Cheese & Black Pepper hot cross buns.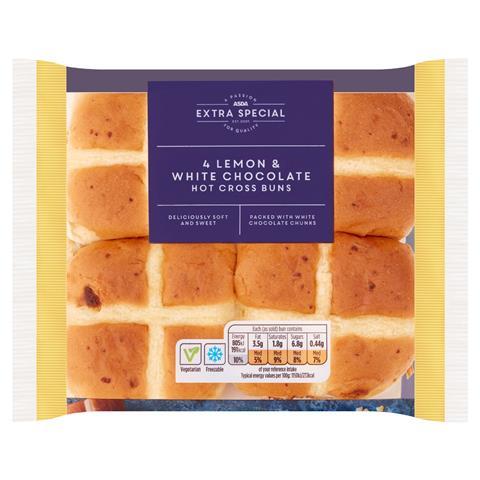 Kicking off the fruity fiesta are the Lemon & White Chocolate Hot Cross Buns which combine white chocolate chunks with candied lemon peel for a 'zingy, citrusy' bite. There's also Blueberry Hot Cross Buns which are packed with currants and the titular fruit, as well as Apple & Cinnamon ones which are made with tart apple puree, cinnamon, and chunks of sugar-coated apple.
The Cheese & Black Pepper Hot Cross Buns are described as an 'edgier take' on the iconic treat. The buns are made with sourdough for a soft base and include Red Leicester, extra mature Cheddar and cracked black pepper. Asda suggests serving them toasted with butter for dunking in soup.
All are part of the Extra Special own label range and cost £1.60 for a pack of four.
The new launches form part of a 10-strong range which also include the year-round Large Hot Cross Buns (£1.50 for a pack of four) and free-from options including Chilli & Cheddar Alternative Hot Cross Buns and Choc Chip Hot Cross Buns.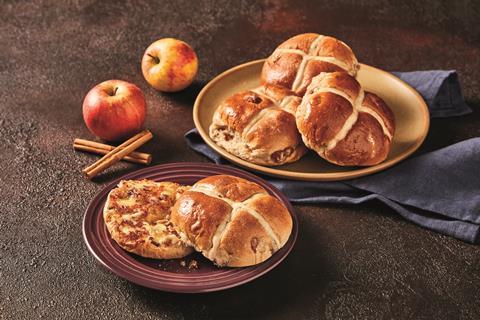 Morrisons
Morrisons is keeping things classic with a four-strong selection of hero hot cross buns this year as part of its own label The Best range.
The line-up comprises Extra Fruity, Lemon Drizzle, Apple & Cinnamon and Double Chocolate variants. All are priced at £1.25 for a pack of four.
The Lemon Drizzle ones are butter enriched with Sicilian lemon oil, mixed peel, and orange zest, while the Extra Fruity ones are packed with vine fruits, orange zest and spices.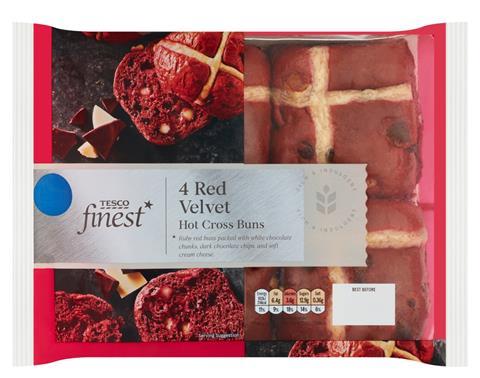 Tesco
Tesco is adding some vibrancy to bakery shelves with its new Finest Red Velvet Hot Cross Buns.
The buns are made with soft cream cheese infused into the dough and scattered with white and dark chocolate chips throughout. They're priced at £1.60 for a four-pack.
Tesco is also bringing some flavoured hot cross buns to its shelves in the form of St Clements, Salted Caramel & Chocolate and Apple & Cinnamon. There's also a Hot Cross Bun Bread & Butter Pudding.