The retailers are hopping to it with a range of sweet treats to tempt the nation this Easter.
There's Easter egg-shaped shortbread, chick cake jars, vegan carrot cakes and even an Easter panettone.
Here's are some of the range highlights: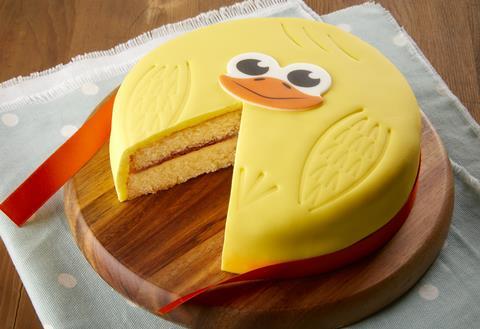 Asda
Chick out Asda's Easter range which has well and truly embraced Easter chicks. The nine-strong range of treats includes a Chick Cake, Easter Cupcake Platter, and Chick Cake Jar.
The cake jar (£3.50), made by ambient cake and dessert manufacturer BBF, has layers of Madeira sponge, lemon curd, crunchy sugar sprinkles and sweet vanilla frosting topped with an edible chick face.
The Chick Cake (£6), meanwhile, has a soft madeira sponge filled with sweet plum & raspberry jam and buttercream. The sponge is covered with soft icing and finished with edible decorations.
There's also a Gingerbread Chick (65p), Chick Cookie Cups (£3.50 per four-pack) which combine a milk chocolate chip cookie with a chocolate cupcake, and a Chick Cheesecake (£6) which has a digestive biscuit base topped with a lemon cheesecake, a lemon glaze and sugar decorations.
Rounding off the range is a Crushed Egg Doughnut (£2.75). The pack contains three doughnuts with a chocolate flavour filling coated with yellow icing and decorated with sugar coated broken chocolate eggs.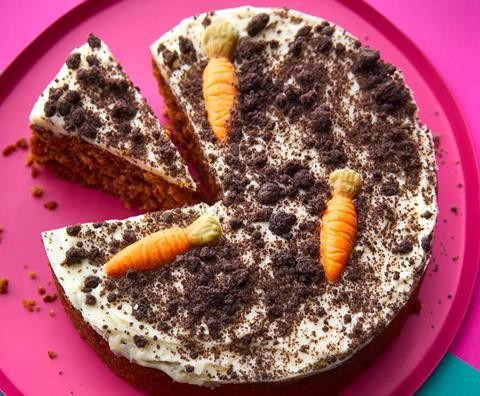 Waitrose
Waitrose has put a seasonal twist on shortbread, carrot cake and cupcakes for Easter.
Kicking things off is the Easter Carrot Patch Cake (£8) which comprises a lightly spiced carrot cake topped with cream cheese frosting, cookie crumb and cocoa decorations.
There's also the Easter Chocolate & Orange Panettone (£8). Made in Italy, the buttery panettone features candied orange and lemon peel, and is finished with chocolate and sugar sprinkles.
Its Lemon Easter Egg Shortbread (£1.75 each) is sandwiched with a zesty lemon filling and sprinkled with sugar. Eggs also feature on the retailer's Mini Easter Cupcakes (£3.49 for nine) which see golden sponge fairy cakes covered with fondant icing and handmade sugar decorations in the form of whole and fried eggs, as well as bunnies.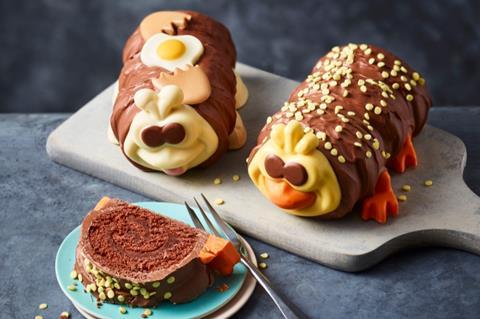 M&S
Colin the Caterpillar has teamed up with the Easter chick for a seasonal makeover. Sold as a pack of two sponge rolls (£10), the pack features a traditional Colin sponge cake with cracked egg on top alongside a chick version with an edible chocolate face, complete with beak, and orange feet.
M&S has also given one of its Easter eggs a hefty dose of biscuit. Called the Extremely Chocolatey Biscuity Egg (£9), the thick milk chocolate egg is loaded with shortcake biscuit pieces.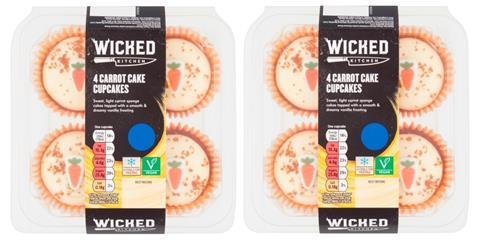 Tesco
Tesco is keeping things classic this Easter with a range including cupcakes, Simnel cake and hot cross buns albeit with some surprises along the way.
It's nine-pack of Easter cupcakes, for example, have hidden centres. The retailer has also rolled out a vegan-friendly four-pack of carrot cake cupcakes under its Wicked Kitchen label. Priced at £3.50, the cupcakes have a light carrot sponge topped with a smooth vanilla frosting.
The retailer has also brought back its Hot Cross Bun Bread & Butter Pudding which features hot cross buns with orange-soaked sultanas and currants baked in a Madagascan vanilla custard.