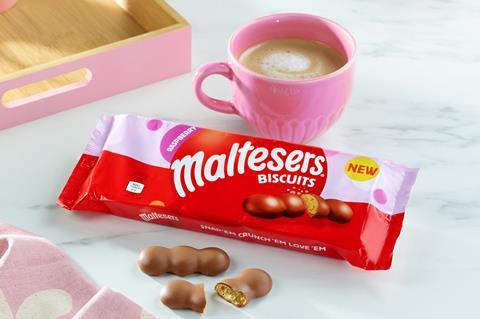 Indulgent doughnuts, DIY brioche and a twist on the traditional birthday cake are among the sweet treats making their way to the bakery market this month.
There's also a new addition to the Maltesers Biscuits range, with a raspberry variant joining mint and orange flavours in the line-up.
Here's a closer look at the launches: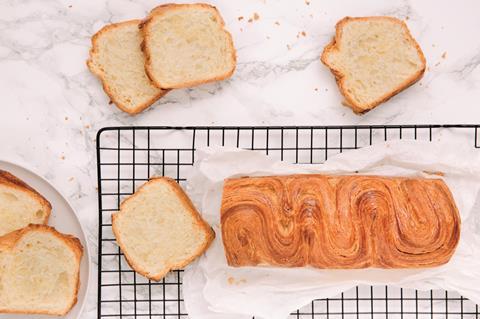 DIY Puff Pastry Brioche, Bridor
Bridor has expanded its Puff Pastry Brioche range with a DIY format designed to allow bakers to tailor each product to their customers' needs.
The ready-to-prove DIY Puff Pastry Brioche (330g) allows food service operators to put three ready-to-prove rolls in the provided cardboard mould and to prove the brioche before baking. They can add a variety of toppings such as chocolate chips, pearl sugar or sliced almonds before baking, or customise the brioche after baking to create a sweet or savoury breakfast or snack.
The product has butter added between the pastry layers to create an ultra-laminated effect which, according to Bridor, provides the softness of brioche but with the laminated look of a croissant.
The brioche's ingredients are of natural origin except for ascorbic acid, which Bridor has included for its 'decisive role in the quality of the final product'.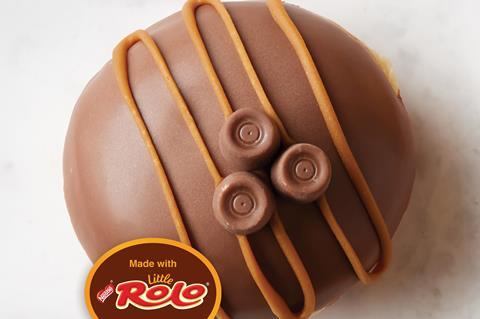 Caramel & Chocolate Shop, Krispy Kreme
A new range of Caramel & Chocolate Shop doughnuts has been launched by Krispy Kreme, featuring some well-known flavours.
Available for a limited time, the range includes an exclusive Rolo doughnut (£2.45) filled with caramel, dipped in blended chocolate coating and topped with a caramel drizzle and three little Rolos.
Also available is the Golden Chocolate doughnut (£2.45), filled with white chocolate cream, dipped in caramel chocolate icing, and topped with white chocolate and crisp pearls.
In addition, Krispy Kreme's Toffee Krispy doughnut (£2.45) is back for three weeks only from 14 March 2022. The product features a combination of crispy cereal and soft caramel covered in a 'chocolate coating and drizzled with sticky toffee sauce.
The option of the Caramel & Chocolate Shop Dozen (£15.95) offers shoppers a pick 'n' mix of the flavours along with Krispy Kreme's signature Original Glazed ring doughnuts, available online via nationwide delivery (£4.45 delivery charge, excluding Scottish Highlands, Islands and Ireland).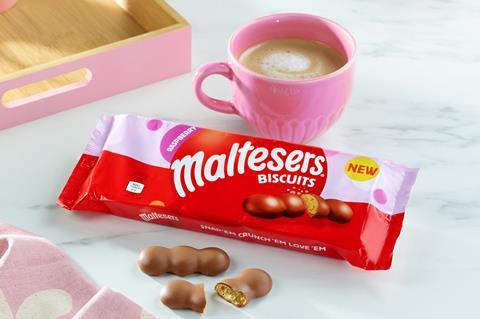 Raspberry Maltesers Biscuits, Mars
Mars Chocolate Drinks and Treats (MCD&T) has built on its Maltesers Biscuits range with the launch of a raspberry variant.
Joining mint and orange flavours in the line-up, the new biscuits feature three light raspberry malty bobbles covered in smooth milk chocolate.
According to MCD&T, more than 4.8 million households have tried Maltesers Biscuits since the original sku was launched in 2020, with the range now worth £6.9m.
A new marketing campaign, 'have an afternoon snap', launched earlier in the year aims to increase household penetration with an anticipated consumer reach of some 12 million consumers.
"Once consumers try Maltesers Biscuits, the repeat purchase is high," said Michelle Frost, general manager at MCD&T. "The new variant will offer more choice to both Maltesers fans and biscuit enthusiasts."
Raspberry Maltesers Biscuits will be available at B&M from March 2022, with an rsp of £1.49 for a 110g pack containing 10 biscuits.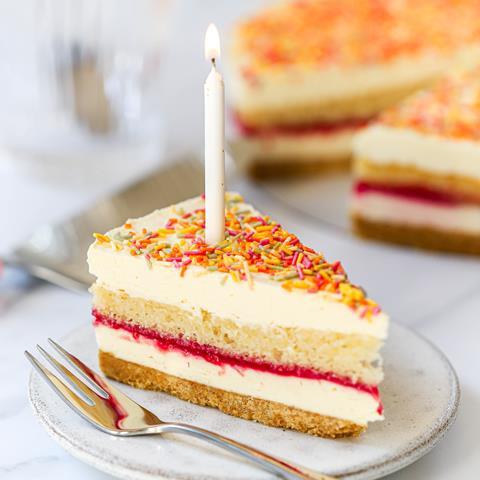 Funfetti Cheesecake, English Cheesecake Company
English Cheesecake Company claims to have taken the classic birthday cake to the next level with the launch of its Funfetti Cheesecake.
Combining layers of vanilla cheesecake, raspberry jam, vanilla cake sponge and sugar sprinkles on top of a digestive biscuit base, the product is priced at £39.50 and arrives pre-portioned into 14 slices.
All of English Cheesecake Company's cheesecakes can be customised with a personalised chocolate disc, a gift card and luxury gift wrap as well as optional extras including candles, sparklers and balloons delivered to the recipient's door.
The cake, which requires defrosting before serving, is available from the company's website with free standard delivery.