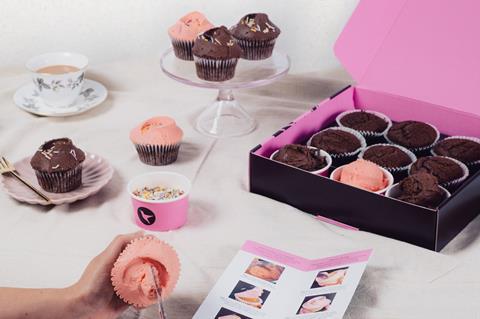 The Hummingbird Bakery has unveiled its first ever nationwide offering with the launch of Cupcake Decorating Kits.
The kits contain everything consumers need to frost six cupcakes including frosting, sprinkles and a 'How to' guide. They come in two variants:
Mixed Decorating Kit – the kit includes three vanilla and three chocolate cupcakes, two pots of vanilla frosting in varying colours, one pot of chocolate frosting and one bag of sprinkles
Chocolate Decorating Kit – it includes chocolate cupcakes, two pots of chocolate frosting, one pot of vanilla frosting and one bag of sprinkles.
Both are priced at £27.50 including an icing palette knife or £23 without the palette knife.
The cupcake decorating kits represent the first ever nationwide offering from the London-based bakery and are set to be the 'first of many' decorating kits to come.
The Hummingbird Bakery, which serves up a variety of American-style treats including cakes, brownies, pies and cheesecakes, was acquired in a pre-pack administration process by investment firm Acropolis Capital in 2021. The deal secured the ongoing operation of three of its shops in Notting Hill, South Kensington and Spitalfields, which it said protected more than 60 jobs.
Since then, the business has moved into the 'next phase of its evolution' with the refurbishment of its flagship store on Old Brompton Road, South Kensington, and further redesigns in the pipeline. The revamped site includes a personalisation station where shoppers can watch The Hummingbird Bakery's team apply bespoke decorations to cakes.
The business has also revealed that a new bakery will be announced in autumn. This forms a stepping stone as it sets its sights on national expansion.