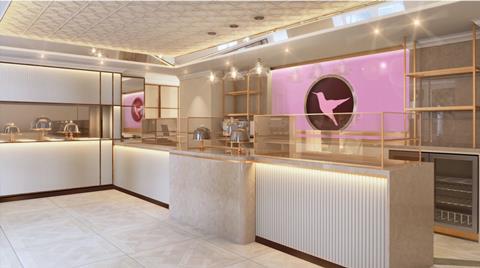 London-based The Hummingbird Bakery is eyeing nationwide expansion as it unveils a new look and menu for 2022.
The American style bakery, which was bought by investment firm Acropolis in a pre-pack administration deal last year, said it is moving into the 'next phase of evolution' with the refurbishment of its flagship store on Old Brompton Road, South Kensington and further redesigns in the pipeline for later in the year.
"We have many exciting plans for 2022 with our sights set on national expansion, nationwide delivery, and even more delectable menu items," said chairman Ziad Joumblat who added that the reopening of the South Kensington bakery was just the "first step of the journey".
Unique to the revamped store – the exact opening date of which has not yet been announced – is a new personalisation station where shoppers can watch The Hummingbird Bakery's team apply bespoke decorations to cakes.
The business, which was launched in the UK in early 2004, currently has three branches in London with sites in Notting Hill and Spitalfields as well as South Kensington. More store redesigns are set to follow, with one to include an open kitchen.
New menu items, meanwhile, include Red Velvet & White Chocolate Cookies, which have a gooey centre and are topped with white chocolate, as well as Popcorn Brownies comprising a classic brownie base with salted caramel and sweet & salty popcorn and a dark chocolate drizzle. Cornflake & Coconut Flapjacks are also joining the menu and feature cornflakes, toasted coconut, dried fruit and walnuts, and a white chocolate drizzle. Rounding off the NPD are a selection of American style baked cheesecakes in New York, lemon, and pecan variants.
"This year we're excited to be launching an entire range of brand new American inspired desserts as well as mixing up some of our much-loved classics and bespoke celebration cakes," said product trainer Gayle Clutterbuck.
All The Hummingbird Bakery's menu items are hand baked on site daily with a range of vegan and made without gluten options available.