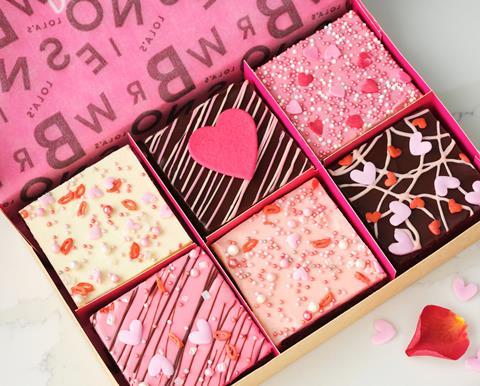 Forget flowers, celebrate Valentine's Day with cupcakes, doughnuts and more – that's the message from the nation's bakers as they unveil a host of new products designed to make hearts flutter.
Here are some of the treats being rolled out for 14 February 2022: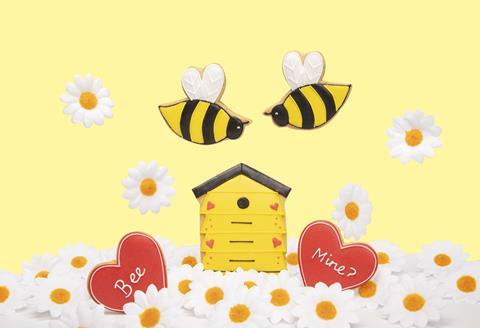 Biscuiteers
Hand-iced biscuit specialist Biscuiteers has unveiled a range of treats with pun-derful sentiments for 14 February including 'Bee mine?', 'You're cracking' and 'You're the bun that I want'. The messages are hand-iced on biscuits featuring bees, fried eggs, and steamed buns, respectively.
The egg and bee-shaped biscuits are available in letterbox sets priced at £25 with other variations such as peaches and hearts and sushi rolls with the message 'I like the way you roll' also available.
For something more interactive there's the DIY Date Night Kit (£35). Suitable for children and adults, it contains everything needed to create heart-shaped chocolate biscuits all housed in a keepsake tin.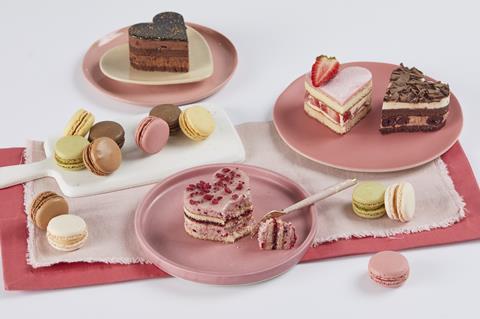 Paul Bakery
Paul Bakery is going big on the heart motif this Valentine's Day with its Sweetest Love Box (£29.95). The box, which can be purchased online, includes four heart-shaped cakes in Forêt Noire, Craquant and Cherry Layer varieties as well as 12 mini macarons. Those visiting its stores in London or Oxford have the choice of two cakes for £10 or four for £20.
Also in store are Heart Brioche (£1.95) – a twist on the soft and sweet French bread – and Sharing Heart Fraisier (£34.95) which features pink marzipan, fresh mousseline cream and strawberries.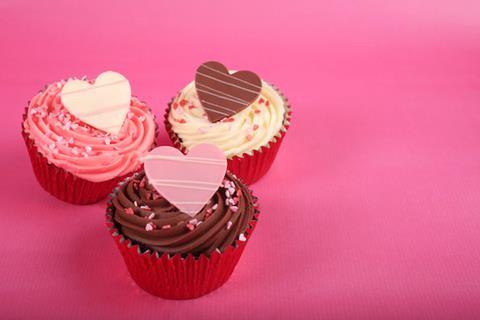 Birds Bakery
Midlands-based Birds Bakery is serving up classic baked goods with a Valentine's Twist this year.
There's Valentine's Cupcakes (£1.65) complete with white, pink, and chocolate frosting, pink sprinkles, and a chocolate heart decoration as well as Gingerbread People (£1.40) with heart-shaped buttons and Shortbread Hearts (£1.35 for two).
Romantics seeking something a bit different can pick up a Large Valentine Frog (£5.40). Made of chocolate, the happy hoppers feature hand-iced messages such as 'kiss me' and 'love you'.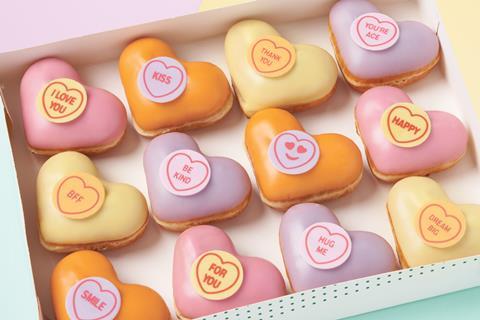 Krispy Kreme
Doughnut specialist Krispy Kreme has reunited with Swizzels Love Hearts for its seasonal range.
The limited-edition Love Hearts range, priced at £2.45 a doughnut, come in five flavours, and are decorated with 12 messages including 'Dream big', 'Be kind', 'BFF' and 'I love you'. The five flavours are:
Orange you Sweet – with a zesty orange and sherbet flavour kreme filling
Berry Joyful – with a strawberry and sherbet flavour kreme filling, dipped in strawberry icing
Simply the Zest – with citrus lemon and sherbet flavour kreme filling, dipped in lemon icing
Full of Heart – with a sherbet flavour kreme filling, dipped in sherbet flavour purple icing
Whole lotta love – ring doughnut dipped in white sherbet icing and topped with sugar hearts.
Additionally, from 11-14 February Krispy Kreme is turning its entire range into heart shaped doughnuts.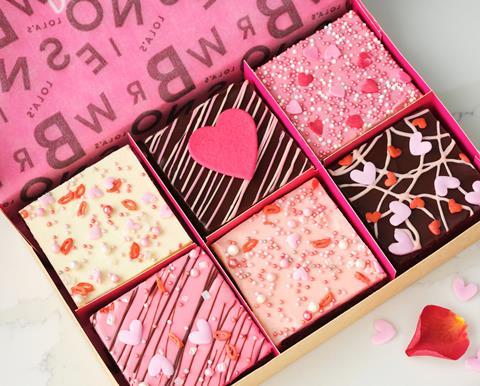 Lola's Cupcakes
Lola's is embracing all things pink this year with a host of colourful creations including topped brownies, cupcakes, and layer cakes.
The aptly named Be Mine Brownies (£16.99) are available for nationwide delivery and comprise six Belgian chocolate brownies paired with a ganache and topped with sugar hearts, lips, and pearls, all finished with a light chocolate drizzle. Cupid's Cupcakes, meanwhile, feature vanilla or chocolate sponges topped with buttercream and chocolate ganache before being decorated with pearls, heart sprinkles, mini chocolate bars, raspberries and rose petals. They're priced between £19.50-£27.99 depending on the quantity and delivery location.
Rounding off the Lola's Offering is a Sweetheart Vanilla Layer Cake (£17.50) which has a light vanilla sponge with vanilla buttercream and raspberry compote filling, or chocolate sponge with a chocolate buttercream filling, topped with white and pink vanilla buttercream, icing and Valentine's sprinkles.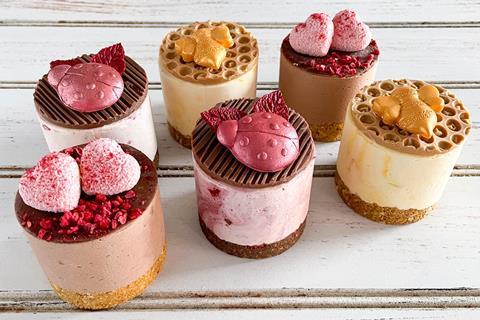 Pleesecakes
Self-described 'cheesecake wizards' Pleesecakes has unveiled a range of cheesecake truffles and mini cheesecakes for Valentine's Day 2022.
The Mini Bundle (£36) features three creations:
Bee Mine – digestive base with a lemon zest filling and citrus core, topped with chocolate honeycomb and a chocolate-shaped bee
Love Bug – chocolate digestive base with a freeze-dried raspberry filling and a raspberry core, topped with a chocolate leaf and ladybird
Heart to Heart – digestive base with a chocolate hazelnut filling and salted caramel core and two vanilla caramel heart Chuffles.
The Chuffles (£26), meanwhile, come in a box of 24 and are handmade using Pleesecake's cream cheese mix encased in a chocolate shell. They're also available in three flavours – Vanilla Caramel with a white chocolate shell, Raspberry White Chocolate in a dark shell, and Milk Chocolate Sea Salt in a milk shell.