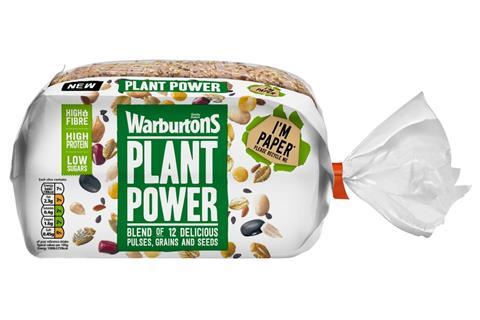 Warburton's has introduced a new range of sliced loaves to its portfolio called Seeds & Grains.
It comprises three 700g loaves which are 100% wholemeal, high in fibre and protein and low in saturated fat and sugar, according to Warburtons. Calories per slice range from 119-130.
The new additions to the Warburtons line-up are:
The Big 21 – it includes 21 varieties of seeds and grains
Plant Power – featuring a blend of 12 pulses, grains and seeds
Make It Grain – includes Maris Otter barley malt grain among the ingredients
The three-strong range is targeted at consumers looking for healthier products and taps into the second largest segment in the wrapped bread category, also known as seeds and grains.
It also supports consumer desire for more sustainable packaging, the firm added, and the loaves are sold in 100% recyclable paper packaging. This forms part of Warburtons' work to improve its impact on the environment as part of an overarching five-prong strategy which focuses on carbon management, ethical sourcing, packaging, food waste, people and communities.
The dietary credentials and paper packaging are flagged on the front of pack which also includes photos of the seeds and grains inside.
"Consumers are always looking for new, interesting bakery products to make mealtimes more exciting and these certainly do the trick. Not only do they taste great, but they also have a range of nutritional benefits making them the perfect choice for a healthy balanced diet," said Darren Littler, innovation director at Warburtons.
"Making the packaging fully recyclable is also just another step in the right direction for us and we are thrilled that we are able to offer a more sustainable option to packaging that does not impact the freshness of the loaf."
The loaves will be available exclusively in Asda from 19 April with an rsp of £1.85, with a further nationwide rollout later in the month.