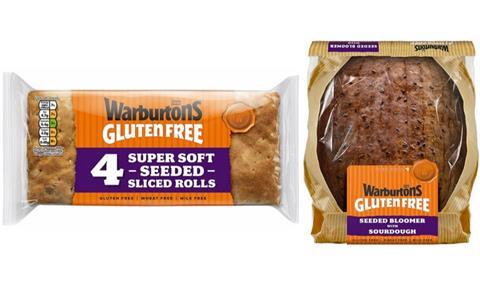 Warburtons has added to its gluten free range with two new product launches.
The bread giant said the development of its new Seeded Bloomer loaf made with sourdough and its Gluten Free Super Soft Seeded Sliced Rolls demonstrate its 'continued commitment' to investing in gluten free.
Both products will be baked in Warburtons' dedicated gluten free bakery in Newburn, the company added. The NPD will complement Warburtons' broader range including gluten free artisan loaves, sliced bread, rolls, wraps, sandwich thins and crumpets.
The 400g unsliced bloomer loaf, which is also milk free and wheat free, is made up of sunflower seed, Linseed, millet seed and poppy seed. Carrying an RRP of £3.61, the bread is now on shelves in Morrisons and will be available in Sainsbury's and the Co-op later in the month.
The Super Soft Seeded Rolls come in packs of four and are described by Warburtons as high in fibre. The rolls are made with a blend of sunflower seed, linseed and millet seed. They come pre-sliced to offer convenience for picnics, BBQs and lunch boxes. Available in Tesco and direct via the Warburtons website, the rolls have an RRP of £2.59. Those using the app will also have access to bundle deals, a loyalty scheme and free product giveaways, said Warburtons.
"We're really pleased to be expanding our gluten free range with two new fantastic products," said Chris Hook, free from director at Warburtons. "Following a gluten free diet can be quite challenging and we are dedicated to investing in product innovation to offer consumers more choice for their mealtimes."
The new launches follow Warburtons unveiling of its Seeds & Grains range of sliced loaves earlier in the month. It comprises three 700g loaves which are 100% wholemeal, high in fibre and protein and low in saturated fat and sugar, according to Warburtons.