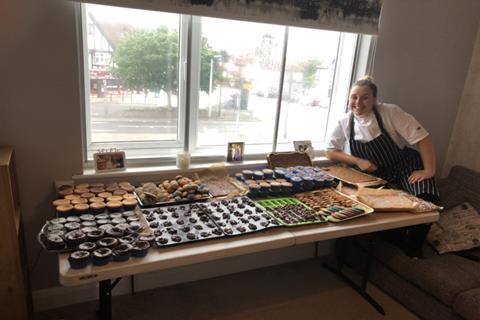 Head pastry chef at Wimbledon Tennis Club, Rebecca Marshman-Rondeau, has carried out a 24-hour bake-a-thon to raise funds for the National Marine Aquarium.
Marshman-Rondeau volunteered to bake pastries for NHS staff from 8am on 29 June to 8am on 30 June. Boxes of her cakes, traybakes, cookies and biscuits will be delivered to NHS services, including Great Ormond Street and St Georges Hospital.
Baking from home, she is raising funds for the National Marine Aquarium, which has been closed since March because of the coronavirus pandemic. Aquariums are set to reopen from 6 July.
"One of the biggest challenges aquariums have faced over the last few months, is the ongoing costs of feeding and maintaining the fish and animals," said Roger Maslin, CEO of the Ocean Conservation Trust.
"Aquariums aren't just tourist attractions; we also play an important role in ocean conservation, education and research. When closed to the public, the cost of operating the largest aquarium in the UK remains up to £10,000 a day."
To celebrate the reopening, the National Marine Aquarium has kicked off a week of fundraising.
Almost 2,000 children from local schools, in partnership with the Connect Academy Trust, are taking part in learning opportunities, including dressing up in blue and green ocean-themed clothes while collecting donations for the aquarium. Each school has an ocean animal mascot, including Hulk the Hairy Hermit Crab, Samson and Delilah the Groupers, and Noodles the Octopus.