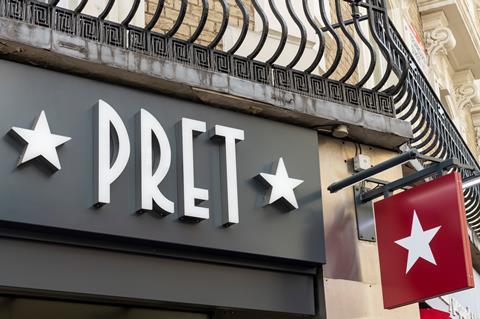 Pret A Manger is pumping £100m into its business as it announces ambitions to double in size within the next five years.
The net investment comes from majority stakeholder JAB and Pret founder Sinclair Beecham to 'accelerate expansion plans' and follows an initial investment of £185m last year when it warned of 'material uncertainties' due to the impact of the pandemic.
It comes as the company's latest accounts reveal that revenue for 2020 was £299m – down from £708m in 2019 – while its operating loss for the year before tax fell to £256.5m.
However, Pret noted that its recovery had 'gathered pace' over the last month with trade approaching pre-pandemic levels and once again making a profit.
Expanding into international markets, growing its shop estate, NPD and investing in new digital capabilities are the next phase of Pret's transformation plan, which kicked off last year and aims to shift its focus from 'following the skyscraper' to targeting more people across the UK and beyond.
More than 200 shops are due to be opened in the next two years, largely located in regional and suburban areas. The first major franchise partnership was signed over the summer, with further agreements expected later this year. Many of the new shops will be in transport hubs and motorway service stations, further building on Pret's existing partnership with independent forecourt operator, MFG, and motorway services operator, Moto.
A recruitment programme will be rolled out as part of the expansion plan as Pret aims to hire at least 3,000 team members and baristas by the end of 2023. The number of employees now working across the business has grown by 28% since the start of 2021, with 6,400 in the UK alone.
Notably, Pret cut more than 3,000 jobs from its UK shops and head office during the pandemic, with several sites permanently closed as well.
Bright future ahead
Pret CEO Pana Christou thanked JAB and Beecham for the investment and said the business has an opportunity to "build a bright new future".
"What the pandemic has shown us is that even at the darkest moments, more people want to experience Pret – whether that's customers outside of London and other big cities, new franchise partners who want to work with us here and overseas, investors in our business, or people who want to grow their careers here and be part of what we're trying to build," he said.
"It's been an incredibly tough two years, but we have a big opportunity ahead. Last year, we delivered more change than in 30 years of Pret's history. As we move into the next phase of our transformation, we want to keep the same pace of innovation, but use it drive new growth."