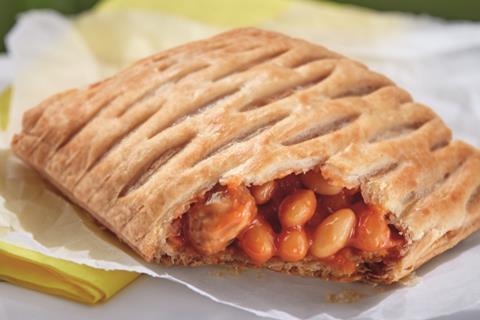 Greggs has expanded its meat-free range with the launch of a vegan sausage, bean & cheeze melt.
The new bake will be available nationwide in over 2,000 of the food-to-go giant's outlets from Thursday 5 August.
Based on Greggs' regular sausage, bean & cheese melt, the meat-free product features pieces of vegan sausage, grated original and mozzarella-flavoured vegan cheese and baked beans wrapped in puff pastry.
The vegan-friendly melt is the retailer's latest attempt to capitalise on the growing 'flexitarian' market, having successfully launched its vegan sausage roll in 2019, as well as a vegan steak bake and vegan doughnut in 2020.
Earlier this year, Greggs' full-year financial report signalled the company's intention to offer further vegan-friendly versions of its bestselling lines.
"The latest addition to our menu gives customers another vegan-friendly alternative to one of our most iconic menu items," said Hannah Squirrell, customer director at Greggs.
The new product will retail from store shelves for £1.60, with click & collect and delivery via Just Eat also available.