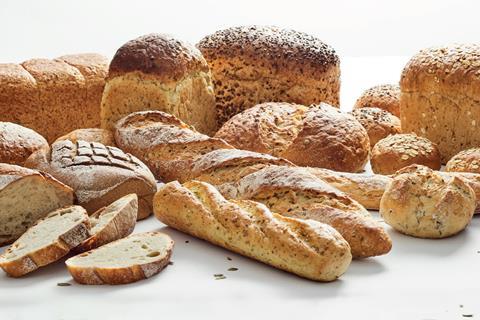 Ingredients supplier British Bakels has revamped its Country Oven range with four new concentrates designed to tap into consumer demand for healthier breads.
The concentrates come in Multiseed Vitality, Golden Grains, Fibre Plus and Seeded Artisan variants – all of which have an 'enhanced nutritional profile', according to Bakels.
Like the rest of the Country Oven speciality bread mix portfolio, which includes Multiseed and Rye, they should be used at a 50/50 ratio with flour.
Ancient grains, turmeric and chia seeds are among the ingredients used in the mixes. The concentrates are described by Bakels as:
Multiseed Vitality – this mix contains a high level of protein (14g per 100g) and fibre, and is fortified with a source of calcium and vitamin D. It supports the immune system and metabolism, maintains normal teeth and bones and is good for gut health
Golden Grains – it features ancient grains, quinoa and chia seeds, along with turmeric, sunflower and linseed. It is a source of protein and fibre, supports the nervous system and contributes to reduction in tiredness and fatigue
Fibre Plus – comprising wheat flakes, this concentrate has a malty and sweet flavour. It is high in fibre (7.7g per 100g), a source of protein and good for gut health
Seeded Artisan – it features Bakels' Fermdor Wheat Sourdough, sunflower and linseeds. It is a source of protein and supports the immune system.
Available from January 2021, the concentrates are suitable for vegans. Bakels said they mark a drive from the company in the development of ingredients that produce nutritious/healthier baked goods but also those suited to different diets and lifestyles, such as vegan and vegetarian.
It comes as consumer demand for bread with nutritional and health benefits increases following the coronavirus pandemic, Bakels added. It noted research from analyst Mintel which found that 31% of adults are eating healthier, 20% are interested in foods which support their immune system and 41% want their diet to support digestive health. Looking at bakery specifically, 25% and 31% of those polled say breads with health benefits and high fibre appeal to them, respectively.
Several opportunities for the bread market have emerged since the start of the outbreak, according to Mintel, including tapping into demand for healthier loaves, those with better environmental credentials and value for money.