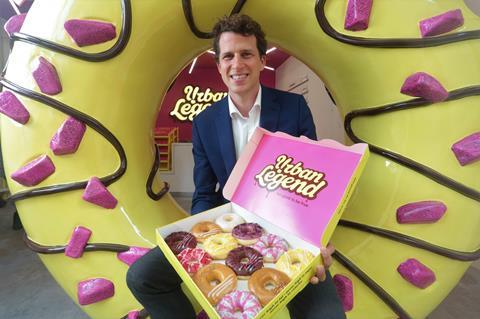 The former CEO of snacking firm Graze Anthony Fletcher has launched a new bakery brand called Urban Legend which specialises in steamed doughnuts.
Described as "responsible indulgence", the doughnuts boast 57% less sugar, 52% saturated fat and 44% less fat than doughnuts currently being sold with less than 160 calories per treat.
Fletcher partnered with UK scientists, including Dr Chris Holland, senior lecturer in natural materials at Sheffield University, and bakers for the launch. They investigated the use of novel starch and protein technologies which allow the doughs to be 'set' by a beam of steam rather than deep fried.
A micro layer of fat is then deposited on the outside of the doughnut, which Urban Legend said retains the taste and texture of a product that has been deep fried with 'barely any of saturated fat being added to the product'. To meet consumer expectations for a sweet tasting doughnut, the firm has used what it describes as 'clever natural flavour combinations that enhance sweetness and cue indulgence' and alternatives to sugar discovered in melons, pears, roots, and leaves.
In addition, the doughnuts contain no artificial preservatives, sweeteners, colours, or flavourings. The colour extracts come from flowers, plants and vegetables including safflower and beetroot.
The treats come in a variety of flavours, many of which tap into the latest trends, including:
Glazy Days – vanilla iced ring doughnuts topped with vanilla seeds
Fools Gold – caramel doughnuts dusted in caramel crunch with bronze nuggets
Forbidden Forest – very berry iced doughnuts with a dark cookie crumb
Sunny Jim – lemon drizzle doughnuts with lemon crunch and white iced drizzle
Choc Party – chocolate doughnuts with a dark cookie crumb and white iced drizzle
The brand debuts today (2 August) with a store in Brighton Lanes. The doughnuts will also be available to buy via Uber Eats and Deliveroo soon, and discussions with retailers are underway.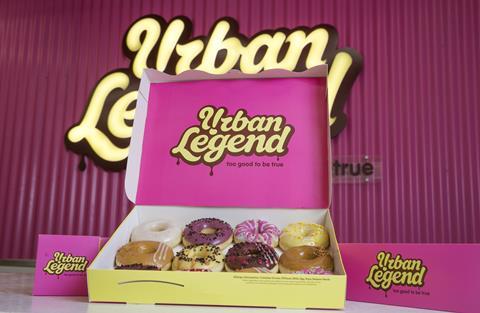 A special test kitchen and lab has been custom built in Park Royal, west London, which will service the London market and work on new iterations of the products. Fletcher's vision is to expand the techniques to also encompass other baked goods.
The UK food and drink industry is under increased pressure to make products healthier with the government teeing up legislation for those high in fat, salt, and sugar (HFSS).
"We need radical solutions to the UK's obesity crisis," said Fletcher. "Consumers are finding it too hard to move away from treats, so instead of hoping the nation will no longer overindulge, we saw an opportunity to partner with the science community to re-think the way this type of food is made and demonstrate that manufacturers can formulate for more 'responsible indulgence'."
Steaming isn't a wildly used method for making doughnuts, but it has been explored by a few companies in recent years alongside other ways to make doughnuts healthier.