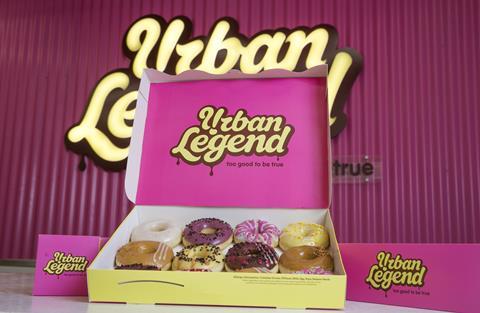 Former Graze boss Anthony Fletcher has secured £3m in seed funding for the recently launched healthier doughnut brand Urban Legend.
The funds, which come from a range of venture capitalists, health charities and angel investors, will be used towards building a new test lab in West London where the doughnuts are created and where the team is experimenting with new iterations and products. The brand's parent company Believe in Science said the lab will help 'investigate and change the food manufacturing process to create products indistinguishable from its sugar laden peers'.
Urban Legend was unveiled in August with its products described as "responsible indulgence" boasting 57% less sugar, 52% saturated fat and 44% less fat than doughnuts currently being sold with less than 160 calories per treat. The doughs are set by steam with a micro layer of fat deposited on the outside to mimic the taste and texture of a product that has been deep fried.
An initial retail site was opened in Brighton with the brand venturing to London shortly. Another store is due to open in Croydon this month and one more in Clapham Junction later.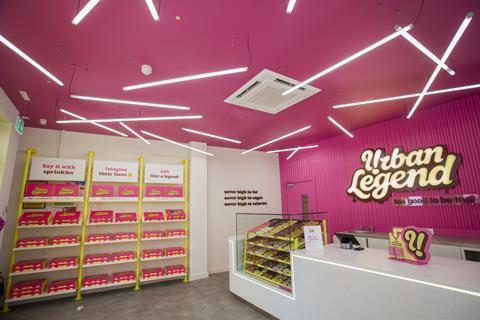 Fletcher said the business was "privileged" to have financial backing from firms and individuals who "recognise the importance of using science to respond to long-term societal issues like obesity".
"The responsibility cannot solely lie with the consumer changing their eating habits. As an industry, we need to work more closely with the science and healthcare communities to reformulate the way products are made, making them healthier without compromising on taste," he added.
Financial backing comes from leading investor Eka, which focuses on consumer companies developing products or services that have a positive impact on the consumer and planet. Guy's & St. Thomas's Foundation as well as The Good Food Fund, which is managed by Ascension and backed by Big Society Capital and Impact on Urban Health, have also provided support.
Other investors include JamJar Investments, a venture capitalist fund led by the founders of Innocent Drinks, and Samos Investments. Angel investors include former Pret CEO Clive Schlee, Jamie Mitchell, Will Neale and Chris Britton.
"As part of our work on the Good Food Fund, we are supporting a range of healthier challenger food brands like Urban Legend, that are developing products to make a difference. We are therefore pleased to support Anthony's venture for the changes it is pioneering across the bakery industry and in food reformulation," said Matt Towner, portfolio manager at Impact on Urban Health.
The Urban Legend team is currently made up of 10 people including former Innocent COO Andrew Dougal and Fiona Cramp of The Collective and Eat.