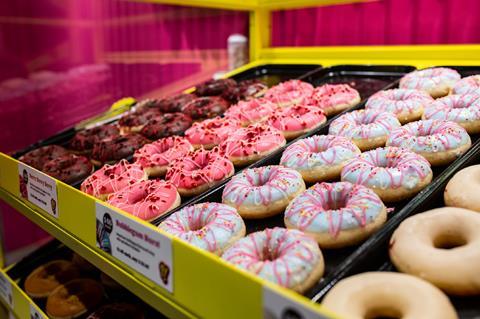 Healthier doughnut brand Urban Legend has partnered with Tesco in a move that will see its treats available in 50 stores across London.
The partnership comes as Urban Legend completes a second round of fundraising in less than a year, securing a further £7m in venture capital in addition to the £3m seed funding raised.
These funds are being invested in a new custom-built, high-tech factory in West London to service the deal with Tesco and scale further over the coming months.
The roll out follows successful trials in Putney and North Greenwich in recent months and falls in line with Tesco's decision to continue with plans to remove volume-led promotions on foods high in fat, sugar and salt (HFSS) products from October 2022 after the government announcement that restrictions on multibuy deals for HFSS products are to be delayed for a year.
The doughnuts are displayed in bright pink Urban Legend branded cabinets which allow shoppers to select individual doughnuts or buy a box of a dozen.
Urban Legend's presence in Tesco stores will help to promote 'responsible indulgence', the brand said, adding that its ring doughnuts contain less than 150 calories and a 50-75% reduction in sugar, fat and saturated fat compared to rivals. They also contain no artificial colours, flavours, or preservatives.
The business was founded by Anthony Fletcher, former CEO of snacking firm Graze. Fletcher worked closely with Dr Chris Holland, a senior lecturer in natural materials at the University of Sheffield, to develop a way of reformulating a doughnut. The resulting treats are set by a beam of steam, rather than deep fried, and a micro layer of fat is then deposited on the outside.
"Our partnership with Tesco is a successful step towards the shared goal of pioneering innovative solutions to tackling obesity and improving the nation's health," said founder and CEO Fletcher.
"It is not the sole responsibility of the consumer to avoid unhealthy foods, we must provide healthier options that taste great and are accessible. It is fantastic to be working with Tesco to start turning this vision into a reality."
Urban Legend also operates two retail sites, one in Brighton and one in Clapham Junction., where the 14 flavours of doughnuts are also sold. These include Bubblegum Burst, Glazy Days, Apple Crumble, and Banoffee Pie.